Here's Why You Should Avoid Betting on Altra Industrial Now
We have issued an updated research report on Altra Industrial Motion Corp. AIMC on Mar 28.

This industrial company currently carries a Zacks Rank #5 (Strong Sell). Its market capitalization is approximately $1.9 billion.

Let's delve deeper and discuss what led to the company's poor investment appeal.

Share Price Performances & Earnings Estimate Revision: Market sentiments have been against Altra Industrial for quite some time now. Its stock price has decreased roughly 27.6% in the past six months versus the industry's decline of 3.3%.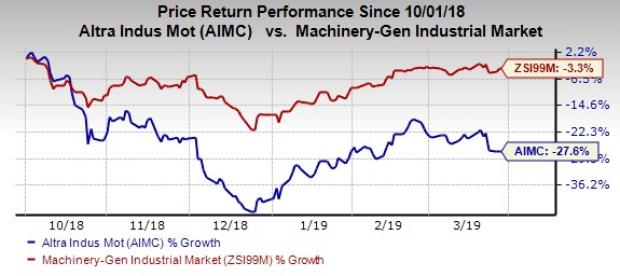 It is worth mentioning here that the stock's price has fallen roughly 10.4% since the release of fourth-quarter 2018 results on Feb 21, 2019. The quarter's results were weaker than expected, with negative earnings surprise of 7.1%.

Also, earnings estimates for the company have been lowered in the past 60 days. Currently, the Zacks Consensus Estimate for earnings is pegged at $3.16 for 2019, reflecting decline of 8.4% from the 90-day-ago tally.

Altra Industrial Motion Corp. Price and Consensus
Higher Costs and Expenses: Altra Industrial's cost of sales increased 105% in the fourth quarter of 2018 while selling, general and administrative expenses grew 181%, and research and development expenses expanded 143.3% year over year.

We believe higher costs related to higher logistics and freight costs, inflation in commodity prices, and tariffs and operating expenses, if unchecked, might prove detrimental to Altra Industrial's margins and profitability.

It is worth noting here that Altra Industrial has been suffering from these issues for quite some time. In the last five years (2014-2018), the company's cost of sales increased 7% (CAGR) and operating expenses grew 10.7% (CAGR).

Long-Term Debt: Altra Industrial's long-term debt in the last five years increased drastically from $241 million in 2014 to $1,691 million in 2018. Long-term debt balance at the end of the fourth quarter of 2018 was $1,690.9 million, up from $255.2 million recorded at the end of the third quarter of 2018 and $275.6 million at the end of 2017. We believe that further issuances are bound to increase the balance and if unchecked, will increase the company's financial obligations and prove detrimental to profitability.

Interest expenses in the fourth quarter of 2018 were $22.7 million, higher than $2.2 million incurred in the year-ago quarter. For 2019, the company predicts interest expenses of $77.5-$80 million.

Forex Woes: Geographical diversification is reflective of a flourishing business of Altra Industrial. However, this diversity exposed the company to headwinds arising from geopolitical issues and unfavorable movements in foreign currencies. In the fourth quarter of 2018, forex woes adversely impacted sales by 1.9%.

The company believes that forex issues will persist in 2019, adversely impacting results mainly in the first quarter.

Diversification Woes: With operations in a number of end-markets like water infrastructure, general industrial, mining, construction and aerospace, we believe that Altra Industrial faces risks from downturn in one or more of these markets. The company perceives that robotics markets will suffer from difficult comparisons and weak manufacturing activities in China in 2019.

Stocks to Consider

Some better-ranked stocks in the industry are DXP Enterprises, Inc. DXPE, Sun Hydraulics Corporation SNHY and Roper Technologies, Inc. ROP. While DXP Enterprises and Sun Hydraulics currently sport a Zacks Rank #1 (Strong Buy), Roper carries a Zacks Rank #2 (Buy). You can see the complete list of today's Zacks #1 Rank stocks here.

In the past 60 days, earnings estimates for all these three stocks have improved for the current year. Further, average earnings surprise for the last four quarters was a positive 46.55% for DXP Enterprises, 2.27% for Sun Hydraulics and 4.96% for Roper.

Zacks' Top 10 Stocks for 2019

In addition to the stocks discussed above, would you like to know about our 10 finest buy-and-holds for the year?

Who wouldn't? Our annual Top 10s have beaten the market with amazing regularity. In 2018, while the market dropped -5.2%, the portfolio scored well into double-digits overall with individual stocks rising as high as +61.5%. And from 2012-2017, while the market boomed +126.3, Zacks' Top 10s reached an even more sensational +181.9%.

See Latest Stocks Today >>
Want the latest recommendations from Zacks Investment Research? Today, you can download 7 Best Stocks for the Next 30 Days.
Click to get this free report
Roper Technologies, Inc. (ROP): Free Stock Analysis Report
Sun Hydraulics Corporation (SNHY): Free Stock Analysis Report
Altra Industrial Motion Corp. (AIMC): Free Stock Analysis Report
DXP Enterprises, Inc. (DXPE): Free Stock Analysis Report
To read this article on Zacks.com click here.
Zacks Investment Research