Telecom Stock Roundup: AT&T Launches HBO Max, Viasat Q4 Earnings Beat & More
The U.S. telecom stocks exhibited a late surge in the past week after an initial downtrend and a protracted lull thereafter, buoyed by a broader crackdown on the Chinese telecommunications sector by the Trump administration. The hard government stance has offered a fresh lease of life to the beleaguered sector that battled uncertainty and stiff competition from China-based telecommunications providers. The political slugfest for 5G supremacy at the backdrop dovetailed with the administrative efforts to set guardrails and legislation to safeguard the interests of domestic firms and provide confidence to the industry.

The government extended the 'Entity List' beyond the realms of well-known Chinese firms, which already came under strict U.S. scrutiny to tuck in 33 new companies, including five biometric providers. The export restrictions were based on national security grounds and limited their access to U.S. components and technology without prior government approval. This has evoked strong response from the communist nation, which warned that the unilateral decisions could eventually lead to 'technology decoupling' between the two countries, harming the overall industry across the globe.

Notably, in the past week, a group of American tech trade organizations has urged the Federal Communications Commission (FCC) to consider opening up additional spectrum within the mid-band satellite spectrum range of 12.2-12.7 GHz for terrestrial 5G services. The band, currently used for direct broadcast satellite operations and Multichannel Video Distribution and Data Service operations, is likely to offer a viable option to domestic telecom service providers to cater to an upsurge in demand once 5G is deployed throughout the length and breadth of the country.

Meanwhile, leading U.S. telecom carriers remain confident about continuing their 5G deployment process across the country despite disruptions due to the virus outbreak. However, they acknowledged that the momentum is likely to be hampered in some cities due to longer approval time for infrastructure setups, like small cells, as well as other necessary permits and changes. In addition, remote working procedures due to social distancing measures and temporary closures of permitting offices are likely to somewhat delay the process.

Regarding company-specific news, quarterly earnings, strategic deals and deployments primarily took the center stage over the past five trading days.

Recap of the Week's Most Important Stories

1. AT&T Inc. T has rolled out its streaming service HBO Max with an unrivaled bouquet of premium and exclusive content for an impressive direct-to-consumer experience across the age group. The much-publicized offering is likely to enable the company to gain a foothold in the subscription video on demand (SVOD) market

AT&T aims to leverage various cross-promotional opportunities in its mobile, pay TV and broadband offerings to gain 50 million U.S. subscribers by 2025. Although the target appears to be a bit stretched given its premium pricing, the fact that users are spending about eight hours, on average, on streaming content, with continued stay-at-home restrictions induced by the coronavirus pandemic, is likely to help the company achieve the target. Moreover, consumers seem to be ready to shell out more for subscription services as live gaming and entertainment options remain suspended.

2. Viasat, Inc. VSAT reported solid fourth-quarter fiscal 2020 financial results, with the bottom and top lines surpassing the Zacks Consensus Estimate. An accretive subscriber base and accelerated investments in ViaSat-3 constellation coupled with sustained momentum in the Government Systems and Satellite Services segment supported the quarterly results.

On a GAAP basis, net income for the March quarter was $1.6 million or 3 cents per share compared with $2.5 million or 4 cents in the year-ago quarter. The improvement was primarily driven by top-line growth. The bottom line surpassed the Zacks Consensus Estimate by 9 cents. Quarterly total revenues increased 6.2% year over year to $591.7 million. The upside was primarily driven by strong revenue growth in the Satellite Services and Government Systems segment, backed by sustained sales backlog. The top line surpassed the consensus mark of $589 million.

3. Reinforcing its low-latency data communication infrastructure, Motorola Solutions, Inc. MSI recently announced that it has launched the latest cloud-based emergency response offerings from its CommandCentral software portfolio. These solutions are known for enhancing the public safety communications infrastructure with utmost operational efficiency and safety.

The company's much-acclaimed CommandCentral platform helps the computer-aided dispatch (CAD) operators and emergency call handlers mobilize information and streamline workflows with enhanced service and protection. Markedly, the move is expected to significantly boost the mission-critical ecosystem of the company and render fast response times to mitigate operating risks.

4. Juniper Networks, Inc. JNPR has provided its Contrail Enterprise Multicloud solution to Net One Systems. The solution has been adopted by Net One Systems as part of its common services management platform, which will enable it to benefit from automated networking infrastructure.

The collaboration will provide enhanced visibility into virtualized workloads in multicloud environments. The Contrail Enterprise Multicloud solution simplifies network virtualization with seamless connectivity and supports end-to-end network configuration and manageability for operational simplicity. The partnership will also enable Net One Systems to implement the solution across other cloud-computing platforms such as OpenStack and VMware.

5. Ericsson's ERIC new 5G smart factory in Lewisville, TX, which began operations in March, is producing 5G base stations for the North American market. The facility complements the Sweden-based telecom gear maker's global supply strategy, as it ensures that the company is working closely with its customers through its American, European and Asian operations while securing fast deliveries to meet requirements.

The factory is considered to be one of the most advanced manufacturing complexes in the world. The first product manufactured at this site was the millimeter-wave Street Macro solution, which is crucial to Ericsson's 5G portfolio for its North American customers.

Price Performance

The following table shows the price movement of some of the major telecom stocks over the past week and the six months.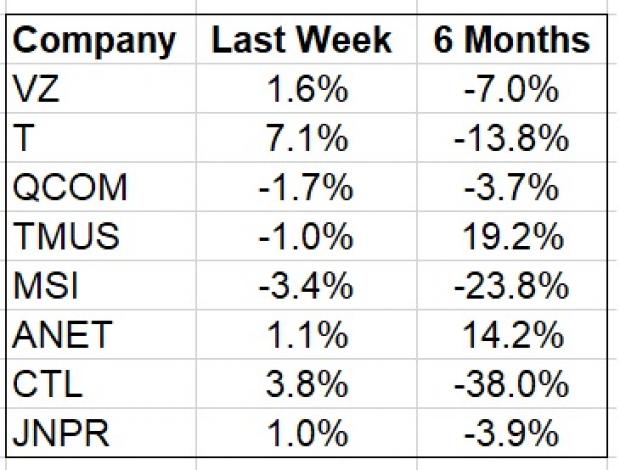 In the past five trading days, AT&T has been the best performer with its stock appreciating 7.1%, while Motorola has been the biggest decliner with its stock decreasing 3.4%.

Over the past six months, T-Mobile has been the best performer with its stock appreciating 19.2%, while CenturyLink was the biggest decliner with its stock falling 38%.

Over the past six months, the Zacks Telecommunications Services industry declined 12.4%, while the S&P 500 recorded an average loss of 3.6%.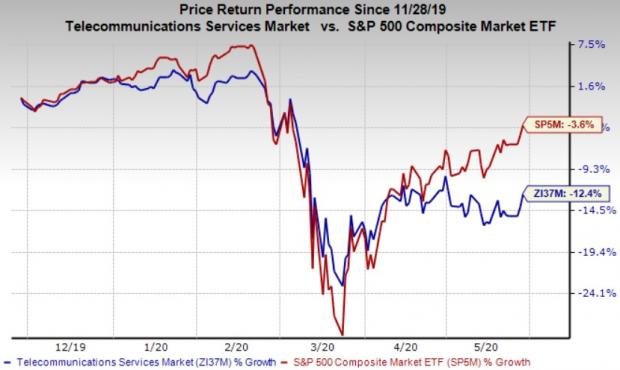 What's Next in the Telecom Space?

In addition to product launches, deals and 5G deployments, all eyes will remain glued to how the administration attempts to devise pre-emptive steps to thwart Chinese dominance in 5G while safeguarding interests of domestic firms.

Just Released: Zacks' 7 Best Stocks for Today

Experts extracted 7 stocks from the list of 220 Zacks Rank #1 Strong Buys that has beaten the market more than 2X over with a stunning average gain of +24.1% per year.

These 7 were selected because of their superior potential for immediate breakout.

See these time-sensitive tickers now >>
Want the latest recommendations from Zacks Investment Research? Today, you can download 7 Best Stocks for the Next 30 Days.
Click to get this free report
ATT Inc. (T): Free Stock Analysis Report
Juniper Networks, Inc. (JNPR): Free Stock Analysis Report
Ericsson (ERIC): Free Stock Analysis Report
Motorola Solutions, Inc. (MSI): Free Stock Analysis Report
Viasat Inc. (VSAT): Free Stock Analysis Report
To read this article on Zacks.com click here.