Amazon Resumes Using FedEx Ground Network for Prime Shipments
Amazon AMZN has removed the ban, which was temporarily put on the usage of FedEx's FDX ground delivery network for its Prime shipments that require superfast delivery speed.

Notably, third-party sellers were unable to use the service for about a month during the peak holiday season as Amazon was of the opinion that the network was very slow.

However, Amazon has witnessed improvement in the network's speed. The network service met the company's on-time delivery requirements.

Reportedly, 18% of ground packages were delivered early during this holiday season.

Move to Benefit

The move is likely to pacify tensions between Amazon and FedEx to some extent.

Additionally, it is likely to address the interests of third-party sellers on Amazon.com, who were restricted from using ground network and had to opt for pricier alternatives for faster deliveries during the peak holiday season.

This will also strengthen the company's relationship with sellers, who are very crucial for its e-commerce business.

We note that third-party sellers account for more than half the business on the company's e-commerce site.
Amazon.com, Inc. Price and Consensus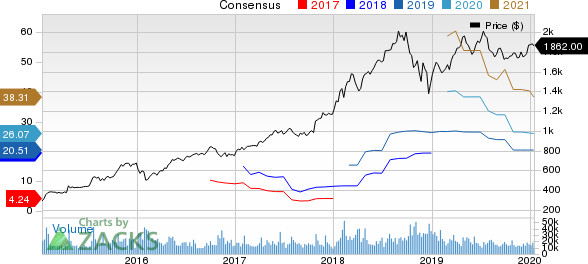 Amazon.com, Inc. price-consensus-chart | Amazon.com, Inc. Quote
Wrapping Up
We believe a strong seller base and aggressive retail strategies are likely to continue aiding the performance of its online-retail business.

Further, the company's growing initiatives toward strengthening its delivery system is noteworthy. Strong endeavors of Amazon toward delivering packages on time reflect its customer-oriented focus.

Additionally, ultrafast deliveries are key catalysts as these increase Prime adoption rate, which is a major positive.

Expansion of the company's free one-day shipping service namely Prime Free One Day service, which now covers over 10 million products under the categories such as beauty products, baby products, books, daily necessities and devices across the United States, is a tailwind.

All these factors are expected to continue aiding Amazon in sustaining its dominant position in the booming e-commerce market.

Zacks Rank & Stocks to Consider

Currently, Amazon carries a Zacks Rank #3 (Hold).

Some better-ranked stocks in the retail-wholesale sector that can be considered are Zumiez ZUMZ and Walmart WMT. While Zumiez sports a Zacks Rank #1 (Strong Buy), Walmart carries a Zacks Rank #2 (Buy). You can see the complete list of today's Zacks #1 Rank stocks here.

Long-term earnings growth rate for Zumiez and Walmart is pegged at 12% and 4.95%, respectively.

Free: Zacks' Single Best Stock Set to Double

Today you are invited to download our latest Special Report that reveals 5 stocks with the most potential to gain +100% or more in 2020. From those 5, Zacks Director of Research, Sheraz Mian hand-picks one to have the most explosive upside of all.

This pioneering tech ticker had soared to all-time highs and then subsided to a price that is irresistible. Now a pending acquisition could super-charge the company's drive past competitors in the development of true Artificial Intelligence. The earlier you get in to this stock, the greater your potential gain.

See 5 Stocks Set to Double>>
Want the latest recommendations from Zacks Investment Research? Today, you can download 7 Best Stocks for the Next 30 Days.
Click to get this free report
Amazon.com, Inc. (AMZN): Free Stock Analysis Report
Zumiez Inc. (ZUMZ): Free Stock Analysis Report
Walmart Inc. (WMT): Free Stock Analysis Report
FedEx Corporation (FDX): Free Stock Analysis Report
To read this article on Zacks.com click here.
Zacks Investment Research