Stanley Black & Decker to Open CRAFTSMAN Plant in Fort Worth
Stanley Black & Decker, Inc. SWK recently announced its plan to open a new CRAFTSMAN manufacturing plant in Fort Worth, TX. Notably, the ground breaking for the 425,000-square-foot plant is likely to occur in summer 2019, and is projected to be finished in late 2020.
The company noted that the new plant, which will employ about 500 employees, will help in manufacturing various CRAFTSMAN mechanics tools like ratchets, sockets, wrenches and general sets. The new plant will also display state-of-the-art manufacturing technologies that can improve the productivity and sustainability of the company's operations.
Stanley Black & Decker boosted its global tools and storage brands with the CRAFTSMAN acquisition (March 2017), and has created business opportunities, especially in the lawn and garden end markets. Notably, this latest move aligns with the company's motto of strengthening foothold in markets and improve production. As a matter of fact, the company anticipates generating $1 billion in sales from CRAFTSMAN products by 2021.
Also, last month, the company unveiled an Advanced Manufacturing Center of Excellence facility, dubbed as "Manufactory 4.0," in Hartford, CT. As part of its global Industry 4.0 "smart factory" initiative, the 23,000-square-foot facility will support the company in adopting cutting-edge manufacturing technologies as well as train and educate workforce for gaining experience with these technologies.
Our Take
Stanley Black & Decker's market expansion strategies are expected to be key growth drivers, going forward. In this regard, brands like Newell Tools has been strengthening the company's tools business through deeper penetration into markets worldwide. In addition, the buyout of industrial business of Nelson Fastener Systems (April 2018) has been strengthening its Engineered Fastening business, and will be accretive to earnings.
For 2019, the company anticipates generating organic sales growth of about 4%. Supported by healthy sales growth, cost-saving actions and lower share count, adjusted earnings are predicted to be $8.45-$8.65 per share. This projection reflects rise of 4-6% from the year-ago reported figure.
Over the past six months, this Zacks Rank #3 (Hold) stock yielded a return of 6.5%, outperforming 2.1% growth recorded by industry.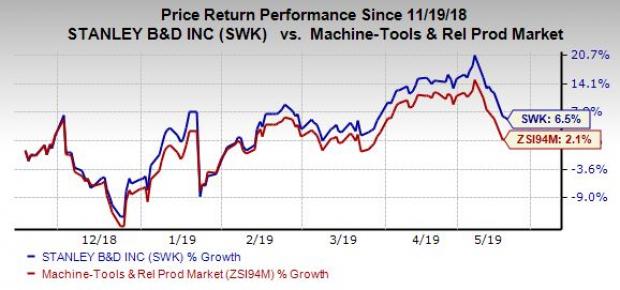 However, the company is currently dealing with adverse impact of rising cost of sales, primarily due to commodity inflation, unfavorable impact of foreign currency movements and tariffs.
Key Picks
Some better-ranked stocks from Zacks Industrial Products sector are iRobot Corp. IRBT, Dover Corp. DOV and Actuant Corp. ATU. While iRobot sports a Zacks Rank #1 (Strong Buy), Dover and Actuant carry a Zacks Rank #2 (Buy). You can see the complete list of today's Zacks #1 Rank stocks here.
iRobot exceeded estimates in each of the preceding four quarters, the average positive earnings surprise being 94.52%.
Dover surpassed estimates in each of the trailing four quarters, the average positive earnings surprise being 8.61%.
Actuant exceeded estimates in each of the preceding four quarters, the average positive earnings surprise being 11.01%.
Radical New Technology Creates $12.3 Trillion Opportunity
Imagine buying Microsoft stock in the early days of personal computers… or Motorola after it released the world's first cell phone. These technologies changed our lives and created massive profits for investors.
Today, we're on the brink of the next quantum leap in technology. 7 innovative companies are leading this "4th Industrial Revolution" -- and early investors stand to earn the biggest profits.
See the 7 breakthrough stocks now>>
Want the latest recommendations from Zacks Investment Research? Today, you can download 7 Best Stocks for the Next 30 Days.
Click to get this free report
iRobot Corporation (IRBT): Free Stock Analysis Report
Stanley Black & Decker, Inc. (SWK): Free Stock Analysis Report
Actuant Corporation (ATU): Free Stock Analysis Report
Dover Corporation (DOV): Free Stock Analysis Report
To read this article on Zacks.com click here.
Zacks Investment Research