Archer Daniels (ADM) Gains From Project Readiness, Costs High
Archer Daniels Midland Company ADM is focused on boosting growth across its business through impressive strategic endeavors. Its Project Readiness initiative and three strategic pillars — optimize, drive and growth — are driving the company's performance.

Notably, shares of the agricultural products company have gained 7.2% in the past six months compared with the industry's 4.1% rise.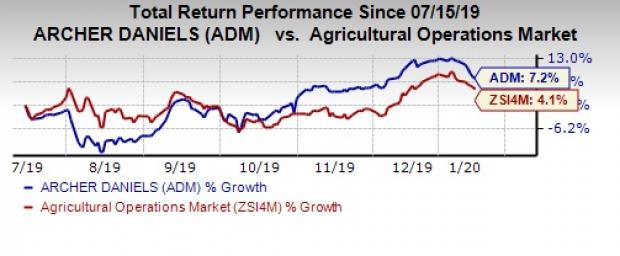 Detailed Analysis of Archer Daniels' Efforts

Archer Daniels' Project Readiness goals of driving business improvement, standardizing functions and enriching consumers' experience are on track. As of third-quarter 2019, the company has prioritized 218 Readiness initiatives. These initiatives are likely to generate run-rate benefits of about $515 million on an annual basis and are on track to deliver $1.2 billion by the end of 2020.

Speaking of Archer Daniels' three strategic pillars, the company has been reaping benefits from this initiative. Under the optimize pillar, the merger of the Origination and Oilseeds business segments into a single unit — Ag Services and Oilseeds — is worth mentioning. With the help of this new business, the company has identified a wider range of opportunities to improve capital efficiency. It has already executed more than $200 million of capital-reduction initiatives.

As part of the ongoing efforts to optimize its U.S. origination footprint, the company completed its earlier agreement with Cargill to exchange grain elevators in Illinois and Indiana. Also, it has opened new state-of-the-art mill in Mendota, IL. This marks an important milestone in ongoing process of replacing older, higher cost plants with more efficient facilities. These measures are likely to contribute to the long-term reliability of its Decatur complex.

Under the drive pillar, the company is gaining from improved analytics, technologies and processes after the launch of Readiness program. It has been implementing innovative uses of Artificial Intelligence (AI), machine learning and robotic process automation to identify and solve IT issues, reduce costs and improve efficiencies. Under the growth pillar, the company is focusing on major global trends that have the potential to fundamentally change markets and solidify its global leadership position.

However, Archer Daniels is grappling with higher costs, which might affect the company's profitability. Acquisitions, more spending on IT, growth-related investments and Readiness-related projects might increase costs.

Nevertheless, management is optimistic about strategic buyouts and leadership in key global trends like flexitarian diets, nutrition and sustainable materials. Recently, the company bought Yerbalatina Phytoactives, a Brazilian-based pioneering natural plant-based extracts maker. With this buyout, Archer Daniels will serve customers with healthy and natural-source products in the foods and beverages space. Its One ADM business transformation initiative is impressive as well.

Wrapping Up

With that said, Archer Daniels' strategic pillars for growth and Readiness initiatives are expected to enhance its competitiveness and potential. The Zacks Rank #3 (Hold) stock's Momentum Score of A further highlights its inherent strength.

Better-Ranked Consumer Staples Stocks

Calavo Growers, Inc CVGW has increased 8.2% in a year. The stock currently sports a Zacks Rank #1 (Strong Buy). You can see the complete list of today's Zacks #1 Rank stocks here.

Lamb Weston Holdings, Inc LW has an expected long-term earnings growth rate of 8.8% and presently carries a Zacks Rank #2 (Buy).

General Mills, Inc GIS has an expected long-term earnings growth rate of 7% and a Zacks Rank #2.

Looking for Stocks with Skyrocketing Upside?

Zacks has just released a Special Report on the booming investment opportunities of legal marijuana.

Ignited by new referendums and legislation, this industry is expected to blast from an already robust $6.7 billion to $20.2 billion in 2021. Early investors stand to make a killing, but you have to be ready to act and know just where to look.
See the pot trades we're targeting>>
Want the latest recommendations from Zacks Investment Research? Today, you can download 7 Best Stocks for the Next 30 Days.
Click to get this free report
Calavo Growers, Inc. (CVGW): Free Stock Analysis Report
Lamb Weston Holdings Inc. (LW): Free Stock Analysis Report
General Mills, Inc. (GIS): Free Stock Analysis Report
Archer Daniels Midland Company (ADM): Free Stock Analysis Report
To read this article on Zacks.com click here.
Zacks Investment Research