Here's Why You Should Retain HealthEquity Stock for Now
HealthEquity, Inc. HQY is gaining traction on the back of its solid market share within the Health Savings Account (HSA) space and impressive guidance for fiscal 2021. However, a tough competitive environment has been offsetting the positives to some extent.
The company, with a market capitalization of $3.26 billion, is the leading provider of integrated solutions for healthcare account management. The company anticipates earnings to improve 22.8% over the next five years. Also, this Zacks Rank #3 (Hold) company has a trailing four-quarter positive earnings surprise of 44.4%, on average.
In the past six months, the stock has lost 2.2% compared with a 9.7% decline for the industry.
Let's delve deeper into the factors working in favor of the company.
Health Savings Account (HSA): HealthEquity is an Internal Revenue Service-approved, non-bank custodian of HSA, which is a medical savings account available to taxpayers in the United States who are enrolled in a high-deductible health plan (HDHP). As of Jan 31, 2020, the total number of Health Savings Accounts (HSA), for which HealthEquity served as a non-bank custodian, was 5.3 million, up 34% year over year. Additionally, total Active HSA members were 4.3 million, up 34% year over year.
Solid growth in HSA members continues to contribute to the company's top line.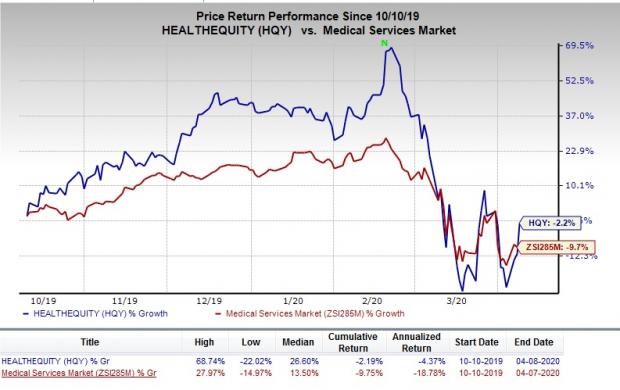 Leadership Position: HealthEquity clinched the top position in the HSA space through its first-mover advantage, focus on innovation and differentiated capabilities.
Per the calendar 2019 Devenir HSA Research Report, HSA assets grew 23% while HealthEquity assets improved 29%. At the end of the year, HealthEquity emerged as number one in terms of market share with respect to HSAs (19%) and a close second by HSA assets (16%).
According to the 2019 Midyear Devenir HSA Research Report, the HSA market will reach $88 billion in HSA assets held over by 30 million accounts by the end of 2021.
Upbeat Guidance: HealthEquity issued guidance for fiscal 2021.The company expects revenues between $770 million and $790 million.Adjusted EPS for fiscal 2021 is anticipated to be $1.70-$1.81. This upbeat view buoys optimism in the stock.
However, there are a few factors marring the prospects of the company.
Cutthroat Competition in the Medical Services Space: HealthEquity faces stiff competition in the Medical Services market. The company's direct competitors are HSA custodians, which include state or federally chartered banks, such as Webster Bank and Optum Bank, along with non-bank custodians approved by the United States.
Estimates Trend
The company is witnessing a positive estimate revision trend for fiscal 2021. Over the past 60 days, the Zacks Consensus Estimate for earnings has climbed 3.5% to $1.78 per share.
The Zacks Consensus Estimate for the company's first-quarter fiscal 2021 revenues is pegged at $191.5 million, suggesting a 119.9% surge from the year-ago quarter's reported number.
Key Picks
Some better-ranked stocks from the broader medical space are ResMed Inc. RMD, DexCom DXCM and Integra LifeSciences Inc IART.
ResMed has a projected long-term earnings growth rate of 12%. It currently carries a Zacks Rank #2 (Buy). You can see the complete list of today's Zacks #1 Rank (Strong Buy) stocks here.
DexCom's long-term earnings growth rate is estimated at 36.7%. The company presently carries a Zacks Rank #2.
Integra's long-term earnings growth rate is estimated at 11.9%. It currently carries a Zacks Rank #2.
Biggest Tech Breakthrough in a Generation
Be among the early investors in the new type of device that experts say could impact society as much as the discovery of electricity. Current technology will soon be outdated and replaced by these new devices. In the process, it's expected to create 22 million jobs and generate $12.3 trillion in activity.
A select few stocks could skyrocket the most as rollout accelerates for this new tech. Early investors could see gains similar to buying Microsoft in the 1990s. Zacks' just-released special report reveals 8 stocks to watch. The report is only available for a limited time.
See 8 breakthrough stocks now>>
Want the latest recommendations from Zacks Investment Research? Today, you can download 7 Best Stocks for the Next 30 Days.
Click to get this free report
Integra LifeSciences Holdings Corporation (IART): Free Stock Analysis Report
DexCom, Inc. (DXCM): Free Stock Analysis Report
ResMed Inc. (RMD): Free Stock Analysis Report
HealthEquity, Inc. (HQY): Free Stock Analysis Report
To read this article on Zacks.com click here.