Coinbase Global (COIN) Q2 Earnings & Revenues Top Estimates
Coinbase Global's COIN second-quarter 2021 earnings of $6.42 per share beat the Zacks Consensus Estimate of $2.49.

The outperformance came on the back of growth and diversification across its platform.
Coinbase Global, Inc. Price, Consensus and EPS Surprise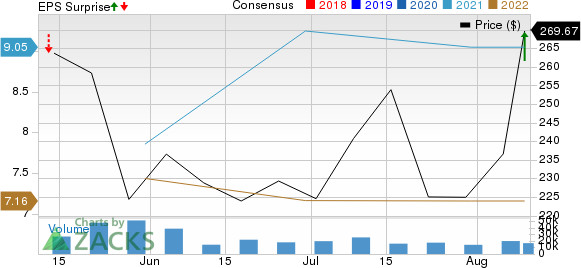 Coinbase Global, Inc. price-consensus-eps-surprise-chart | Coinbase Global, Inc. Quote
Operational Details
Total revenues came in at $2.2 billion and beat the Zacks Consensus Estimate by 21.4%. The top line increased nearly 12-fold year over year, reflecting increases in transaction revenues, subscription and services revenues as well as other revenues.

Retail Monthly Transacting Users (MTUs) grew to 8.8 million, up 44% sequentially driven by the crypto market environment, product launches, marketing efforts, and the growing number of crypto assets the company supports. Verified Users were 68 million.

The company's users generated $462 billion of trading volume in the reported quarter, up 38% sequentially. Total trading volume continued to diversify beyond Bitcoin into Ethereum and other crypto assets. Approximately 24% of second quarter total trading volume was concentrated in Bitcoin, down from 39% sequentially.

Total operating expenses increased more than ninefold year over year to $1.4 billion, attributable to increase in transaction expense, technology and development, sales and marketing and general and administrative.

Adjusted EBITDA was $1.1 billion in the reported quarter.
Financial Update
As of Jun 30, 2021, cash and cash equivalents were $4.4 billion, up about fourfold from the figure at 2020 end. Total assets were $15.8 billion, up nearly threefold from the level at 2020 end.

At the end of the quarter, long-term debt of the company was $1.4 billion.

Total shareholders' equity was $3.4 billion at the end of the reported quarter, up 2.8% from the value on Dec 31, 2020.

Cash from operations increased nearly 12-fold year over year in the first half of 2021.
Guidance
The company estimates MTU in 2021 to be in the range of 5.5 million to 8 million.

Given solid year-to-date results, it continues to anticipate annual average net transaction revenue per user to exceed the historical range.

It expects meaningful institutional revenue growth in 2021 driven by transaction and custody revenue based on increasing volumes of institutional onboarding, increased capital allocations to crypto, and increased trading volumes from existing clients.

Sales and marketing expenses are estimated between 12% and 15% of net revenues in 2021. Transaction expenses will be in the low-to-mid teens as a percent of net revenues in 2021.
Zacks Rank
Coinbase Global currently carries a Zacks Rank #4 (Sell).

You can see the complete list of today's Zacks #1 Rank (Strong Buy) stocks here.
Performance of Other Securities and Exchanges
Second-quarter earnings of Nasdaq NDAQ, MarketAxess Holdings MKTX and CME Group CME beat the respective Zacks Consensus Estimate.
Breakout Biotech Stocks with Triple-Digit Profit Potential
The biotech sector is projected to surge beyond $775 billion by 2024 as scientists develop treatments for thousands of diseases. They're also finding ways to edit the human genome to literally erase our vulnerability to these diseases.
Zacks has just released Century of Biology: 7 Biotech Stocks to Buy Right Now to help investors profit from 7 stocks poised for outperformance. Our recent biotech recommendations have produced gains of +50%, +83% and +164% in as little as 2 months. The stocks in this report could perform even better.
See these 7 breakthrough stocks now>>
Want the latest recommendations from Zacks Investment Research? Today, you can download 7 Best Stocks for the Next 30 Days.
Click to get this free report
CME Group Inc. (CME): Free Stock Analysis Report
Nasdaq, Inc. (NDAQ): Free Stock Analysis Report
MarketAxess Holdings Inc. (MKTX): Free Stock Analysis Report
Coinbase Global, Inc. (COIN): Free Stock Analysis Report
To read this article on Zacks.com click here.
Zacks Investment Research