3 Stocks to Watch in the Promising Agriculture - Products Industry
The Zacks
Agriculture - Products
industry will benefit from upbeat commodity prices and solid demand for food supported by a growing population. Increasing consumer awareness regarding food ingredients and preference for heathier alternatives will continue to aid the industry's growth prospects. Alternative agricultural technologies like hydroponics and vertical farming are also expected to be key catalysts, given their inherent benefits.
Players like
Bunge Limited
BG
,
CalMaine Foods
CALM
and
Arcadia Biosciences
RKDA
are poised well to gain from strong demand in their end markets and the ongoing growth initiatives.
Industry Description
The Zacks Agriculture – Products industry comprises companies that are either involved in storing agricultural commodities or distributing ingredients to others or engaged in farming of crops, livestock and poultry products. Some are engaged in purchasing, storing, transporting, processing and selling agricultural commodities or products derived from the same. They operate grain elevators where space income is earned on commodities bought and sold through the elevator or held as inventory. Some companies provide nutrients, advanced indoor and greenhouse lighting, environmental control systems and accessories for hydroponic gardening, the method of growing plants using mineral nutrient solutions in a water solvent, instead of soil. A few players are also offering innovative, plant-based health and wellness products. Companies producing lumber also fall under this industry.
Trends Shaping the Future of the Agriculture - Products Industry
Solid Demand to Support Industry: Demand for food is directly influenced by population and demographic changes besides income growth and income distribution. Per UN estimates, the global population will surge from 7.6 billion in 2017 to 9.7 billion in 2050. This will lead to an increase in global food demand by 50%. Also, in response to growing consumer demand for healthier food alternatives, a number of agricultural and food-based companies are investing in innovation and augmenting their product and market strategies to bring new quality and healthy food ingredients to the market. Ongoing improvements in grain-handling techniques and investment in larger storage spaces will also aid the industry's growth. Plus, considering that the industry's products are always in demand, irrespective of the condition of the economy, it ensures stable earnings across all cycles.

Hydroponics & Cannabis Are Key Catalysts: Hydroponics is gaining popularity as it gives growers the ability to better regulate and control nutrient delivery, light, air, water, humidity, pests and temperature in an indoor setting. It can help produce crops faster with higher yields than traditional soil-based growers. It is currently being utilized in new and emerging industries, including the growing of cannabis and hemp. Vertical farms producing organic fruits and vegetables also utilize hydroponics due to a rising shortage of farmland as well as environmental vulnerabilities. Also, vertical farming is the latest agricultural technology where companies use shelves and artificial light to grow produce, minimizing land and water consumption. Total sales for the hydroponic equipment industry are projected to surpass $16 billion by 2025. Even though the cannabis industry is currently going through a rough patch due to an oversupply, its long-term prospects are intact. In the United States, several states legalized cannabis for medical or recreational use, representing the largest market in the world. By 2027, spending on legal cannabis is expected to reach $47.3 billion in North America.

High Costs to Hurt Margins: Players in the industry are currently facing rising labor, packaging and distribution costs, among other expenses. Fertilizer prices spiked after Russia invaded Ukraine as both countries are major fertilizer producers. Companies engaged in animal products have been facing rising production costs for a while as feed ingredient prices are persistently high. Supplies of corn and soybean remained tight relative to demand due to weather-related shortfalls in production and yields, disruptions related to the COVID-19 global pandemic and the Russia-Ukraine war and its impact on the export markets. Continued corn and soybean upward pricing pressures and further market volatility are expected to flare up feed costs. The industry continues to navigate a tight labor market with a spike in wages and higher distribution costs due to steep fuel prices. Supply-chain headwinds are also expected to stay in the near term. The companies are consistently implementing cost-reduction actions and pricing strategies to sustain margins amid the current scenario.
Zacks Industry Rank Indicates Bright Prospects
The Zacks Agriculture - Products industry is part of the broader Zacks Basic Materials sector. The industry currently carries a Zacks Industry Rank #91, which places it in the top 36% of more than 250 Zacks industries.

The group's Zacks Industry Rank, basically the average of the Zacks Rank of all the member stocks, indicates sunny prospects in the near term. Our research shows that the top 50% of the Zacks-ranked industries outperform the bottom 50% by a factor of more than 2 to 1.

Looking at the aggregate earnings estimate revisions, it appears that analysts are optimistic about this group's earnings growth potential. The Agriculture – Products industry's 2022 earnings estimates have improved 24% since the beginning of this year.

Before we present a few stocks worth considering for your portfolio, let's look at the industry's recent stock market performance and valuation.
Industry Outperforms Sector and S&P 500
The Zacks Agriculture – Products industry has outperformed its own sector and the Zacks S&P 500 composite over the past 12 months. Stocks in this industry have fallen 11.7% in the past 12 months compared with the S&P 500's decline of 15.7% and the Basic Materials sector's decrease of 12.9%.
One-Year Price Performance

Industry's Current Valuation
On the basis of the trailing 12-month EV/EBITDA ratio, a commonly used multiple for valuing Agriculture - Products stocks, we see that the industry is currently trading at 8.65X compared with the S&P 500's 11.42X. The Industrial Products sector's trailing 12-month EV/EBITDA is 15.95X. This is shown in the charts below.
Enterprise Value/EBITDA (EV/EBITDA) Ratio (TTM)
Enterprise Value/EBITDA (EV/EBITDA) Ratio (TTM)

Over the last five years, the industry has traded as high as 49.82X and as low as 4.27X, with the median being at 8.48X.
3 Agriculture - Products Stocks to Keep an Eye on
CalMaine Foods: Higher average selling prices and record specialty egg sales volumes led to record revenues for both conventional and specialty shell eggs in the second quarter of 2022. The quarter also marked the fifth consecutive period of accelerating earnings growth for the company. Egg prices rose as supply tightened due to the impact of the outbreak of a highly pathogenic avian influenza and solid customer demand for conventional eggs. Specialty eggs remain a focal point for CalMaine Foods' growth strategy, in line with evolving customer demand. 10 states passed legislation or regulations mandating minimum space or cage-free requirements for egg production or mandated the sale of only cage-free eggs and egg products, with implementation spanning from January 2022 to January 2026. CALM is thus investing in acquiring and constructing cage-free facilities, and focusing on expansion projects, including cage-free facilities. The stock has gained 13% over the past year.
Jackson, Mississippi-based CalMaine Foods is the largest producer and distributor of fresh shell eggs in the United States. It sells most of its shell eggs in the states across the Southwestern, Southeastern, Mid-Western and Mid-Atlantic regions of the United States. The Zacks Consensus Estimate for CALM's earnings for fiscal 2023 is currently pegged at $5.84, suggesting growth of 114.7% from the year-ago actual. The estimates have moved 3.7% north in the past 30 days. CALM has a long-term estimated earnings growth rate of 1.81% and a Zacks Rank #1 (Strong Buy), currently.

You can see the complete list of today's Zacks #1 Rank stocks here.
Price & Consensus: CALM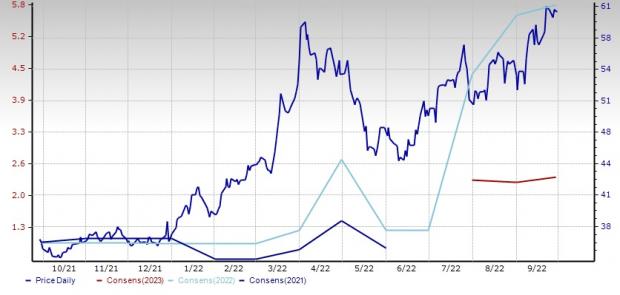 Arcadia Biosciences: RKDA delivered a record second-quarter 2022 with revenues surging 175% year over year to $3.9 million. A major part of the increase was attributed to sales of Zola coconut water and bodycare products. The acquisition of the assets of Lief Holdings, LLC, EKO Holdings, LLC and Live Zola, LLC last year added to bath and bodycare products, CBD consumer products and coconut water to Arcadia's portfolio of products. RKDA successfully launched GoodWheat pasta, both in retail and online, in the second quarter. This, along with Zola and ProVault, is expected to be a key lever. RKDA is also introducing Project Greenfield, a 3-year plan to unlock its potential and create a path to profitability. It aligns with Arcadia's goals to drive shareholder value, including GoodWheat's retail expansion, progress in its core brands and partnerships, and development of its next-generation wellness products, in line with evolving customer needs.

Arcadia is a producer and marketer of innovative, plant-based health and wellness products. RKDA used non-genetically modified advanced breeding techniques to develop its proprietary innovations, which it is now commercializing by selling seed and grain, food ingredients and products, hemp extracts, trait licensing and royalty agreements. The Zacks Consensus Estimate for this Davis, CA-based player's fiscal 2022 earnings has been steady at a loss of 74 cents per share. The stock has declined 73% over the past year. RKDA currently carries a Zacks Rank #2 (Buy).
Price & Consensus: RKDA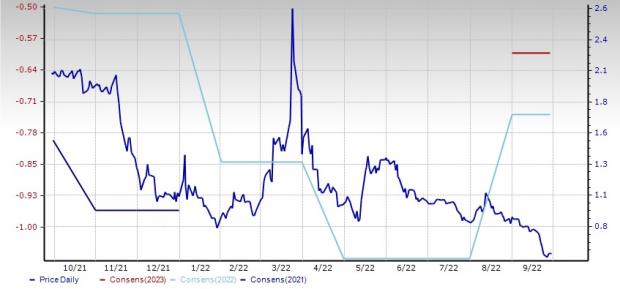 Bunge: RKDA's businesses are benefiting from higher global commodity prices following the onset of the Ukraine-Russia war, which exacerbated an already tight commodity supply environment. Shares of Bunge have gained 3.2% over the past year. BG sees additional growth opportunities in its core oilseed processing and origination business, backed by continued demand for its products, including renewable feedstocks. There also exists an immense potential to grow its specialty fats and oils and plant-based proteins businesses. With its broad portfolio of oils and recent investments in plant-protein ingredients, Bunge caters to some of the leading companies in this category. BG continues to invest, build on its global platform and leadership in oilseeds, and invest in innovation to benefit from the expanding market.

Bunge is an integrated global agribusiness and food company covering the farm-to-consumer food chain. The Zacks Consensus Estimate for this St. Louis, Missouri-based player's ongoing-year earnings has been stable at $12.65 over the past 30 days. BG has a trailing four-quarter earnings surprise of 50.7%, on average. It has an estimated long-term earnings growth rate of 6.7% and a Zacks Rank #3 (Hold) at present.
Price & Consensus: BG



FREE Report: The Metaverse is Exploding! Don't You Want to Cash In?
Rising gas prices. The war in Ukraine. America's recession. Inflation. It's no wonder why the metaverse is so popular and growing every day. Becoming Spider Man and fighting Darth Vader is infinitely more appealing than spending over $5 per gallon at the pump. And that appeal is why the metaverse can provide such massive gains for investors. But do you know where to look? Do you know which metaverse stocks to buy and which to avoid? In a new FREE report from Zacks' leading stock specialist, we reveal how you could profit from the internet's next evolution. Even though the popularity of the metaverse is spreading like wildfire, investors like you can still get in on the ground floor and cash in. Don't miss your chance to get your piece of this innovative $30 trillion opportunity - FREE.
>>Yes, I want to know the top metaverse stocks for 2022>>
Want the latest recommendations from Zacks Investment Research? Today, you can download 7 Best Stocks for the Next 30 Days.
Click to get this free report
Bunge Limited (BG): Free Stock Analysis Report
CalMaine Foods, Inc. (CALM): Free Stock Analysis Report
Arcadia Biosciences, Inc. (RKDA): Free Stock Analysis Report
To read this article on Zacks.com click here.
Zacks Investment Research