Manulife (MFC) Stock Up 39% in a Year: More Room for Upside?
Manulife Financial Corporation MFC shares have rallied 39% in a year compared with the industry's increase of 17.8% and the Finance sector's increase of 34.9%. The Zacks S&P 500 composite has risen 33.1% in the said time frame. With market capitalization of $40.4 billion, average volume of shares traded in the last three months was 3.3 million.

Strong Asia business, expanding wealth and asset management business and solid capital position continue to aid Manulife Financial. The company has a solid track of beating earnings estimates in the last four reported quarters, with the average beat being 13.01%.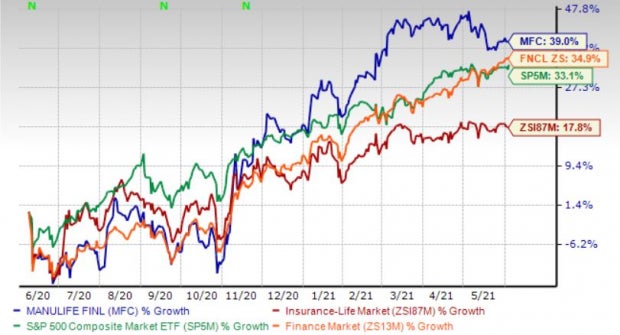 Image Source: Zacks Investment Research

Return on equity of 11% in the trailing 12 months was better than the industry average of 10.8%, reflecting the company's efficiency in utilizing shareholders' fund. Manulife aims more than 13% ROE in the medium term.
Can it Retain the Momentum?
The stock carries an impressive VGM Score of B. Here V stands for Value, G for Growth and M for Momentum, with the score being a weighted combination of all three factors. Back-tested results have shown that stocks with a Value Score of A or B combined with a Zacks Rank #1 (Strong Buy) or #2 (Buy) are the best investment options.

The Zacks Consensus Estimate for 2021 and 2022 earnings has moved up 3.3% and 3.4%, respectively in the past 30 days, reflecting analysts' optimism. The consensus estimate indicates year-over-year increase of 22.9% and 10.1%.

Manulife Financial targets core EPS growth between 10% and 12% over the medium term. The expected long-term earnings growth rate is pegged at 10%.

Manulife's Asian operations, contributes majorly to the company's earnings. In-force business growth in Asia and favorable product mix should continue to drive its earnings.

Boasting one of the three dominant life insurers within its domestic Canadian market, Manulife has been expanding its Wealth and Asset Management (WAM) business. It already has a solid presence in North America and Asia. Manulife Asset Management has identified Europe (and the wider EMEA market) as a significant growth area and thus has been make long-term investments there.

Manulife expects to lower costs, targeting an expense efficiency ratio of less than 50% or $1 billion in cost savings and avoidance by 2022.

This Zacks Rank #2 life insurer boasts a strong capital position. At first-quarter 2021 end, the company had $23 billion of capital above the supervisory target while LICAT ratio was 137. Also, it targets leverage ratio of 25 over the medium term.

Moreover, the company has increased its dividend at four-year CAGR of nearly 11%. Its current dividend yield of 3.9% is higher than the industry average of 3%, which makes the stock an attractive pick for yield-seeking investors. The company targets 30-40% dividend payout over the medium term.
Other Stocks to Consider
Investors interested in the insurance industry can look at HCI Group, Inc. HCI, Cincinnati Financial Corporation CINF and Alleghany Corporation Y. While HCI Group sports a Zacks Rank #1, Cincinnati Financial and Alleghany carry a Zacks Rank #2. You can see the complete list of today's Zacks #1 Rank stocks here.

The bottom line of HCI Group surpassed estimates in three of the last four quarters and missed in the other one, the average being 42.91%.

Cincinnati Financial surpassed estimates in three of the last four quarters and missed in the other one, the average earnings surprise being 17.63%.

Alleghany's earnings surpassed estimates in each of the last four quarters, the average being 128.63%.
Breakout Biotech Stocks with Triple-Digit Profit Potential
The biotech sector is projected to surge beyond $775 billion by 2024 as scientists develop treatments for thousands of diseases. They're also finding ways to edit the human genome to literally erase our vulnerability to these diseases.

Zacks has just released Century of Biology: 7 Biotech Stocks to Buy Right Now to help investors profit from 7 stocks poised for outperformance. Our recent biotech recommendations have produced gains of +50%, +83% and +164% in as little as 2 months. The stocks in this report could perform even better.

See these 7 breakthrough stocks now>>





Want the latest recommendations from Zacks Investment Research? Today, you can download 7 Best Stocks for the Next 30 Days.
Click to get this free report
Cincinnati Financial Corporation (CINF): Free Stock Analysis Report
Manulife Financial Corp (MFC): Free Stock Analysis Report
HCI Group, Inc. (HCI): Free Stock Analysis Report
Alleghany Corporation (Y): Free Stock Analysis Report
To read this article on Zacks.com click here.
Zacks Investment Research