Greif (GEF) Hurt by Sluggish Demand and Rising Debt Levels
On Sep 1, 2020, we issued an updated research report on Greif, Inc. GEF. The company will benefit from focus on operational execution, portfolio optimization, cost-reductions and the Caraustar acquisition. However, the Rigid Industrial Packaging & Services segment continues to be impacted by the lackluster industrial manufacturing environment. Further, it continues to face challenging industrial markets across its portfolio and the overall demand environment remains soft.
Weak Demand Hurt Q3 Earnings
On Aug 26, 2020 the company reported third-quarter fiscal 2020 (ended Jul 31, 2020) results. Greif reported adjusted earnings per share of 85 cents, missing the Zacks Consensus Estimate of 86 cents. The bottom line also plunged 32.5% year on year. Results were impacted by soft industrial conditions across its global portfolio, and the pressure of price and cost on the paper business.
Fiscal 2020 Results to Bear the Impact of COVID-19
Greif expects adjusted earnings per share in fiscal 2020 between $3.00 and $3.20. The mid-point of the guidance indicates a slump of 22% from the prior year. The company anticipates global macroeconomic conditions to remain volatile throughout the remainder of the fiscal year owing to the ongoing pandemic.

The company continues to face challenging industrial markets across its portfolio and the overall demand environment remains soft. It witnessed sluggish demand within the textile, industrial paints, coatings and lubricant industries owing to the pandemic. Around 60% of the Rigid Industrial Packaging & Services segment's revenues are generated from steel drums. The ongoing volume declines in steel drums will continue to hinder the segment's results.

However, Greif continues to witness increase in demand in food, pharmaceutical and household goods industries owing to the COVID-19 pandemic. The company will also continue to benefit from focus on operational execution, capital discipline, and a strong and diverse product portfolio. In the wake of the coronavirus-induced crisis, Greif has initiated variable cost reduction plans, which include plant rationalization, furloughs and shift reductions. The company has already undertaken actions that are likely to lead to roughly $40 million of EBITDA benefits over the remainder of fiscal 2020. The company is also postponing non-critical expenses, including capital investments.

In February 2019, the company completed the acquisition of Caraustar Industries, Inc. and is currently integrating its operations. The buyout strengthened Greif's leadership in industrial packaging. In fiscal 2020, the Paper Packaging segment is likely to benefit from the Caraustar acquisition and from various new capital growth projects coming online, which includes a new corrugated sheet feeder in Palmyra, PA.
High Debt Levels a Concern
The company's total debt to total capital ratio is at 0.69 higher than the industry's 0.60. Its times interest earned ratio is at 2.7, lower than the industry's 4.5. Nevertheless, the company is taking steps to improve liquidity As of Jul 31, 2020, Grief had $523.3 million of available borrowing capacity under its $800 million revolving credit facility. The company's Euro €200 million notes are due in July 2021 but otherwise it has no other sizable debt maturities due until 2024. The company also has approximately 245K acres of timber that could be monetized.
Share Price Performance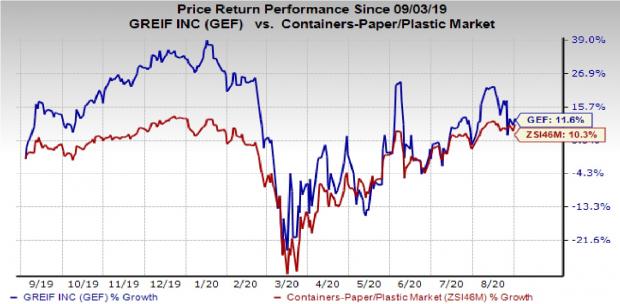 The stock has gained 11.6% over the past year, compared with the industry's growth of 10.3%.
Zacks Rank & Stocks to Consider
Greif currently has a Zacks Rank #4 (Sell).

Some better-ranked stocks in the Industrial Products sector include Silgan Holdings, Inc. SLGN, IIVI Incorporated IIVI and SiteOne Landscape Supply, Inc. SITE. While Silgan and IIVI sport a Zacks Rank #1 (Strong Buy), SiteOne carries a Zacks Rank of 2 (Buy), currently. You can see the complete list of today's Zacks #1 Rank stocks here.

Silgan has a projected earnings growth rate of 28.7% for 2020. The company's shares have appreciated 28.4% over the past year.

IIVI has an estimated earnings growth rate of 29% for the ongoing year. The company's shares have gained 18.1% in a year's time.

SiteOne Landscape has an expected earnings growth rate of 15.4% for the current year. The stock has surged 61.6% over the past year.
Breakout Biotech Stocks with Triple-Digit Profit Potential
The biotech sector is projected to surge beyond $775 billion by 2024 as scientists develop treatments for thousands of diseases. They're also finding ways to edit the human genome to literally erase our vulnerability to these diseases.

Zacks has just released Century of Biology: 7 Biotech Stocks to Buy Right Now to help investors profit from 7 stocks poised for outperformance. Our recent biotech recommendations have produced gains of +50%, +83% and +164% in as little as 2 months. The stocks in this report could perform even better.

See these 7 breakthrough stocks now>>
Want the latest recommendations from Zacks Investment Research? Today, you can download 7 Best Stocks for the Next 30 Days.
Click to get this free report
Silgan Holdings Inc. (SLGN): Free Stock Analysis Report
Greif, Inc. (GEF): Free Stock Analysis Report
IIVI Incorporated (IIVI): Free Stock Analysis Report
SiteOne Landscape Supply, Inc. (SITE): Free Stock Analysis Report
To read this article on Zacks.com click here.
Zacks Investment Research