Tri Pointe (TPH) Down 45% in YTD: Will it Recover in 2022?
Tri Pointe Homes, Inc.'s TPH shares have plunged 44.5% year to date compared with the Zacks Building Products - Home Builders industry's 38.1% decline. The overall industry has been grappling with significant inflationary pressure and project delays, thanks to persistent supply chain woes.

For the third quarter and 2022, TRI Pointe is likely to experience a 4.6% and 3.5% revenue decline year over year, respectively, due to softening demand trends. Also, its earnings are likely to fall 1.7% and 12.9% year over year in the current quarter and year, respectively.

Let's delve deeper into the factors hurting this Zacks Rank #3 (Hold) company. You can see the complete list of today's Zacks #1 Rank (Strong Buy) stocks here.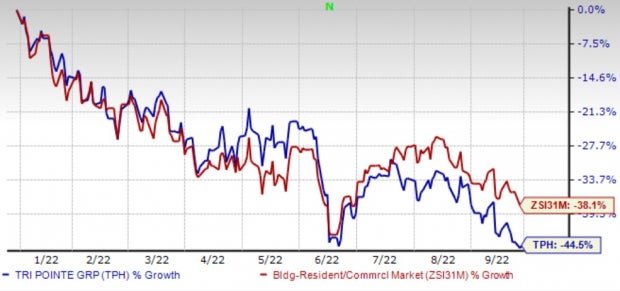 Image Source: Zacks Investment Research

Softening Housing Demand: After benefiting from solid demand in the past several quarters, the overall housing market started witnessing soft demand. The softness mainly results from the year's high inflation and supply chain disruption that started during the pandemic. Also, rising mortgage and interest rates, lack of adequate supply, tight labor market and affordability issues have ailed the industry.

In the second quarter, TPH's home revenues declined slightly due to 4% low deliveries on a 4% higher average sales price. New orders declined 16% year over year to 1,356 homes. The cancellation rate of 16% was more than double the year-ago figure of 7%. Backlog at quarter end decreased 2% to 3,826 homes.

For the third quarter, it anticipates delivering 1,300-1,500 homes at an average sales price of $700,000-$715,000 versus 1,632 homes at $630,000 in the year-ago period.

Intense Inflation: High inflation is eating into every homebuilders' margins. Although TPH has been navigating the challenges associated with supply shortages well, these headwinds are serious threats to the company's margins.

Higher labor costs are threatening margins, as they limit homebuilders' pricing power. Labor shortages are leading to higher wages and delays in construction, which eventually hurts the number of homes delivered. Also, land prices are increasing due to limited availability. This is somewhat exerting pressure on homebuilders' margins, considering that home prices are moderately increasing. Also, it has been witnessing challenges related to raw material shortages and municipal delays due to supply chain woes.

Federal Government Actions: The housing industry is cyclical and affected by consumer confidence levels, prevailing economic conditions and interest rates.

Currently, the Fed's determination to curtail inflation through interest rate increases and quantitative tightening has started to show the desired effect of slowing down sales in some markets across the country. In September 2022, the Fed approved its third consecutive interest-rate rise of 0.75 percentage points and signaled additional large increases were likely at upcoming meetings as it combats inflation that remains near a 40-year high. The rate hike brings the central bank's benchmark interest rate, the federal funds rate, to a new range of 3.0% to 3.25% — its highest level since 2008 — between 2.25% and 2.5%. Officials expect the Fed funds rate to rise to 4.4% by the end of 2022 and 4.6% by the end of 2023. Hence, it increased by 3.4% for this year and 3.8% previously.

Consequently, the highly interest-rate-sensitive housing sector in the United States has been significantly impacted by the rising mortgage rates as the Fed made an aggressive move to bring down the high inflation by lifting borrowing costs. Interest rate hikes, soaring inflation and a smaller bond-buying program are hitting the affordability of the prospective buyers.

According to the National Association of Home Builders (NAHB)/Wells Fargo's Housing Market Index (HMI), sentiment among U.S. homebuilders for newly-built single-family homes slipped to the lowest level from May 2020 to September 2022. However, barring the readings for April 2020 and May 2020 (when HMI fell to 30 and 37, respectively), the September 2022 reading of 46 marks the lowest level since May 2014. High home prices, above 6% mortgage rates and back-to-back interest rate hikes make it difficult for entry-level and first-time buyers to indulge in such activity.
Key Picks
Some better ranked stocks in the Zacks Construction sector are Arcosa, Inc. ACA, Gibraltar Industries, Inc. ROCK and Primoris Services Corporation PRIM.

Arcosa, currently sporting a Zacks Rank #1, is a manufacturer of infrastructure-related products and services, serving construction, energy and transportation markets.

ACA's expected earnings growth rate for 2022 is 7.8%. The Zacks Consensus Estimate for current-year earnings has improved 13.7% over the past 30 days.

Gibraltar, currently carrying a Zacks Rank of 2 (Buy), is benefiting from its three-pillar value creation strategy, the strong housing market and solid demand for legacy and TerraSmart businesses.

ROCK's expected earnings growth rate for 2022 is 18.7%. The Zacks Consensus Estimate for current-year earnings has remained stable over the past 60 days.

Primoris, a Zacks Rank #2 company, is a specialty contractor company operating in the United States and Canada. A robust backlog of more than $4 billion and solid contract awards in the Energy/Renewables and Utilities segments imply incredible momentum in the future despite supply-chain and permitting challenges. Utility-scale solar projects continued to drive progress in the Energy/Renewables segment.

PRIM's earnings for 2022 are expected to grow 18.4%. The Zacks Consensus Estimate for current-year earnings has improved 4% in the past 30 days.
Just Released: Zacks Unveils the Top 5 EV Stocks for 2022
For several months now, electric vehicles have been disrupting the $82 billion automotive industry. And that disruption is only getting bigger thanks to sky-high gas prices. Even titans in the financial industry including George Soros, Jeff Bezos, and Ray Dalio have invested in this unstoppable wave. You don't want to be sitting on your hands while EV stocks break out and climb to new highs. In a new free report, Zacks is revealing the top 5 EV stocks for investors. Next year, don't look back on today wishing you had taken advantage of this opportunity.
>>Send me my free report revealing the top 5 EV stocks
Want the latest recommendations from Zacks Investment Research? Today, you can download 7 Best Stocks for the Next 30 Days.
Click to get this free report
Gibraltar Industries, Inc. (ROCK): Free Stock Analysis Report
Tri Pointe Homes Inc. (TPH): Free Stock Analysis Report
Primoris Services Corporation (PRIM): Free Stock Analysis Report
Arcosa, Inc. (ACA): Free Stock Analysis Report
To read this article on Zacks.com click here.
Zacks Investment Research