MetLife (MET) Arm Ties Up to Boost Digital Suite in Bangladesh
MetLife Bangladesh, the unit through which MetLife, Inc. MET operates in the Asian country, recently collaborated with Citibank, N.A Bangladesh in a bid to introduce the Host-to-Host (H2H) payment processing platform across the nation. MetLife boasts a strong customer base serving more than one million customers across Bangladesh.
The platform, which is the first-of-its-kind in Bangladesh, was rolled out utilizing the Electronic Fund Transfer (EFT) Debit network of the country's central bank Bangladesh Bank. Besides, the platform was devised by amalgamating advanced technologies of MetLife Bangladesh and CitiDirect BE, which is the well-recognized online banking platform of Citi.
The recent launch seems to benefit MetLife Bangladesh, which will be equipped to seamlessly collect insurance premium payments from the growing number of customers, who prefer to directly debit the amount from their bank accounts through EFT.
The partnership is reflective of MetLife's efforts to diversify its digital payment alternatives across Bangladesh. It's a time opportune move as well since there is a steady uptick in customers inclined toward adopting electronic channels for paying premiums online.
Being the leading international life insurer of Bangladesh, MetLife Bangladesh provides numerous innovative digital payment options throughout the nation. Moves similar to the latest one are expected to strengthen MetLife's presence in the country and more broadly, its footprint across Asia.
The continent seems an attractive market for MetLife, courtesy of the sound growth prospects and a robust digital innovation currently underway in the region. Factors such as the launch of innovative and advanced technologies by Asian fintechs, increased internet usage and a tech-savvy population leading to higher usage of smartphones are expected to sustain the progress in that zone.
For capitalizing on the potential prospects, MetLife has made use of its exceptional capabilities and a solid financial position to constantly pursue buyouts and partnerships for unveiling revolutionary products and services throughout Asia.
The coronavirus outbreak compelled people to adopt online services across every sphere of life. With the global economy well-poised to stage a turnaround now, health woes due to the continuous spike in COVID-19 variants remain.
As a result, enhanced technologies, such as blockchain, AI, advanced analytics and others seem to play a key role in such a scenario, equipping businesses to operate remotely and allow individuals to stay at home while pursuing their essential and non-essential needs.
Not being an exception to the digital trend, the life insurance industry resorted to a rapid advancement of the digital means for enabling customers to purchase policies within the comforts of their homes and pay premiums online.
As a case in point, MetLife remains committed to bringing about technological developments, aimed to offer a hassle-free insurance experience for its customers. These advancements are expected to result in cost savings, accelerate claim payments and pave the way for automation in processes, which are expected to drive the company's margins in the days ahead.
Zacks Rank & Price Performance
Shares of MetLife, which currently carries a Zacks Rank #2 (Buy), have surged 68.9% in a year compared with the industry's rally of 44.4%.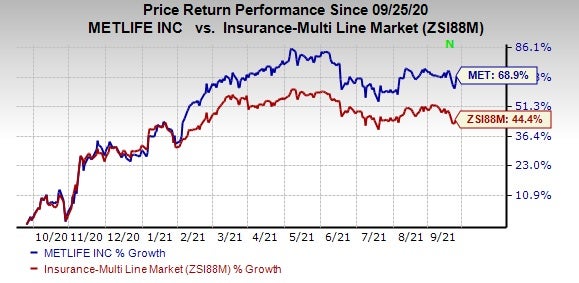 Image Source: Zacks Investment Research
Other Stocks to Consider
Some other top-ranked stocks in the multiline insurance space are American International Group, Inc. AIG, Old Republic International Corporation ORI and Horace Mann Educators Corporation HMN, each presently carrying a Zacks Rank of 2. You can see the complete list of today's Zacks #1 Rank (Strong Buy) stocks here.
Earnings of American International, Old Republic and Horace Mann delivered a trailing four-quarter surprise of 15.09%, 59.51% and 21.12%, on average, respectively.
Time to Invest in Legal Marijuana
If you're looking for big gains, there couldn't be a better time to get in on a young industry primed to skyrocket from $17.7 billion back in 2019 to an expected $73.6 billion by 2027.
After a clean sweep of 6 election referendums in 5 states, pot is now legal in 36 states plus D.C. Federal legalization is expected soon and that could be a still greater bonanza for investors. Even before the latest wave of legalization, Zacks Investment Research has recommended pot stocks that have shot up as high as +285.9%.
You're invited to check out Zacks' Marijuana Moneymakers: An Investor's Guide. It features a timely Watch List of pot stocks and ETFs with exceptional growth potential.
Today, Download Marijuana Moneymakers FREE >>
Want the latest recommendations from Zacks Investment Research? Today, you can download 7 Best Stocks for the Next 30 Days.
Click to get this free report
American International Group, Inc. (AIG): Free Stock Analysis Report
MetLife, Inc. (MET): Free Stock Analysis Report
Old Republic International Corporation (ORI): Free Stock Analysis Report
Horace Mann Educators Corporation (HMN): Free Stock Analysis Report
To read this article on Zacks.com click here.
Zacks Investment Research