Roche's (RHHBY) 1H21 Sales Rise Despite Impact of Biosimilars
Swiss pharma giant Roche Holding AG's RHHBY performance in the second quarter, and consequently in the first half of 2021, gained momentum on strong demand for COVID-19 diagnostics test.
Shares of Roche have rallied 10.6% so far this year compared with the industry's growth of 9.5%.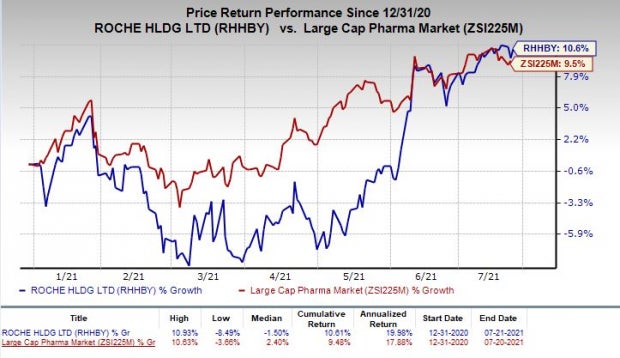 Image Source: Zacks Investment Research
The company reported sales of CHF 15.8 billion in the second quarter of 2021 up 14% from the year-ago quarter. Sales in the first half of 2021 came in at CHF 30.7 billion, up 5% from the year-ago period, as base diagnostics business demonstrated strong momentum. Earnings per share came in at CHF 10.56 in the first half of 2021, up from CHF 10.44 in the first half of 2020.
Roche reports results under two divisions — Pharmaceuticals and Diagnostics. All growth rates mentioned below are on a year-over-year basis and at constant exchange rates.
Sales at the Pharmaceuticals division were down 3% to CHF 21.7 billion due to competition from biosimilars for legacy drugs like MabThera/Rituxan, Herceptin and Avastin (roughly CHF 1.7 billion of sales reduction, especially in the United States, as well as Europe and Japan), and the ongoing COVID-19 pandemic. Despite being strongly affected by the pandemic in the first quarter of 2021, sales did show some signs of recovery in the second quarter.
Sales were also driven by growth in new medicines (launched since 2012), including Tecentriq, Hemlibra, Ocrevus and Evrysdi.
The Diagnostics division's sales surged 51% to CHF 9 billion, driven by demand for COVID-19 testing, which peaked in the second quarter. Strong momentum in routine testing also boosted performance.
Quarter in Detail
Herceptin sales fell 35% to CHF 1.4 billion due to biosimilar competition across all regions.
Perjeta sales grew 5% to CHF 2 billion. Kadcyla sales soared 19% to CHF 959 million.
Sales of Avastin, approved for multiple oncology indications, were CHF 1.6 billion, down 40% due to biosimilar competition in the United States and Europe.
Sales of Rituxan/MabThera (blood cancer and rheumatoid arthritis) declined 41% to CHF 1.4 billion due to the biosimilar erosion as well as pandemic-led restrictions.
Sales of Ocrevus, used to treat two forms of multiple sclerosis, increased 23% to CHF 2.4 billion on continued growth. New, as well as returning patients, boosted growth in the United States, with the latter being responsible for a higher proportion of sales.
Immuno-oncology drug Tecentriq (for advanced lung cancer, urothelial cancer and breast cancer) recorded 29% year-over-year sales growth to CHF 1.6 billion.
Sales of lung cancer drug, Alecensa, rose 20% year-over-year on solid growth across all regions.
Performance of the immunology franchise was driven by 17% growth in arthritis drug Actemra/RoActemra's sales to CHF 1.6 billion, as a number of countries included this medicine in their treatment guidelines for severe COVID-19-associated pneumonia. Asthma drug Xolair's sales declined 1% (United States only) to CHF 887 million.
Sales of hemophilia A drug Hemlibra surged 45% to CHF 1.4 billion, fueled by strong uptakes in the United States and Europe. Sales of ophthalmology drug Lucentis declined 3% (United States only) due to the COVID-19 pandemic which resulted in patients delaying treatment. Roche has a collaboration agreement with Novartis NVS for this drug.
The antibody cocktail of casirivimab and imdevimab, used for the treatment of recently diagnosed high-risk patients with mild to moderate COVID-19, generated sales of CHF 595 million. Roche has collaborated with Regeneron REGN for the development and manufacturing of the cocktail. Roche is responsible for the cocktail's distribution in Europe and other countries outside the United States.
Sales of Esbriet, indicated for idiopathic pulmonary fibrosis, declined 3%. The recently approved spinal muscular atrophy drug Evrysdi generated sales of CHF 243 million.
Revenues in the Diagnostics division increased mainly due to Roche's comprehensive and growing portfolio of COVID-19 tests. The Point of Care and Molecular Lab businesses recorded strong growth (+349% and +45%, respectively) with COVID-19 testing.
Routine diagnostic testing, which was adversely impacted by the COVID-19 pandemic in 2020, also contributed to growth in the second quarter. Roche's portfolio of COVID-19 tests generated total sales of CHF 2.5 billion as compared with CHF 0.7 billion in 2020. Per the company, demand for COVID-19 tests is likely to decline in the second half of 2021.
In April, Roche completed the acquisition of U.S.-based company GenMark Diagnostics for $1.9 billion. The deal is likely to diversify Roche's molecular lab portfolio.
2021 Guidance Reiterated
Sales are expected to grow in low- to mid-single digits. Core earnings per share are estimated to rise broadly in line with sales.
Pipeline Progress
Earlier this week, Roche and partner Regeneron announced that their antibody cocktail casirivimab and imdevimab, used for the treatment of COVID-19, has been approved in Japan. The cocktail, known as REGEN-COV in the United States, was granted full approval in Japan under the name Ronapreve.
Last month, the European Commission (EC) approved Enspryng for the treatment of patients above the age of 12 who are suffering from anti-aquaporin-4 antibody (AQP4-IgG) seropositive neuromyelitis optica spectrum disorder, as a monotherapy or in combination with immunosuppressive therapy (IST).
In June 2021, the FDA issued an Emergency Use Authorization for intravenous Actemra/RoActemra (tocilizumab) for the treatment of COVID-19 in hospitalized adults and pediatric patients (two years of age and older) who are receiving systemic corticosteroids and require supplemental oxygen, non-invasive or invasive mechanical ventilation, or extracorporeal membrane oxygenation.
In May 2021, the European Commission approved Venclyxto in combination with hypomethylating agents azacitidine or decitabine for the treatment of adult patients with newly diagnosed acute myeloid leukemia, who are ineligible for intensive chemotherapy in Europe. Venclexta is already approved in the United States for a similar indication.
We remind investors that Roche and AbbVie ABBV jointly develop Venclexta (called Venclyxto in Europe).
Our Take
Roche's performance in the second quarter of 2021 was good as the pharmaceuticals business began to recover, which was previously affected by COVID-19-led disruptions and biosimilar competition.
Based on the encouraging first-half 2021 results, the company maintained its 2021 outlook. Strong growth in Ocrevus, Evrysdi, Tecentriq and Hemlibra continued to counter biosimilar competition for Herceptin, Avastin and MabThera.
Zacks Rank
Roche currently carries a Zacks Rank #2 (Buy). You can see the complete list of today's Zacks #1 Rank (Strong Buy) stocks here.
Bitcoin, Like the Internet Itself, Could Change Everything
Blockchain and cryptocurrency has sparked one of the most exciting discussion topics of a generation. Some call it the "Internet of Money" and predict it could change the way money works forever. If true, it could do to banks what Netflix did to Blockbuster and Amazon did to Sears. Experts agree we're still in the early stages of this technology, and as it grows, it will create several investing opportunities.
Zacks' has just revealed 3 companies that can help investors capitalize on the explosive profit potential of Bitcoin and the other cryptocurrencies with significantly less volatility than buying them directly.
See 3 crypto-related stocks now >>
Want the latest recommendations from Zacks Investment Research? Today, you can download 7 Best Stocks for the Next 30 Days.
Click to get this free report
Regeneron Pharmaceuticals, Inc. (REGN): Free Stock Analysis Report
Novartis AG (NVS): Free Stock Analysis Report
Roche Holding AG (RHHBY): Free Stock Analysis Report
AbbVie Inc. (ABBV): Free Stock Analysis Report
To read this article on Zacks.com click here.
Zacks Investment Research