Here's Why You Should Add Hill-Rom (HRC) to Your Portfolio
Hill-Rom Holdings, Inc. HRC has been gaining on robust international growth, boosted by strength in all three of its segments. Its impressive results in first-quarter fiscal 2021, along with a robust international performance, buoy optimism. However, macroeconomic headwinds and a tough competitive landscape are concerning.
Over the past year, the Zacks Rank #2 (Buy) stock has gained 32.9% versus the industry's 48.6% growth and the S&P 500's 67.6% rise.
The renowned global medical device provider has a market capitalization of $7.19 billion. The company projects 7.3% growth for the next five years and expects to maintain its strong performance. The company surpassed estimates in all of the trailing four quarters, the average surprise being 25.44%.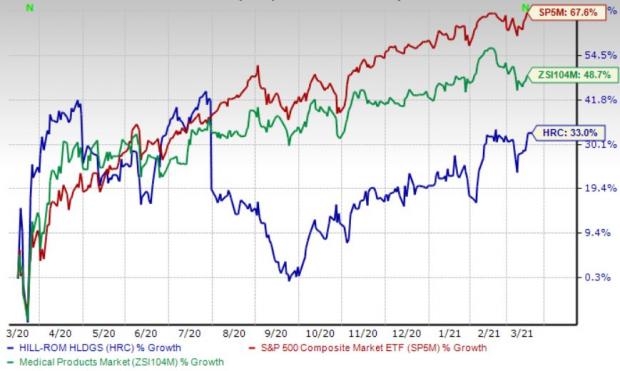 Per our Style Score, Hill-Rom has Growth Score of B, which is reflective of the company's solid prospects. Our research shows that stocks with a Growth Style Score of A or B, combined with a Zacks Rank #1 (Strong Buy) or 2, offer the best upside potential.
Let's delve deeper.
Strong Q1 Results: Hill-Rom's better-than-expected results for first-quarter fiscal 2021 buoy optimism. The year-over-year growth in both revenues and earnings in the fiscal first quarter is encouraging. The sharp recovery in emerging market sales and strength in U.S. revenues in the reported quarter are impressive. Robust demand for bed rentals and several Front Line Care products, and sequential recovery in the Patient Support Systems arm, augur well. Expansion of both margins bodes well for the company.
Acquisitions and Partnerships to Add Value: We are upbeat about Hill-Rom's acquisitions in the past few months. A notable acquisition is that of Voalte, a mobile health care communication player, which has already started to accelerate the company's digital and mobile communications platform capabilities and scale, with a substantial installed customer base. During the fiscal first quarter, Hill-Rom announced the acquisition of contact-free continuous monitoring technology from EarlySense.
Hill-Rom partnered with Augmedics, creator of the xvision Spine System, during the fiscal first quarter, thus strengthening its spinal procedures portfolio. Another notable partnership is that with Aiva, Inc.
Robust Demand Amid Pandemic: Hill-Rom's strong international performance with robust core-revenue growth resulted due to a surge in demand for COVID-19-related products like ICU and med-surg beds, thermometry and vital signs monitoring equipment and also with the completion of some large projects in EMEA is impressive.
Front Line Care arm's year over year revenue growth was driven by double-digit growth in patient monitoring, blood pressure and thermometry. Physician office-based products, including vision care and physical assessment tools, also continue to rebound as U.S. physician office visits resume.
However, downsides may result from macroeconomic headwinds faced by Hill-Rom. As the company's business depends heavily on general domestic and global economic conditions, economic turmoil is a concern for the company. The credit and capital markets have experienced extreme volatility and disruption over the past several years. This has led to phases of recessionary conditions and depressed levels of consumer and commercial spending, causing customers to reduce or delay plans of purchasing Hill-Rom's products and services. This leads to a slowdown in the company's growth rate in the market.
Also, Hill-Rom competes with a large number of players. It evaluates its competition based on its product categories rather than business segments. Additionally, the market consists of a large number of smaller and regional manufacturers.
Estimate Trend
Hill-Rom has been witnessing a positive estimate revision trend for 2021. Over the past 90 days, the Zacks Consensus Estimate for its earnings has moved 8.2% north to $5.80.
The Zacks Consensus Estimate for its second-quarter fiscal 2021 revenues is pegged at $729.3 million, suggesting a 0.8% improvement from the year-ago number.
Other Key Picks
A few other top-ranked stocks from the broader medical space are Align Technology, Inc. ALGN, IDEXX Laboratories, Inc. IDXX and Hologic, Inc. HOLX.
Align Technology's long-term earnings growth rate is estimated at 19.8%. The company presently carries a Zacks Rank #1. You can see the complete list of today's Zacks #1 Rank stocks here.
IDEXX's long-term earnings growth rate is estimated at 15.8%. It currently carries a Zacks Rank #2.
Hologic's long-term earnings growth rate is estimated at 15.4%. The company presently carries a Zacks Rank #2.
More Stock News: This Is Bigger than the iPhone!
It could become the mother of all technological revolutions. Apple sold a mere 1 billion iPhones in 10 years but a new breakthrough is expected to generate more than 77 billion devices by 2025, creating a $1.3 trillion market.
Zacks has just released a Special Report that spotlights this fast-emerging phenomenon and 4 tickers for taking advantage of it. If you don't buy now, you may kick yourself in 2022.
Click here for the 4 trades >>
Want the latest recommendations from Zacks Investment Research? Today, you can download 7 Best Stocks for the Next 30 Days.
Click to get this free report
Hologic, Inc. (HOLX): Free Stock Analysis Report
Align Technology, Inc. (ALGN): Get Free Report
HillRom Holdings, Inc. (HRC): Free Stock Analysis Report
IDEXX Laboratories, Inc. (IDXX): Free Stock Analysis Report
To read this article on Zacks.com click here.