Prothena (PRTA) Q2 Earnings Miss, Pipeline Progress in Focus
Clinical-stage company Prothena Corporation PRTA reported second-quarter 2022 loss of 88 cents per share, wider than the Zacks Consensus Estimate of a loss of 51 cents per share. In the year-ago quarter, the company reported earnings of 58 cents.
Total revenues came in at $1.31 million in the quarter, missing the Zacks Consensus Estimate of $20 million. Revenues in the quarter included collaboration revenues from Bristol Myers Squibb BMY. In the year-ago quarter, the company generated revenues of $60 million from collaboration and license revenues from Roche RHHBY.
The company's shares have lost 33.2% in the year so far compared with the industry's decline of 18%.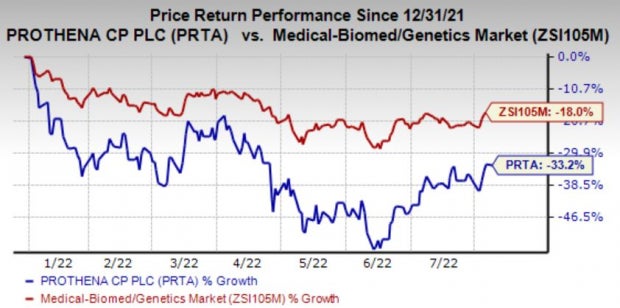 Image Source: Zacks Investment Research
Quarter in Detail
R&D expenses were $31.6 million, up from $21.1 million in the year-ago quarter, primarily due to higher manufacturing costs related to the birtamimab program, higher personnel-related expenses and increased clinical trial expenses, mainly related to the PRX012 and birtamimab.
General and administrative (G&A) expenses were $13 million, up from $11 million in the year-ago quarter.
As of Jun 30, 2022, Prothena had $510.1 million in cash, cash equivalents and restricted cash and no debt.
Prothena Corporation plc Price, Consensus and EPS Surprise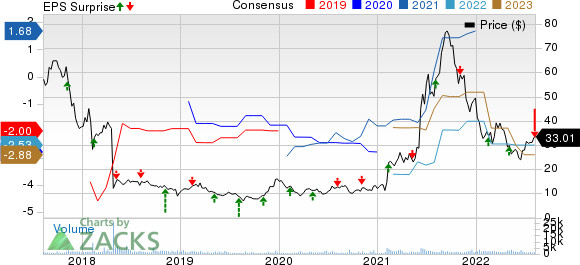 Prothena Corporation plc price-consensus-eps-surprise-chart | Prothena Corporation plc Quote
Pipeline Updates
Prothena is advancing an early-stage pipeline of programs for a number of potential neurological indications with Bristol Myers. PRX005 — a potential treatment for Alzheimer's disease (AD) — is an investigational antibody that targets tau, a protein implicated in diseases including AD, frontotemporal dementia, progressive supranuclear palsy, chronic traumatic encephalopathy and other tauopathies. A phase I study was initiated in 2021, and top-line data is expected later in the year.
Prothena is also evaluating PRX012, an investigational high-potency monoclonal antibody targeting a key epitope at the N-terminus of amyloid beta (Aβ) for treating AD. The FDA granted Fast Track designation for PRX012 for the treatment of AD. A phase I multiple ascending dose (MAD) study is expected to be initiated by year-end 2022.
The company is also developing a dual Aβ-Tau vaccine — a potential prevention and treatment for AD — to target key epitopes within Aβ and tau proteins to promote amyloid clearance and block pathogenic tau interaction. An Investigational New Drug (IND) application for the vaccine is anticipated in 2023.
The company is also evaluating prasinezumab in collaboration with Roche for the treatment of Parkinson's disease. PRTA earned a $60 million milestone payment in 2021 upon dosing the first patient in the global phase IIb PADOVA study for prasinezumab from Roche. The study results are expected in 2024.
It is also evaluating birtamimab, a potential treatment for AL amyloidosis. It reached a Special Protocol Assessment agreement with FDA and initiated a confirmatory phase III AFFIRM-AL study of birtamimab in Mayo Stage IV patients with AL amyloidosis in 2021. Results are expected in 2024.
Novo Nordisk NVO has acquired Prothena's clinical-stage antibody, PRX004 (now NNC6019) and a broader ATTR amyloidosis program. Prothena is eligible to receive a total aggregate of up to $1.23 billion and has received $60 million upfront payment from NVO in 2021. A phase II study of NNC6019 in patients with ATTR cardiomyopathy is being conducted by Novo Nordisk
Prothena currently carries a Zacks Rank #3 (Hold). You can see the complete list of today's Zacks #1 Rank (Strong Buy) stocks here


Want to Know the #1 Semiconductor Stock for 2022?
Few people know how promising the semiconductor market is. Over the last couple of years, disruptions to the supply chain have caused shortages in several industries. The absence of one single semiconductor can stop all operations in certain industries.
This year, companies that create and produce this essential material will have incredible pricing power. For a limited time, Zacks is revealing the top semiconductor stock for 2022. You'll find it in our new Special Report, One Semiconductor Stock Stands to Gain the Most.
Today, it's yours free with no obligation.
>>Give me access to my free special report.
Want the latest recommendations from Zacks Investment Research? Today, you can download 7 Best Stocks for the Next 30 Days.
Click to get this free report
Roche Holding AG (RHHBY): Free Stock Analysis Report
Bristol Myers Squibb Company (BMY): Free Stock Analysis Report
Novo Nordisk AS (NVO): Free Stock Analysis Report
Prothena Corporation plc (PRTA): Free Stock Analysis Report
To read this article on Zacks.com click here.
Zacks Investment Research