Potash Corp to Gain From Rising Demand Amid Weak Pricing
On Aug 28, we issued an updated research report on fertilizer company, Potash Corp. of Saskatchewan, Inc. POT.
Potash Corp. witnessed a year-over-year increase in net earnings and sales in second-quarter 2017. The company's adjusted earnings came in at 16 cents per share which narrowly missed the Zacks Consensus Estimate of 17 cents.
However, net sales (as adjusted) for the quarter increased 7.4% year over year to $1,004 million and surpassed the Zacks Consensus Estimate of $936 million.
Shares of Potash Corp. have moved up 3.3% in the last three months, underperforming the industry's 5.6% growth.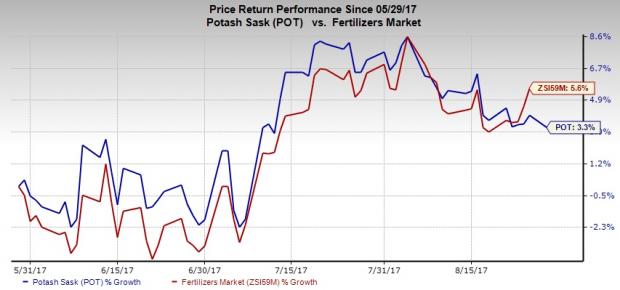 Potash Corp., in second-quarter 2017 earnings, announced that it expects full-year 2017 earnings in the range of 45-65 cents per share that includes merger related charges of 6 cents. The company has revised total potash sales volume guidance and now expects sales in the range of 9-9.4 million tons (up from 8.9-9.4 million tons) in 2017. It projects potash gross margin of $650-$850 million for the year and combined gross margin for nitrogen and phosphate in the band of $150-$300 million for 2017.
The company witnessed a healthy demand for potash in the second quarter and expects consistent customer engagement through the remainder of 2017, supported by healthy consumption trends. The company sees strong consumption in China in the second half of 2017 driven by higher crop acreage and nutrient affordability.
In a major move, Potash Corp. and Agrium AGU have agreed to combine their businesses to create a fertilizer giant with a pro-forma enterprise value of $36 billion. The proposed merger will create the world's largest crop nutrient supplier and the integrated company will be better placed to counter headwinds in the crop nutrient markets. The integrated company is expected to generate $500 million of annual operating synergies. Roughly $250 million of these synergies are expected to be achieved by the end of the first year following the completion of the transaction.
However, Potash Corp. remains exposed to a weak pricing environment. The company saw lower pricing across its nitrogen and phosphate businesses in the last reported quarter. Challenging market fundamentals and weak pricing continue to hurt profitability in the company's phosphate business which is expected to continue through 2017. Nitrogen pricing environment is also expected to remain challenging through the balance of 2017 as the global markets continue to adapt to considerable capacity increase.
Potash Corporation of Saskatchewan Inc. Price and Consensus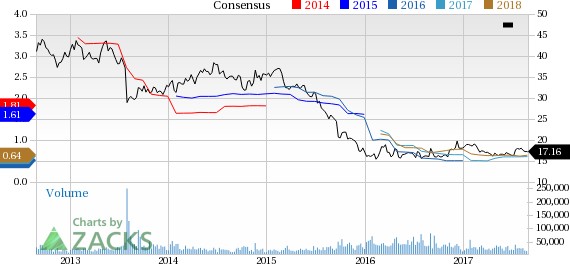 Potash Corporation of Saskatchewan Inc. Price and Consensus | Potash Corporation of Saskatchewan Inc. Quote
Potash Corp. currently carries a Zacks Rank #3 (Hold).
Stocks to Consider
Some better-ranked stocks in the basic materials space are The Chemours Company CC and Kronos Worldwide Inc. KRO. Both stocks sport a Zacks Rank #1 (Strong Buy). You can see the complete list of today's Zacks Rank #1 stocks here.
Chemours has expected long-term earnings growth rate of 15.5%.
Kronos has expected long-term earnings growth rate of 5%.
Zacks' 10-Minute Stock-Picking Secret
Since 1988, the Zacks system has more than doubled the S&P 500 with an average gain of +25% per year. With compounding, rebalancing, and exclusive of fees, it can turn thousands into millions of dollars.
But here's something even more remarkable: You can master this proven system without going to a single class or seminar. And then you can apply it to your portfolio in as little as 10 minutes a month.
Want the latest recommendations from Zacks Investment Research? Today, you can download 7 Best Stocks for the Next 30 Days.
Click to get this free report
Kronos Worldwide Inc (KRO): Free Stock Analysis Report
Chemours Company (The) (CC): Free Stock Analysis Report
Potash Corporation of Saskatchewan Inc. (POT): Free Stock Analysis Report
Agrium Inc. (AGU): Free Stock Analysis Report
To read this article on Zacks.com click here.
Zacks Investment Research