Airline Stock Roundup: DAL's Return to India, ALGT's Fleet Upgrade & More
It was a week where Delta Air Lines, Inc. DAL announced its decision to resume non-stop flights to Mumbai from next year. This Atlanta-based company had last operated on the route (non-stop) in 2009.
Allegiant Travel Company ALGT, the parent company of Allegiant Air, also hit the headlines in the week that was cut short by a day due to the Memorial Day holiday on May 28. The company took delivery of its first US-produced Airbus A320 plane. Spirit Airlines, Inc. SAVE featured in the headlines too as it commenced operations from Fort Lauderdale-Hollywood International Airport to St. Croix's Henry E. Rohlsen Airport, thereby strengthening its Caribbean presence.
Meanwhile, United Continental Holdings, Inc. UAL, the parent company of United Airlines, appointed Jane Garvey as the leader of its board as it strives to improve efficiency and profitability.
Transportation - Airline Industry 5YR % Return
(Read the last Airline Stock Roundup for May 23, 2018).
Recap of the Past Week's Most Important Stories
1. Following the resolution of the dispute with Gulf carriers, Delta said that it intends to commence non-stop flights to Mumbai from 2019. In a bid to facilitate air travel on the route, Delta aims to expand its codeshare relationship with Mumbai-based Jet Airways. Expansion of the deal would allow passengers to fly to other Indian cities.
Other details pertaining to the resumption of the operation will be disclosed by Dec 31, 2018. Service will, however, start following government clearances (Read more: Delta to Resume Flights to India & Expand Jet Airways Deal).
2. Allegiant took a significant step toward fulfilling its objective of transitioning to an all-Airbus fleet by year-end by taking delivery of its first US-produced Airbus A320 plane. The aircraft was delivered from the Airbus' U.S. production facility located in Mobile, AL. Additionally, the carrier reached a tentative agreement with the International Brotherhood of Teamsters, which represents its flight dispatchers (Read more: Allegiant a Step Closer to Maintaining All-Airbus Fleet).
3. In a bid to expand further, Spirit Airlines has started flying to St. Croix from Fort Lauderdale. This non-stop service is operational thrice a week and complements the existing service to St. Thomas. Notably, the new route is the carrier's 13th destination to the Caribbean island and the 65th destination in its network. It is also the only non-stop flight from Fort Lauderdale to the region (Read more: Spirit Expands Caribbean Base With New Flights to St. Croix).
Spirit Airlines carries a Zacks Rank #3 (Hold). You can see the complete list of today's Zacks #1 Rank (Strong Buy) stocks here.
4 United Airlines has seen several management changes of late, highlighting the lack of stability in its management team. The most recent change saw the carrier appointing Jane Garvey as the leader of its board. In fact, Garvey is the first woman to be at the helm of the company's board. Previously, she was the head of the Federal Aviation Administration.
5. On May 23, a disturbing incident involving a passenger named, Jason Felix, reportedly took place on an American Airlines Group Inc. AAL flight (1293). According to the report, Felix abused the flight attendant besides fighting with some of his co-passengers on the Miami-bound flight from Saint Croix. All this happened merely because the flight attendant refused to serve him beer. Felix has since been arrested and might face 20 years imprisonment.
Performance
The following table shows the price movement of the major airline players over the past week and during the last six months.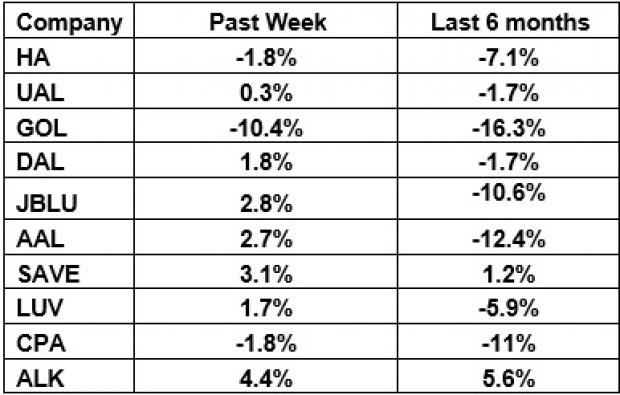 The table above shows that most airline stocks traded in the green in the past week. However, the gains were muted in nature. Consequently, the NYSE ARCA Airline Index increased marginally to $106.03 in the period. Shares of Alaska Air Group, Inc. ALK have appreciated the most (4.4%). Over the last six months, the sector tracker shed 6.6% with shares of Latin American carrier, GOL Linhas Aéreas Inteligentes S.A. GOL, depreciating the most (16.3%).
What's Next in the Airline Space?
Investors would keenly await May traffic reports from the likes of Delta in the coming days. Focus will also remain on the price movement of airline stocks, given the volatile nature exhibited by oil prices lately.
Today's Stocks from Zacks' Hottest Strategies
It's hard to believe, even for us at Zacks. But while the market gained +21.9% in 2017, our top stock-picking screens have returned +115.0%, +109.3%, +104.9%, +98.6%, and +67.1%.
And this outperformance has not just been a recent phenomenon. Over the years it has been remarkably consistent. From 2000 - 2017, the composite yearly average gain for these strategies has beaten the market more than 19X over. Maybe even more remarkable is the fact that we're willing to share their latest stocks with you without cost or obligation.
Want the latest recommendations from Zacks Investment Research? Today, you can download 7 Best Stocks for the Next 30 Days.
Click to get this free report
Gol Linhas Aereas Inteligentes S.A. (GOL): Free Stock Analysis Report
Delta Air Lines, Inc. (DAL): Free Stock Analysis Report
United Continental Holdings, Inc. (UAL): Free Stock Analysis Report
Spirit Airlines, Inc. (SAVE): Free Stock Analysis Report
Allegiant Travel Company (ALGT): Free Stock Analysis Report
American Airlines Group Inc. (AAL): Free Stock Analysis Report
Alaska Air Group, Inc. (ALK): Free Stock Analysis Report
To read this article on Zacks.com click here.
Zacks Investment Research