Humana (HUM) to Acquire Inclusa to Aid Medicaid Customer Base
Humana Inc. HUM recently announced that it will purchase all the assets of a Wisconsin-based Managed Care Organization (MCO) Inclusa, Inc. to extend improved health outcomes to the members served through the state's Family Care Program. The financial terms of the transaction were kept under wraps and completion of the same is subject to customary state regulatory filings and other customary closing conditions.
Shares of Humana inched up 0.4% on Aug 15.
Family Care is a Medicaid long-term care program for older adults and adults with disabilities in Wisconsin, aiming to provide long-term care services and assistance to enable them to live independently within the comforts of their homes. The latest acquisition will involve the integration of the credible expertise of Humana with the solid capabilities of Inclusa to offer more Wisconsin residents a package of seamless healthcare services and supports.
Humana's Medicaid business remains well-poised to benefit from the recent acquisition. The benefits might emerge in the form of a bolstered Medicaid customer base and an expanded geographic presence.
Presently, Humana serves roughly one million Medicaid members across five states of Florida, Illinois, Kentucky, South Carolina and Wisconsin. The addition of Inclusa is likely to solidify the Medicaid customer base of HUM as older adults and adults with disabilities numbering around 16,600 that were earlier served by Inclusa via the Family Care program will come under HUM's coverage on the completion of the buyout. A solid Medicaid business built through numerous partnerships, contract wins and renewals similar to the ones in Ohio and Louisiana, and significant investments is likely to lure more Wisconsin residents into enrolling in the Family Care Program.
An increase in membership should aid premium growth of Humana, which remains the most significant contributor to the revenue figure of any health insurer. Premiums from Humana's Medicaid and other businesses grew 27.3% year over year in the first half of 2022.
Additionally, the presence of Humana across Wisconsin is also likely to receive a boost from the latest acquisition. HUM seems prudent in choosing to purchase Inclusa and get an opportunity to strengthen its foothold in the state. This is because Inclusa is in agreement with the State of Wisconsin and is allowed by the Office of the Commissioner of Insurance to offer Family Care services and supports across 68 of 72 counties in the region. HUM had also made an effort back in 2020 to solidify its Medicaid business and presence across the state by purchasing another health care company of Wisconsin called iCare.
Similar to Humana, healthcare providers, such as Centene Corporation CNC, UnitedHealth Group Incorporated UNH and Molina Healthcare, Inc. MOH benefit from a strong Medicaid business.
Centene has a solid Medicaid business in place through which it is constantly devising cost-effective health plans and reaching out to various parts of the country. This continues to boost Medicaid membership growth of CNC, with the same increasing 10.1% year over year as of Jun 30, 2022. The year 2022 witnessed CNC win Medicaid contracts in Louisiana, Indiana and Mississippi.
The Medicaid business of UnitedHealth Group has witnessed several contract wins and renewed agreements in the past as well, which continued boosting its membership growth. The number of people served through the Medicaid business of UnitedHealthcare grew 12.1% year over year as of Jun 30, 2022.
Increased membership, higher premium revenues and contract wins similar to those in Nevada, Ohio and Mississippi continue to benefit Molina Healthcare. The Medicaid membership base of MOH expanded 17.4% year over year as of Jun 30, 2022. Premium revenues from MOH's Medicaid segment also witnessed a 24.4% year-over-year ascent in the first half of 2022.
Price Performance
Shares of Humana have gained 17.4% in the past six months compared with the industry's growth of 15.6%. HUM currently carries a Zacks Rank #2 (Buy). You can see the complete list of today's Zacks #1 Rank (Strong Buy) stocks here.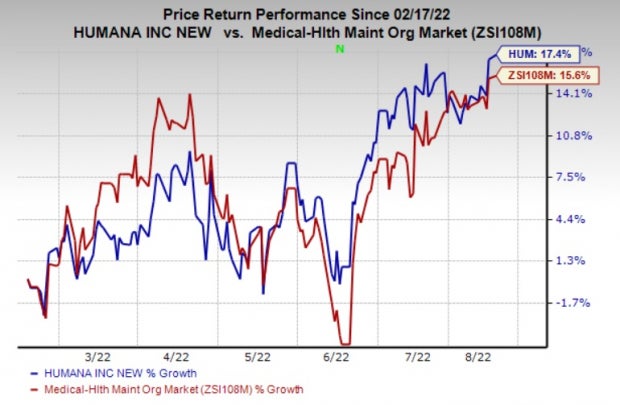 Image Source: Zacks Investment Research
Shares of Centene, UnitedHealth Group and Molina Healthcare have gained 16.5%, 16.1% and 4.3%, respectively, in the same time period.
Want the latest recommendations from Zacks Investment Research? Today, you can download 7 Best Stocks for the Next 30 Days.
Click to get this free report
UnitedHealth Group Incorporated (UNH): Free Stock Analysis Report
Humana Inc. (HUM): Free Stock Analysis Report
Molina Healthcare, Inc (MOH): Free Stock Analysis Report
Centene Corporation (CNC): Free Stock Analysis Report
To read this article on Zacks.com click here.
Zacks Investment Research