Duke Energy (DUK) Continues Expansion in North Carolina
The year 2020 was certainly challenging for most industries operating across the United States due to the widespread impacts of the COVID-19 pandemic. However, things were different for Duke Energy DUK as its clean power-generation resources continued to grow in North Carolina in 2020, with more Duke Energy customers using solar power than ever before.
Duke Energy's Growth Prospects in North Carolina
As the entire United States is transitioning toward a clean energy economy, the Carolinas are leading the nation in terms of carbon emission reduction in the electric sector. In particular, the North Carolina Department of Environmental Quality, in 2019, announced its projections of substantial increases in renewable energy generation approximately to 33,000 GWh by 2030.

Furthermore, almost 60% of Duke Energy's generation in the Carolinas is carbon-free, with nuclear, solar and hydroelectric power being the leading sources of carbon-free generation. This has notably offered immense growth opportunities to utilities like Duke Energy to enhance their renewable portfolio in North Carolina.

To this end, it is imperative to mention that Duke Energy operates 40 solar facilities in North Carolina and maintains about 3,700 megawatts ("MW") of solar power on its energy grid in the state, capable of powering about 700,000 homes and businesses at peak output. In the year 2020 itself, the company connected almost 350 MW of solar power capacity, which included major projects such as the 69-MW Maiden Creek solar facility in Catawba County and the 25-MW Gaston County solar facility in Bessemer City.
Adoption of Clean Energy to Benefit Utilities
Realizing the need and advantage of the rapid shift toward clean energy, utilities across the board are enhancing their renewable portfolio and reducing fossil fuel dependence at a faster pace. Notably, Duke Energy aims to achieve significant carbon neutrality and reduce existing carbon emissions by at least 50% by 2030 and achieve net-zero carbon emissions by 2050. Alongside Duke Energy, there are other major utilities across the United States, who also envision expanding clean energy resources and reducing carbon emissions.

For instance, Xcel Energy XEL aims to achieve an 80% carbon reduction by 2030 and 100% carbon-free electricity by 2050. Ameren Corporation AEE too has announced the goal to achieve net-zero carbon emissions by 2050 in Missouri and Illinois. Likewise, American Electric Power AEP aims at reducing carbon dioxide emissions by 80% by 2050.
Zacks Rank & Price Performance
Duke Energy carries a Zacks Rank #3 (Hold), at present. You can see the complete list of today's Zacks #1 Rank (Strong Buy) stocks here.

In the past six months, the company's shares have gained 9.8% compared with the industry's 7% growth.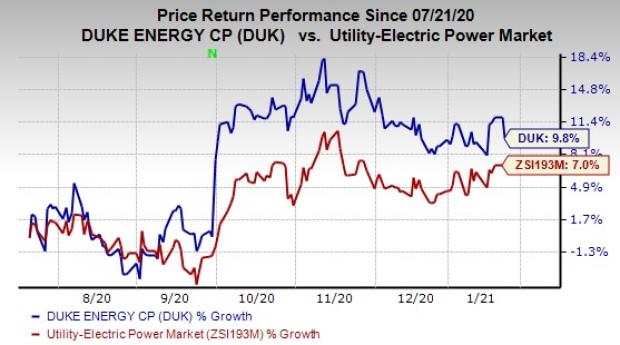 Breakout Biotech Stocks with Triple-Digit Profit Potential
The biotech sector is projected to surge beyond $775 billion by 2024 as scientists develop treatments for thousands of diseases. They're also finding ways to edit the human genome to literally erase our vulnerability to these diseases.

Zacks has just released Century of Biology: 7 Biotech Stocks to Buy Right Now to help investors profit from 7 stocks poised for outperformance. Our recent biotech recommendations have produced gains of +50%, +83% and +164% in as little as 2 months. The stocks in this report could perform even better.

See these 7 breakthrough stocks now>>
Want the latest recommendations from Zacks Investment Research? Today, you can download 7 Best Stocks for the Next 30 Days.
Click to get this free report
Ameren Corporation (AEE): Free Stock Analysis Report
American Electric Power Company, Inc. (AEP): Free Stock Analysis Report
Xcel Energy Inc. (XEL): Free Stock Analysis Report
Duke Energy Corporation (DUK): Free Stock Analysis Report
To read this article on Zacks.com click here.
Zacks Investment Research