Nokia (NOK) to Boost Movistar Chile's Network With 5G Services
Nokia Corporation NOK recently won a significant contract from Movistar Chile, a subsidiary of Telefonica, S.A. TEF, for the deployment of the latter's 5G network across Chile. As part of the partnership, Movistar will leverage communications equipment from Nokia's AirScale portfolio. The milestone deployment will enable Movistar customers to make the most out of 5G services, thanks to its low-latency, high-speed connectivity.

Interestingly, Chile is the first Latin American country to have a 5G auction. At a time when companies are not sparing any efforts to boost the adoption of next-gen connectivity among end users, the latest win will not only establish a streamlined 5G infrastructure but also promote overall economic development for further growth and innovation.

The Finnish telco is focused on four strategic priorities. The first is leading in high-performance end-to-end networks with its service provider customers. The second priority is to expand network sales to select vertical markets, specifically energy, transportation and webscale players. Building a strong standalone software business is the third priority. The final priority is creating new business and licensing opportunities in the consumer ecosystem.

Nokia's AirScale is touted as the industry-first commercial end-to-end 5G solution that offers massive capacity scaling with ultra-low latency. The unique technology helps operators to curtail their future capital expenditures and maximize the value of both licensed and unlicensed spectrum while bridging the gap between IT and telco.

The AirScale Radio Access products deliver high-capacity mobile connectivity and minimize network complexity with low cost of ownership. It consumes 60% less energy compared with Nokia's previous radio access platform and drives software cycles for enhanced performance, which makes it an ideal offering among network operators.

Apart from providing 5G services, Nokia will be responsible for revamping Movistar's 4G and 4G+ networks with superior mobile data services. Consequently, the upgraded network services will help small and medium-sized businesses and consumers to avail the benefits of enhanced connectivity and capacity, thereby meeting the evolving network requirements with utmost ease. Business customers will also enjoy a first-hand access to 5G use cases, which includes Industry 4.0 and private wireless.

Thanks to Nokia's AirScale technology, 4G networks can be easily modernized to 5G via a software-based upgrade for seamless deployments. The upgraded network will be operational across Movistar's recently acquired 50 MHz spectrum in the 3.5Ghz band to support broadband services. Driven by these state-of-the-art features, the AirScale system is expected to not only underpin the critical network backbone across Chile but also strengthen Nokia's footprint in the South American country.

Despite strength of its end-to-end portfolio, Nokia has long been struggling to restore its leadership position in the emerging markets. Nevertheless, distinct strategies and positive endeavors on the back of its technological prowess are likely to enhance its cost-effective and automated 5G network operations, especially when it is aiming to walk the extra mile to revive its faltering 5G business. Customer focus and reduced long-term costs will further bolster its product roadmap and cost competitiveness through incremental 5G investments.

The Zacks Rank #2 (Buy) stock has gained 39.5% compared with the industry's growth of 61.4% in the past year.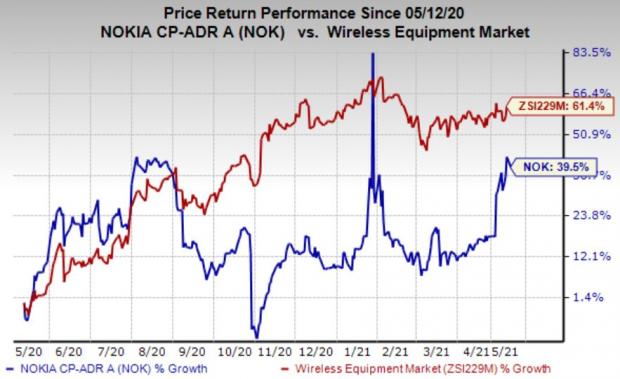 Some other top-ranked stocks in the industry are Clearfield, Inc. CLFD and Viasat, Inc. VSAT, each carrying a Zacks Rank #2. You can see the complete list of today's Zacks #1 Rank (Strong Buy) stocks here.

Clearfield delivered a trailing four-quarter earnings surprise of 79.8%, on average.

Viasat delivered a trailing four-quarter earnings surprise of 190.9%, on average.
Bitcoin, Like the Internet Itself, Could Change Everything
Blockchain and cryptocurrency has sparked one of the most exciting discussion topics of a generation. Some call it the "Internet of Money" and predict it could change the way money works forever. If true, it could do to banks what Netflix did to Blockbuster and Amazon did to Sears. Experts agree we're still in the early stages of this technology, and as it grows, it will create several investing opportunities.

Zacks' has just revealed 3 companies that can help investors capitalize on the explosive profit potential of Bitcoin and the other cryptocurrencies with significantly less volatility than buying them directly.

See 3 crypto-related stocks now >>
Want the latest recommendations from Zacks Investment Research? Today, you can download 7 Best Stocks for the Next 30 Days.
Click to get this free report
Telefonica SA (TEF): Free Stock Analysis Report
Viasat Inc. (VSAT): Free Stock Analysis Report
Clearfield, Inc. (CLFD): Free Stock Analysis Report
To read this article on Zacks.com click here.
Zacks Investment Research