Duke Energy Plans to Expand EV Charging in South Carolina
Duke Energy Corporation DUK recently received approval for its electric transportation (ET) pilot programs from the Public Service Commission of South Carolina (PSCSC). With this approval, South Carolina will now join other states in deploying electric vehicle (EV) infrastructure to meet the needs of this growing market.
Details of Electric Transportation Pilot Programs
Duke Energy will install and operate 60 fast chargers across Duke Energy Carolinas and Duke Energy Progress South Carolina territories to provide a foundational level of infrastructure and facilitate EV market growth. Fast chargers installed under this program will feature next-generation power output of 100 kilowatts (kW) and above, ensuring that the state keeps pace with the advances taking place in the market.

Alongside fast chargers, the program will provide up to a total of $1,000 to 400 residential Duke Energy Carolinas customers for installing a Level 2 charging station, gaining access to their charging data and further managing their EV charging load during off-peak periods.
How Will the EV Pilot Programs Benefit?
Duke Energy's EV Pilot Programs will be instrumental in expanding access to fast-charging infrastructure, which will allow electric vehicle customers across South Carolina to enjoy significant fuel cost savings and help eliminate emissions caused by transportation using conventional fuel. Moreover, the residential program from Duke Energy Carolinas will gather current charging load data to better understand the effects of EVs on Duke Energy's electric system and determine the ability of customers to respond to load management programs.

Furthermore, these programs will assist the company in achieving its recent goal of converting its entire fleet of light-duty vehicles to electric and 50% of its medium-duty, heavy-duty and off-road vehicles to EVs, plug-in hybrids, or other zero-carbon alternatives, by 2030.
Transition in Utility Space & EV Charging
In recent times, the U.S. economy has been steadily transitioning toward a clean energy environment, increasing electrification in the transportation sector for reducing emissions of CO2 and air pollutants. This has offered a favorable opportunity to utilities, which have lately adopted clean energy as their new choice of resources.

Per a Goldstein Market Intelligence report, the United States electric vehicle market will expand at a CAGR of 40.7% during the 2017-2030 period. Further, the market is anticipated to reach $43.10 billion by the end of the forecast period. Evidently, EVs will create a $2-TRILLION eMobility opportunity for utility companies, according to a research by Accenture ACN.

In line with such projections, we have seen a handful of other utilities alongside Duke Energy, which have been investing to increase the adoption of EV charging programs to reap the benefits of the growing market of transportation electrification.

Edison International's EIX subsidiary, Southern California Edison (SCE), is electrifying transportation through its Charge Ready 2 program, which aims to install and maintain the supporting EV charging infrastructure and provide rebates to reduce charging station costs. Similarly, Pacific Gas and Electric Company's PCG EV charge Network program is accelerating California's transition to a clean transportation future.
Zacks Rank & Price Performance
Duke Energy carries a Zacks Rank #3 (Hold), at present. You can see the complete list of today's Zacks #1 Rank (Strong Buy) stocks here.

In the year-to-date period, the company's shares have gained 2.1% against the industry's 8.2% decline.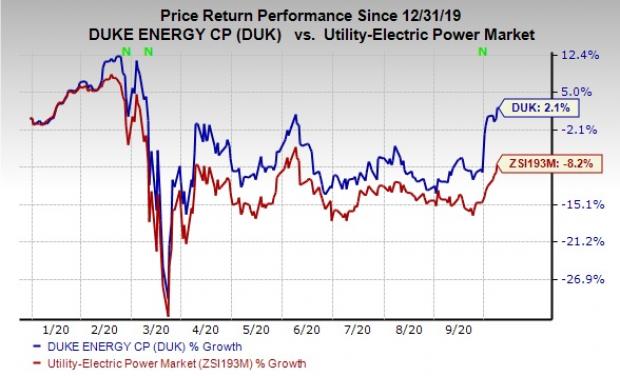 Just Released: Zacks' 7 Best Stocks for Today
Experts extracted 7 stocks from the list of 220 Zacks Rank #1 Strong Buys that has beaten the market more than 2X over with a stunning average gain of +24.3% per year.

These 7 were selected because of their superior potential for immediate breakout.

See these time-sensitive tickers now >>
Want the latest recommendations from Zacks Investment Research? Today, you can download 7 Best Stocks for the Next 30 Days.
Click to get this free report
Edison International (EIX): Free Stock Analysis Report
Duke Energy Corporation (DUK): Free Stock Analysis Report
Accenture PLC (ACN): Free Stock Analysis Report
Pacific Gas Electric Co. (PCG): Free Stock Analysis Report
To read this article on Zacks.com click here.
Zacks Investment Research