Alkermes (ALKS) Q4 Earnings & Revenues Surpass Estimates
Alkermes plc. ALKS reported adjusted earnings of 34 cents per share in the fourth quarter of 2018, outperforming the Zacks Consensus Estimate of a loss of 6 cents. The bottom line also exceeded the adjusted earnings of 31 cents recorded in the year-ago quarter.
The company's revenues of $315.8 million in the quarter increased 14.7% year over year. The top line beat the Zacks Consensus Estimate of $253 million.
Results were driven by strong growth in the company's proprietary products — Vivitrol and Aristada. Net sales for Vivitrol and Aristada were $132.7 million in the quarter, reflecting 28% increase from the year-ago quarter.
Alkermes' shares have lost 49% in the past year compared with the industry's decline of 17.1%.

Revenues Rise
Manufacturing and royalty revenues from Risperdal Consta, Invega Sustenna/Xeplion and Invega Trinza/Trevicta were $81.4 million, up 4.1% year over year. The same from Ampyra/Fampyra were up 1.8% year over year to $38.8 million. Research and development revenues were $15.6 million, of which $14.4 million was related to the collaboration with Biogen Inc. BIIB for BIIB098.
Vivitrol sales improved 11% year over year to $83.8 million.
Aristada sales came in at $48.8 million, up 72% year over year.
Costs Rise
Research and Development (R&D) expenses were $108.9 million, down 4.3% year over year.
Selling, General and Administrative (SG&A) expenses were $141.2 million, up 27.4% year over year.
Full-Year 2018 Results
For 2018, adjusted earnings came in at 61 cents per share compared with 17 cents in 2017.
Revenues in 2018 increased 21% year over year to $1.09 billion.
2019 Outlook
The company expects total revenues of $1.14-$1.19 billion, driven by anticipated growth of the company's proprietary products and an expected $150-million milestone payment from Biogen in the fourth quarter, related to the potential FDA approval of diroximel fumarate (BIIB098).
The Zacks Consensus Estimate for 2019 revenues is $1.10 billion.
Alkermes expects Vivitrol sales to be $330-$350 million, while Aristada sales are anticipated to be $210-$230 million. The company expects R&D expenses to be $450-$480 million. Alkermes' guidance for SG&A expenses is $590-$620 million.
Alkermes expects earnings per share to be 25-43 cents. The Zacks Consensus Estimate for 2019 earnings is 62 cents.
Pipeline Update
In November 2018, Alkermes announced positive top-line results from ENLIGHTEN-2, a pivotal phase III study of ALKS 3831 compared to Lilly's LLY Zyprexa (olanzapine) in patients with stable schizophrenia. In the study, ALKS 3831 met the pre-specified co-primary endpoints.
In December 2018, Alkermes and Biogen announced the submission of a new drug application (NDA) to the FDAfor diroximel fumarate, a novel oral fumarate in development for the treatment of relapsing forms of multiple sclerosis.
In January 2019, Alkermes received a Complete Response Letter from the FDA regarding the NDA for ALKS 5461, for the adjunctive treatment of major depressive disorder.
Alkermes plc Price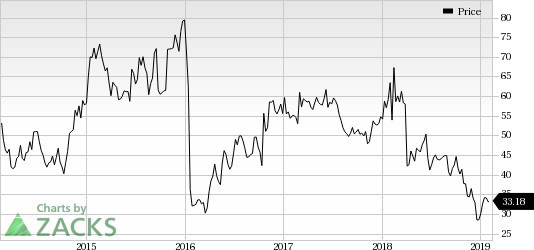 Zacks Rank & Another Key Pick
Alkermes currently carries a Zacks Rank #2 (Buy).
Another top-ranked stock in the biotech sector is Celgene Corporation CELG, sporting a Zacks Rank #1 (Strong Buy). You can see the complete list of today's Zacks #1 Rank stocks here.
Celgene's earnings per share estimates have moved up from $10.21 to $10.69 for 2019 and from $11.61 to $12.62 for 2020 in the past 60 days. The company delivered a positive earnings surprise in all the trailing four quarters, with average beat of 2.65%.
Zacks' Top 10 Stocks for 2019
In addition to the stocks discussed above, wouldn't you like to know about our 10 finest buy-and-holds for the year?
From more than 4,000 companies covered by the Zacks Rank, these 10 were picked by a process that consistently beats the market. Even during 2018 while the market dropped -5.2%, our Top 10s were up well into double-digits. And during bullish 2012 – 2017, they soared far above the market's +126.3%, reaching +181.9%.
This year, the portfolio features a player that thrives on volatility, an AI comer, and a dynamic tech company that helps doctors deliver better patient outcomes at lower costs.
Want the latest recommendations from Zacks Investment Research? Today, you can download 7 Best Stocks for the Next 30 Days.
Click to get this free report
Eli Lilly and Company (LLY): Free Stock Analysis Report
Biogen Inc. (BIIB): Free Stock Analysis Report
Celgene Corporation (CELG): Free Stock Analysis Report
Alkermes plc (ALKS): Free Stock Analysis Report
To read this article on Zacks.com click here.
Zacks Investment Research