Airline Stock Roundup: IT Glitch at AAL, ALK & CPA's May Traffic Reports in Focus
In the past week, American Airlines Group Inc. AAL cancelled multiple flights due to a computer error at its subsidiary, PSA Airlines. Notably, PSA Airlines is responsible for operating around 12% of the daily flights at American Airlines. Needless to say, the cancellation of flights caused unwarranted harassments to its passengers.
Moreover, rumors of a new low-cost carrier being launched in the United States made headlines over the past five trading days. According to media reports, David Neeleman — the founder of JetBlue Airways Corporation JBLU — has plans to launch Moxy Airways. Reportedly, this highly successful airline entrepreneur is targeting $100 million in funding (including from himself) for this new venture.
Also, Alaska Air Group, Inc. ALK and Copa Holdings, S.A. CPA unveiled their respective traffic reports for May in the past week. While load factor (% of seats filled by passengers) decreased at Alaska Air due to higher capacity growth, the metric improved at Copa Holdings as traffic growth outpaced capacity expansion. Meanwhile, low-cost carrier Spirit Airlines, Inc. SAVE announced a major expansion of its network.
Transportation - Airline Industry 5YR % Return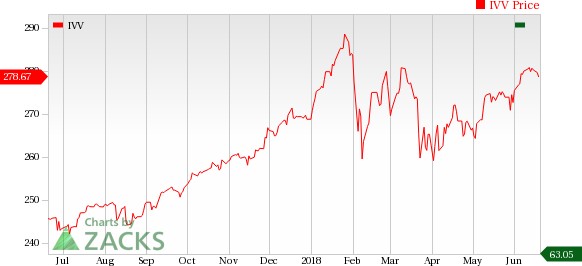 (Read the last Airline Stock Roundup for Jun 13, 2018)
Recap of the Past Week's Most Important Stories
1. At Alaska Air Group, traffic — measured in revenue passenger miles (RPMs) — was up 7.4% year over year to 3.78 billion. Consolidated capacity (or available seat miles/ASMs) rose 9% to 4.84 billion.
Apart from the traffic report, Alaska Air Group's subsidiary, Alaska Airlines announced its intention to start operating non-stop flights connecting San Diego and Spokane, WA, from Oct 1, 2018 (read more: Alaska Air Group's May Traffic Up, Load Factor Down).
Alaska Air Group carries a Zacks Rank #3 (Hold). You can see the complete list of today's Zacks #1 Rank (Strong Buy) stocks here.
2. Copa Holdings reported a 16.1% increase in May traffic. With traffic growth outpacing capacity expansion (13.4%), load factor expanded 200 basis points to 84.4% in the month (read more: Copa Holdings Traffic & Load Factor Increase in May).
3. In a bid to expand internationally, Spirit Airlines stated that it will start operating additional flights connecting Orlando International Airport to 11 new destinations in Latin America and the Caribbean from Oct 4, 2018. As part of the carrier's largest international expansion plan, Spirit will also launch additional flights to connect Orlando with three destinations in the United States (Myrtle Beach, South Carolina, Greensboro and Asheville in North Carolina), later this year.
4. A computer failure at American Airlines' regional carrier PSA Airlines adversely impacted its crew scheduling system. As a result of the disruption, the carrier's operations were thrown haywire as it had to call off more than 2, 500 flights since Thursday. The situation at PSA Airlines is limping back to normal and the regional carrier aims to resume operations at 100% level in the next few days.
American Airlines was also in the news when the carrier reportedly decided to trim its work force (at the management level), in a bid to cut costs. Following a meeting of its board of directors, the company decided to trim its headcount by dismissing some its management-level employees besides offering buyouts to others as it attempts to increase efficiencies for bolstering long-term growth. However, the number of employees to be affected by this move has not yet been disclosed.
5. It seems that a new US-based low-cost carrier will be launched in the next couple of years. David Neeleman, who had dismissed rumors about his plans to launch an airline last year, is apparently aiming to do so this time around. The new carrier aims to serve small airports using Bombardier CS300 planes. Neeleman has an impressive track record in the aviation industry. Apart from JetBlue, he also founded Brazilian carrier Azul S.A. AZUL and has a stake in Portugal's leading carrier, TAP Air Portugal. Naturally, investors would eagerly await updates on Neeleman's latest plan, given his vast experience in the industry.
Price Performance
The following table shows the price movement of the major airline players over the past week and during the last six months.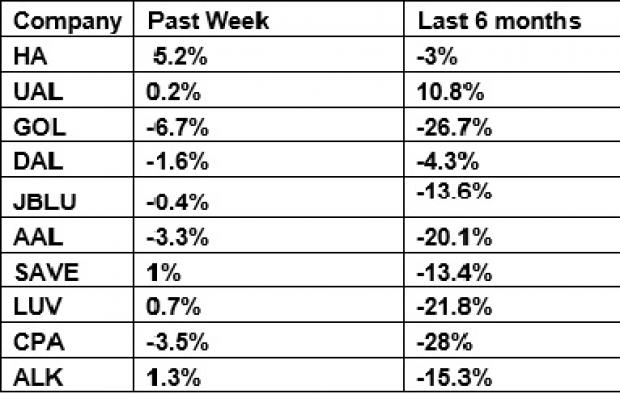 The table above shows that airline stocks exhibited a mixed price trend over the past week. The NYSE ARCA Airline Index declined 1% in the period. Over the course of the last six months, the sector tracker has lost 11% of its value mainly due to high fuel costs and other headwinds. Shares of Latin American carriers Copa Holdings and Gol Linhas Aereas Inteligentes S.A. GOL have declined the most, 28% and 26.7%, respectively, in the same period.
What's Next in the Airline Space?
Stay tuned for usual news updates in the space.
Today's Stocks from Zacks' Hottest Strategies

It's hard to believe, even for us at Zacks. But while the market gained +21.9% in 2017, our top stock-picking screens have returned +115.0%, +109.3%, +104.9%, +98.6%, and +67.1%.

And this outperformance has not just been a recent phenomenon. Over the years it has been remarkably consistent. From 2000 - 2017, the composite yearly average gain for these strategies has beaten the market more than 19X over. Maybe even more remarkable is the fact that we're willing to share their latest stocks with you without cost or obligation.

See Them Free>>
Want the latest recommendations from Zacks Investment Research? Today, you can download 7 Best Stocks for the Next 30 Days.
Click to get this free report
JetBlue Airways Corporation (JBLU): Free Stock Analysis Report
Gol Linhas Aereas Inteligentes S.A. (GOL): Free Stock Analysis Report
Copa Holdings, S.A. (CPA): Free Stock Analysis Report
Spirit Airlines, Inc. (SAVE): Free Stock Analysis Report
American Airlines Group Inc. (AAL): Free Stock Analysis Report
Alaska Air Group, Inc. (ALK): Free Stock Analysis Report
AZUL SA (AZUL): Free Stock Analysis Report
To read this article on Zacks.com click here.
Zacks Investment Research