Casino Stocks Gain on Macau's New Gaming Law Reforms
Although the coronavirus-induced uncertainty prevails over the Macau Gaming industry, some respite was established as the government proposed new amendments with respect to gaming concession renewals. The announcement removes the apprehension regarding the potential dilution of existing casino operators in the region. The new rules are subject to approval by the Macau legislature.
Per a ggrasia.com report, the number of new casino operators allowed to operate in Macau has been limited to six concessionaires with a maximum concession period of up to 10 years. The option of extending the duration (by three years) is also made available by the government under exceptional circumstances. The rule acknowledges local ownership of casinos to 15% (from 10% earlier) as well as the non-mandatory presence of a government official to sit on the company board. According to reuters.com report, casino operators must increase the amount of capital to 5 billion patacas ($623.67 million) from 200 million patacas.
The amendments are a result of a 45-day consultation process that ended Oct 29, 2021. The government officials stated that an update to the gaming regulatory framework would take place prior to a fresh public tender for Macau casino rights and that all existing (or potential) operators need to apply through the new tender process. The current licenses expire in June 2022.
The Macau Gaming industry is witnessing tightened scrutiny owing to concerns related to underground lending and illegal cash transfers from mainland China. Nonetheless, the announcement paves the path for clarity in terms of concerns relating to government oversight and minimum shareholding by a Macau permanent resident.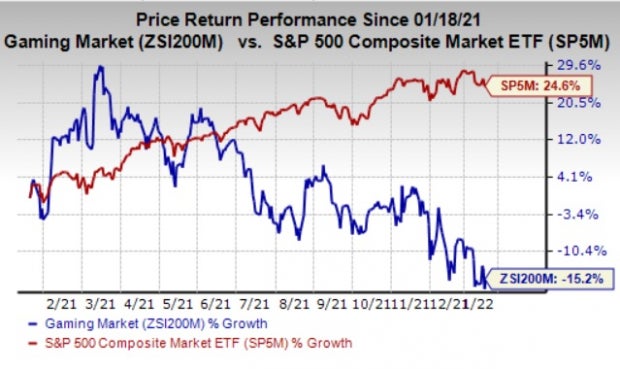 Image Source: Zacks Investment Research
We believe that the announcement is likely to act as a catalyst in boosting the gaming industry's prospects, which were earlier hampered by coronavirus-related woes. In the past year, the Zacks Gaming industry has declined 15.2% against S&P 500's increase of 24.6%.
Moreover, improving visitation trends (as imposed by certain casino operators) coupled with favorable demographics (surrounding Macau) are likely to lead to continued resiliency in the upcoming periods.
Gaming Stocks Rise
Following the news, stocks including Las Vegas Sands Corp. LVS, Wynn Resorts, Limited WYNN and Melco Resorts & Entertainment Limited MLCO moved up 14.2%, 8.6% and 16.6%, respectively, on Jan 14, 2022. These companies generate a significant portion of their revenues from Macau.
Wynn Resorts, together with its subsidiaries, is a leading developer, owner and operator of casino resorts. The company currently owns and operates casino hotel resort properties in Las Vegas and in the Macau Special Administrative Region of the People's Republic of China. The company has been benefitting from improved non-gaming revenues and expansion in domestic markets. Also, focus on WynnBET bodes well. The company anticipates solid revenue generation on the back of new product features and a unique marketing campaign.
For 2022, the Zacks Consensus Estimate for Wynn Resorts financial-year sales and earnings per share (EPS) suggests growth of 38.1% and 89.3%, respectively, from the year-ago period's levels.
Las Vegas Sands is a leading international developer of multi-use integrated resorts primarily operating in the United States and Asia. Las Vegas Sands generates a significant portion of revenues from Macau. The company has invested over $13 billion in Macau since 2004, consistently contributing to Macau's diversification and appeal as a business and leisure tourism destination. Despite the current scenario, the company announced that it would progress with its $2.2-BILLION investments in Macau. Backed by these investments, the company aims to capitalize on the likely structural growth in Macau in the coming years to stay ahead of the curve in terms of quality and scale of product and amenities. It anticipates Macau to lead the recovery this year. The company also anticipates rapid vaccinations in Asia to drive growth in the days ahead. Four Seasons and Londoner will provide the company with growth opportunities.
For 2022, the Zacks Consensus Estimate for Las Vegas Sands financial-year sales and EPS suggests growth of 67% and 164.6%, respectively, from the year-ago period's levels.
Melco Resorts is a developer, owner and operator of integrated resort facilities in Asia and Europe. The company has been benefitting from pent-up demand and cost-saving initiatives. Also, it has been working on Studio City Phase 2 in Macau. Going forward, the company anticipates the business to reach pre-pandemic levels as soon as travel restrictions are eased. Moreover, continued progress toward higher vaccination levels is likely to reopen border and ramp up recovery.
For 2022, the Zacks Consensus Estimate for Melco Resorts financial-year sales and EPS suggests growth of 33.3% and 26.3%, respectively, from the year-ago period's levels.
Just Released: Zacks Top 10 Stocks for 2022
In addition to the investment ideas discussed above, would you like to know about our 10 top picks for the entirety of 2022?
From inception in 2012 through 2021, the Zacks Top 10 Stocks portfolios gained an impressive +1,001.2% versus the S&P 500's +348.7%. Now our Director of Research has combed through 4,000 companies covered by the Zacks Rank and has handpicked the best 10 tickers to buy and hold. Don't miss your chance to get in…because the sooner you do, the more upside you stand to grab.
See Stocks Now >>
Want the latest recommendations from Zacks Investment Research? Today, you can download 7 Best Stocks for the Next 30 Days.
Click to get this free report
Las Vegas Sands Corp. (LVS): Free Stock Analysis Report
Wynn Resorts, Limited (WYNN): Free Stock Analysis Report
Melco Resorts & Entertainment Limited (MLCO): Free Stock Analysis Report
To read this article on Zacks.com click here.