Ryanair (RYAAY) Shares Down 2.3% in Six Months: Here's Why
Ryanair Holdings RYAAY shares have dropped 2.3% in the past six months against the industry's 8.5% increase.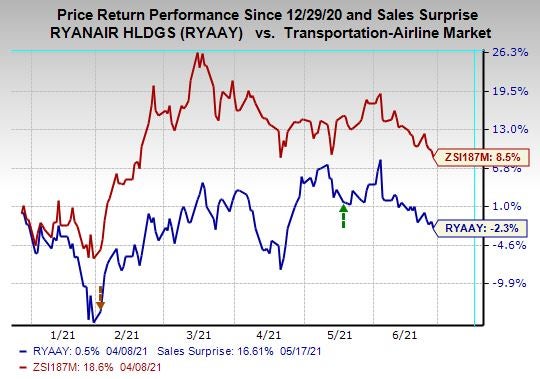 Image Source: Zacks Investment Research
Reasons for Plunge
The resurgence of coronavirus cases in some parts of Europe had worsened the already weak travel demand scenario, thanks to the recent travel-related restrictions. Evidently, the airline's March traffic plunged 91% year over year to merely 0.5 million guests. The carrier's load factor (percentage of seats filled with passengers) in the month was 77% compared with 91% a year ago. In April, load factor (% of seats filled by passengers) fell further to 67%. In May, the airline operated more than 12,000 flights with a load factor of 79%.
Amid coronavirus-led travel-demand woes, the airline regarded fiscal 2021 as the most "challenging" in its 35-year history. The airline anticipates first-quarter fiscal 2022 traffic to be only between 5 million and 6 million guests.
Ryanair anticipates slow vaccine rollout in the European Union to affect fiscal 2022 traffic. The airline estimates its fiscal 2022 traffic to be at the low end of the guidance of 80-120 million passengers, as a result of "Easter travel restrictions/lockdowns and a delayed traffic recovery into the peak summer 21 season, due to the slow rollout in the EU of COVID-19 vaccines.
Unfavorable Estimate Revisions
The Zacks Consensus Estimate for current-year earnings has declined 93.5% to 6 cents per share in the past 60 days.
Zacks Rank & Stocks to Consider
Ryanair currently carries a Zacks Rank #4 (Sell).
Some better-ranked stocks in the broader Zacks Transportation sector are Landstar System, Inc. LSTR, Triton International Limited TRTN and FedEx Corporation FDX. All the stocks carry a Zacks Rank #2 (Buy). You can see the complete list of today's Zacks #1(Strong Buy) Rank stocks here.
Long-term (three to five years) expected earnings per share growth rate for Landstar, Triton and FedEx is projected at 12%, 10% and 12%, respectively.
Bitcoin, Like the Internet Itself, Could Change Everything
Blockchain and cryptocurrency has sparked one of the most exciting discussion topics of a generation. Some call it the "Internet of Money" and predict it could change the way money works forever. If true, it could do to banks what Netflix did to Blockbuster and Amazon did to Sears. Experts agree we're still in the early stages of this technology, and as it grows, it will create several investing opportunities.

Zacks' has just revealed 3 companies that can help investors capitalize on the explosive profit potential of Bitcoin and the other cryptocurrencies with significantly less volatility than buying them directly.

See 3 crypto-related stocks now >>

Want the latest recommendations from Zacks Investment Research? Today, you can download 7 Best Stocks for the Next 30 Days.
Click to get this free report
Ryanair Holdings PLC (RYAAY): Free Stock Analysis Report
FedEx Corporation (FDX): Free Stock Analysis Report
Landstar System, Inc. (LSTR): Free Stock Analysis Report
Triton International Limited (TRTN): Free Stock Analysis Report
To read this article on Zacks.com click here.
Zacks Investment Research