Deere & Company Q3 Preview: Can the Earnings Streak Continue?
A stellar place to park your cash over the last month has been the Zacks Industrial Products Sector, up a substantial 17.8% and easily outperforming the general market. However, the sector has lagged the S&P 500 year-to-date.
Below is a chart illustrating the sector's performance vs. the S&P 500 over several timeframes.


Image Source: Zacks Investment Research
One of the most popular and widely-followed stocks in the sector, Deere & Company DE, is on deck to unveil Q3 results on Friday, August 19th, before market open.
Deere is the world's largest producer of agricultural equipment, manufacturing agricultural machinery since 1837 under the iconic John Deere brand with its signature green and yellow color scheme.
The company carries a Zacks Rank #3 (Hold) with an overall VGM Score of a C. How does the agriculture machinery titan shape up heading into its quarterly release? Let's take a closer look.
Share Performance & Valuation
John Deere shares have been a bright spot in an otherwise dim market year-to-date, tacking on an impressive 7.3% in value and easily outperforming the S&P 500.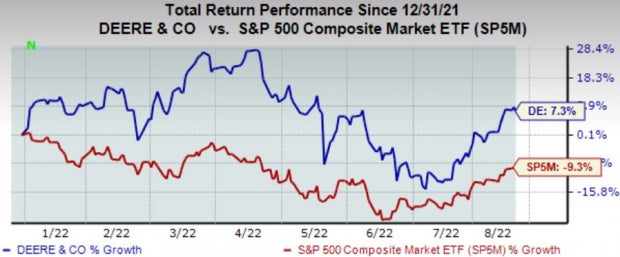 Image Source: Zacks Investment Research
Even over the last month, the strong price action of Deere shares has continued, increasing by an impressive double-digit 23% and outperforming the general market once again.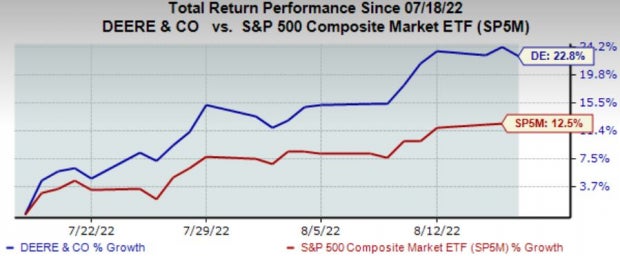 Image Source: Zacks Investment Research
The company also sports rock-solid valuation levels; DE's 15.9X forward P/E ratio is well beneath its five-year median of 17.3X and represents an enticing 8% discount relative to its Zacks Sector.
In addition, Deere carries a Style Score of a B for Value.


Image Source: Zacks Investment Research
Quarterly Estimates
Analysts have had some mixed reactions for the quarter to be reported, but the overall tone has been bearish, with two upwards and four downwards revisions. Still, the Zacks Consensus EPS Estimate of $6.62 reflects a double-digit 25% uptick in quarterly earnings year-over-year.


Image Source: Zacks Investment Research
The company's top-line is also in exceptional health – the Zacks Consensus Sales Estimate of $12.9 billion reflects a substantial 24% increase in quarterly revenue Y/Y.
Quarterly Performance & Market Reactions
DE has been on a remarkable earnings streak, exceeding the Zacks Consensus EPS Estimate in each of its previous 11 quarters. Just in its latest print, the company registered a solid 2.4% bottom-line beat.
Top-line results have primarily been strong as well, with the company penciling in eight revenue beats over its last ten quarters. Below is a chart illustrating the company's revenue on a quarterly basis.


Image Source: Zacks Investment Research
To a bit of a surprise, the market hasn't reacted well in response as of late to DE's quarterly prints, with shares moving downwards following back-to-back releases.
Putting Everything Together
Deere shares have been remarkably strong not just year-to-date but over the last month as well, crushing the S&P 500 in both timeframes.
Shares trade at solid valuation multiples, nicely beneath their five-year median and representing an attractive discount relative to their sector.
Analysts have been primarily bearish for the quarter to be reported, but estimates still reflect substantial growth.
In addition, the company has consistently exceeded quarterly estimates, but shares have moved downwards following each of its last two quarterly prints.
Heading into the release, Deere & Company DE carries a Zacks Rank #3 (Hold) with an Earnings ESP Score of 1.8%.
Want to Know the #1 Semiconductor Stock for 2022?
Few people know how promising the semiconductor market is. Over the last couple of years, disruptions to the supply chain have caused shortages in several industries. The absence of one single semiconductor can stop all operations in certain industries.
This year, companies that create and produce this essential material will have incredible pricing power. For a limited time, Zacks is revealing the top semiconductor stock for 2022. You'll find it in our new Special Report, One Semiconductor Stock Stands to Gain the Most.
Today, it's yours free with no obligation.
>>Give me access to my free special report.
Want the latest recommendations from Zacks Investment Research? Today, you can download 7 Best Stocks for the Next 30 Days.
Click to get this free report
Deere & Company (DE): Free Stock Analysis Report
To read this article on Zacks.com click here.
Zacks Investment Research