Southern Copper Hits 52-Week High: What's Driving the Rally?
Shares of Southern Copper Corporation SCCO scaled a fresh 52-week high of $48.70 during the Aug 31 trading session, before retracting to close at $48.10. The surge can primarily be attributed to better-than-expected second-quarter 2020 results and higher production numbers despite the impact of the COVID-19 pandemic. Expected benefits from cost-reduction programs, expansion projects and higher copper prices have also contributed to this rally.

The company has a market capitalization of $37.3 billion. It has an expected long-term earnings per share growth rate of 14.4%.
In the past year, shares of Southern Copper have gained 52.3%, compared with the industry's growth of 46.6%. The company also outperformed the Basic Materials sector and S&P 500, which rallied 11.1% and 13.8%, respectively in the same time frame.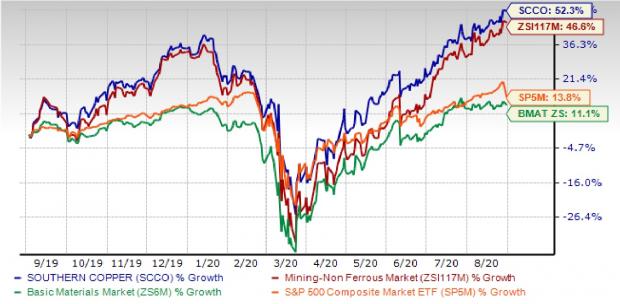 Meanwhile, earnings estimates for the third quarter and 2020 have gained 7% and 10%, respectively, over the past 30 days. Also, earnings estimates for the next year have improved 13% in the past few days.
Driving Factors
Better-Than-Expected Q2 Earnings
Southern Copper reported adjusted earnings of 34 cents per share in second-quarter 2020 beating the Zacks Consensus Estimate of 28 cents. Revenues of $1,785 million also surpassed the Zacks Consensus Estimate of $1,223 million.
Solid Production Numbers
The company's copper production increased 2% year over year in the first half of 2020 on higher production at the Peruvian mines (+9.5%) courtesy of the new Toquepala concentrator. This expansion project has bolstered Toquepala´s annual copper production by 100,000 tons.

Molybdenum production increased 26.4% in the first half of the year on stellar production in all of the company's mines. A new molybdenum plant, which started operating last year, has contributed significantly to the Toquepala mine output. Mined silver production increased 17.3% year over year in the first half of 2020, driven by higher production at all its operations.
Cost Reduction Efforts to Bear Fruit
Southern Copper has the largest copper reserves in the industry and operates high-quality, world-class assets in investment grade countries, such as Mexico and Peru. Backed by its constant commitment to increase low-cost production and growth investments, the company is well positioned to continue delivering enhanced performance.
Expansion Projects on Track
Southern Copper's board has approved projects in Peru with a total capital budget of $2.8 billion of which $1.6 billion has already been invested. Including the Michiquillay ($2.5 billion) and Los Chancas ($2.8 billion) projects, its total investment program in Peru runs to $8.1 billion. Peru is currently the second largest producer of copper globally and its national output is anticipated to grow 27% by 2022.

In Mexico, the company has a planned investment of $413 million in the Buenavista Zinc — Sonora project. An investment of $159 million is estimated for Pilares — Sonora project in Mexico, which comprises an open pit mine operation with an annual production capacity of 35,000 tons of copper in concentrates. The El Pilar project, with an investment of $310 million is expected to be completed in 2023 and will add 35,000 tons of copper annually.

The above-mentioned projects along with other investments in Mexico will enhance the company's Mexican operations' copper production by 16% and zinc production by 93%. The company has a number of other projects that might be developed in the future, which will help it in achieving copper volume production target of 1.5 million tons by 2028.
Surge in Copper Prices
Copper prices are gaining on solid demand in China, which is the top consumer. Further, anticipation of supply disruptions from the top copper producer Chile due to the pandemic are driving the metal's prices. The long-term outlook for copper is positive as its demand is expected to grow on electric vehicles, and renewable energy and infrastructure investments.
Zacks Rank & Other Stocks to Consider
Southern Copper currently sports a Zacks Rank #1 (Strong Buy). You can see the complete list of today's Zacks #1 Rank stocks here.

Some other top-ranked stocks in the basic materials space include DAQO New Energy Corp. DQ, Barrick Gold Corporation GOLD and The Scotts MiracleGro Company SMG, each carrying a Zacks Rank #1, currently.
DAQO New Energy has an estimated earnings growth rate of 348.3% for 2020. The company's shares have surged 119% in a year's time.

Barrick Gold has an expected earnings growth rate of 79.6% for the current year. Its shares have appreciated 53% in the past year.

Scotts MiracleGro has a projected earnings growth rate of 52.7% for the ongoing year. The company's shares have soared 59% over the past year.
Looking for Stocks with Skyrocketing Upside?
Zacks has just released a Special Report on the booming investment opportunities of legal marijuana.

Ignited by new referendums and legislation, this industry is expected to blast from an already robust $6.7 billion to $20.2 billion in 2021. Early investors stand to make a killing, but you have to be ready to act and know just where to look.
See the pot trades we're targeting>>
Want the latest recommendations from Zacks Investment Research? Today, you can download 7 Best Stocks for the Next 30 Days.
Click to get this free report
Barrick Gold Corporation (GOLD): Free Stock Analysis Report
The Scotts MiracleGro Company (SMG): Free Stock Analysis Report
Southern Copper Corporation (SCCO): Free Stock Analysis Report
DAQO New Energy Corp. (DQ): Free Stock Analysis Report
To read this article on Zacks.com click here.
Zacks Investment Research