Great Lakes Hits 52-Week High: Will the Trend Continue?
Great Lakes Dredge & Dock Corporation GLDD hit a new 52-week high of $9.78 on Apr 16. The stock pulled back to end the trading session at $9.56 on that day. That said, we can notice that Great Lakes has outperformed the industry in each of 4-week, 12-week and 52-week time frames.

Shares of the company have advanced 113.6% over a year against the Zacks Building Products - Heavy Construction industry's 14% decline. The uptrend is likely to continue in the near term owing to healthy growth in domestic capital dredging and rivers & lakes businesses, along with solid backlog and cost-reduction program. Earnings estimates for 2019 have gained 2.2% over the past 60 days, which reflects a year-over-year growth rate of 170.6%. Notably, the company's earnings surpassed analysts' expectations in each of the trailing five quarters.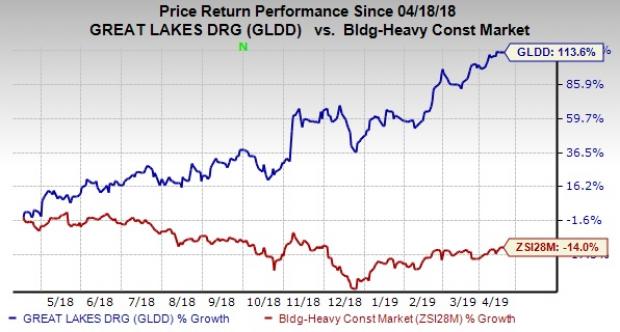 This Zacks Rank #1 (Strong Buy) company has an impressive Growth Score of B.

What's Driving the Stock?

Great Lakes is the largest provider of dredging services in the United States and the only provider of such services in international markets. The company is witnessing strong results primarily owing to Charleston and MSCIP projects, high equipment utilization, solid project execution and savings from the restructuring plan.

In 2018, the company's total contract revenues grew 4.8% year over year, given solid domestic capital and rivers & lakes revenues. Particularly, its domestic dredging revenues increased a notable 79.9% from the year-ago level, given strong Charleston entrance channel deepening projects, coastal restoration projects, LNG projects in Texas and Delaware River deepening project. The Tampa Harbor dredging project also contributed to the positives. Great Lakes' U.S. dredging operations act as a key catalyst behind the company's overall growth.

Rivers & lakes' revenues increased 14.5% year over year in the last reported quarter, attributable to a large flood mitigation project in Texas (first project post Hurricane Harvey) and Louisiana.

Notably, the company's total backlog of $707.1 million in 2018 was up 38.3% from the year-ago level. It projects approximately 78% of the total backlog to be completed by 2019. Remarkably, the dredging business had been awarded an additional $40.5 million in project work during the first six weeks of 2019.

Meanwhile, the company remains focused on lowering costs, which will have a positive impact on its bottom line. The company is targeting to reduce costs by closing non-performing assets and businesses. These cost-saving measures are expected to improve its gross and operating margins significantly in the upcoming quarters. To this end, it announced the closing of Environmental and Infrastructure business on Dec 31, 2018.

In 2018, the company reported gross margin of 19.4%, improving 830 basis points. Strong utilization of the fleet and asset rationalization resulted in lower plant and overhead costs. Adjusted EBITDA from continuing operations in 2018 increased an impressive 185.2% from a year ago. Also, adjusted EBITDA from continuing operations, excluding the restructuring impact, increased more than 91% year over year during the same period.

Meanwhile, the company expects high project activity in the domestic market, during the first half of 2019, which is usually heavier than normal drydocking year. This in turn is likely to impact fleet utilization in the latter half of 2019. Moreover, the international markets are likely to remain flat in 2019.

Other Stocks to Consider

Other top-ranked stocks in the same space include EMCOR Group, Inc. EME, MasTec, Inc. MTZ and North American Construction Group Ltd. NOA, each carrying a Zacks Rank #2 (Buy). You can see the complete list of today's Zacks #1 Rank stocks here.

EMCOR, MasTec and North American Construction's earnings for the current year are expected to increase 6.9%, 15.7% and 176.2%, respectively.

Radical New Technology Creates $12.3 Trillion Opportunity

Imagine buying Microsoft stock in the early days of personal computers… or Motorola after it released the world's first cell phone. These technologies changed our lives and created massive profits for investors.

Today, we're on the brink of the next quantum leap in technology. 7 innovative companies are leading this "4th Industrial Revolution" - and early investors stand to earn the biggest profits.

See the 7 breakthrough stocks now>>
Want the latest recommendations from Zacks Investment Research? Today, you can download 7 Best Stocks for the Next 30 Days.
Click to get this free report
MasTec, Inc. (MTZ): Free Stock Analysis Report
EMCOR Group, Inc. (EME): Free Stock Analysis Report
Great Lakes Dredge & Dock Corporation (GLDD): Free Stock Analysis Report
North American Construction Group Ltd. (NOA): Free Stock Analysis Report
To read this article on Zacks.com click here.
Zacks Investment Research