CACI Wins $438M Task Order to Aid Air Force C4ISR Program
CACI International Inc CACI recently won a five-year single-award task order to develop and support the Air Force Research Laboratory's Command, Control, Communications, Computers, Intelligence, Surveillance and Reconnaissance (C4ISR) programs and other technologies.

Per the terms of the Network-Centric Solutions-2 task order, CACI will also provide mission expertise on integration of intelligence and operations across air, space and cyberspace. Moreover, AI, ML, advanced geospatial intelligence and signals intelligence support will be provided by CACI.

The contract value is capped at $438 million, and also requires the company to help the customer enhance operational effectiveness and information security with SAFE Agile processes.
CACI International, Inc. Price and Consensus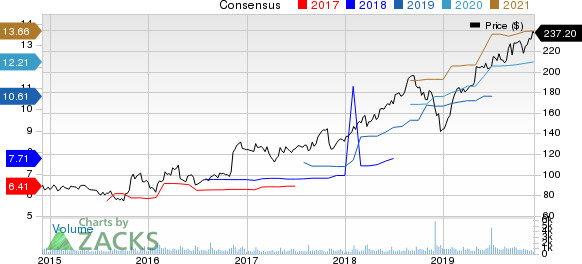 CACI International, Inc. price-consensus-chart | CACI International, Inc. Quote
Increasing Footing in C4ISR

CACI has a strong foothold in the C4ISR market. Moreover, it is constantly taking steps to boost its capabilities in this space.

Recently, the company secured a five-year task order to continue providing the U.S. Army Communications-Electronics Command Software Engineering Center with reprogramming infrastructure that develops software for electronic warfare (EW) systems.

Further, the recent buyouts of LGS and Mastodon are expected to enable CACI to provide products and solutions that address the areas of signals intelligence and spectrum management, EW, communications, C4ISR and cyber defense.

Notably, per Mordor Intelligence, the C4ISR market it is expected to witness a CAGR of more than 3.5% during 2018-2024. This growth is anticipated to be driven by increase in security breaches, global terrorism, rising demand for integrated solutions and interoperability, increase in asymmetric warfare and increasing use of technology.

Moreover, per Zion Market Research, the C4ISR market and EW are expected to witness a CAGR of 3.6% between 2018 and 2024 to hit $127.2 billion globally.

These are likely to boost the company's prospects.

Competition Strong

Bright prospects of the C4ISR market are keeping competition stiff.

Recently, Mercury Systems MRCY won the Best Performance award in Equipment & Systems for delivering solutions for Airbus' new generation tactical airlifter. This improved the company's visibility as a preferred defense systems and equipment supplier among companies operating in the C4ISR market.

Moreover, last year, Science Applications SAIC signed a potential seven-year, $861.1 million contract with the U.S. Navy to support the latter's C4ISR environment.

Also, in 2018, Lockheed Martin LMT, General Dynamics and BAE Systems accounted for a major market revenue share in the C4ISR market.

However, given its favorable relationship with the Department of Defense, and key contracts in the C4ISR space, we believe CACI is comfortably positioned to withstand competition.

CACI currently has a Zacks Rank #2 (Buy). You can see the complete list of today's Zacks #1 Rank (Strong Buy) stocks here.

7 Best Stocks for the Next 30 Days

Just released: Experts distill 7 elite stocks from the current list of 220 Zacks Rank #1 Strong Buys. They deem these tickers "Most Likely for Early Price Pops."

Since 1988, the full list has beaten the market more than 2X over with an average gain of +24.6% per year. So be sure to give these hand-picked 7 your immediate attention.

See them now >>

Want the latest recommendations from Zacks Investment Research? Today, you can download 7 Best Stocks for the Next 30 Days.
Click to get this free report
Science Applications International Corporation (SAIC): Free Stock Analysis Report
Lockheed Martin Corporation (LMT): Free Stock Analysis Report
Mercury Systems Inc (MRCY): Free Stock Analysis Report
CACI International, Inc. (CACI): Free Stock Analysis Report
To read this article on Zacks.com click here.
Zacks Investment Research