EV Roundup: Updates From GM, F, and TSLA Take the Spotlight
The electric vehicle (EV) revolution is speeding up, with companies leaving no stone unturned to establish a strong foothold in this domain. Legacy automakers are stepping up e-mobility investment and setting ambitious targets to electrify their fleet.
Last week, U.S. auto giant General Motors GM joined forces with Lithion Recycling and Toledo Systems to strengthen its position in the EV domain. GM's electrification strides are bringing it closer to its goal of producing 1 million EVs by 2025.
General Motor's close peer Ford F hogged the limelight as it began construction at its BlueOval mega campus for EV growth. The company has set a target of annual EV production of 600,000 units by the end of next year and 2 million by late 2026. The BlueOval City unit is sure to contribute to scaling up EV production to realize the targets.
Auto equipment provider BorgWarner BWA presented its electric commercial vehicle (eCV) electrification portfolio at the IAA Transportation 2022. Riding on soaring EV popularity and its ambitious Charging Forward project, BorgWarner's 2022 electrification revenues are expected to increase to above $850 million, more than doubling from the 2021 level.
German auto magnate Volkswagen VWAGY offered an update on the preorders of its electric van ID. Buzz. The ID. Buzz is the latest addition to the automaker's ID. Family, comprising ID.3, ID.4 and ID.5. Notably, Volkswagen plans to generate 70% of its sales in Europe from all-electric vehicles. The company also projects 100% of its new vehicles in major markets to be carbon-free by 2040. These targets are part of Volkswagen's broader goal to be fully carbon neutral by 2050.
Lastly, there were a couple of updates from EV king, Tesla TSLA. First, the company aims to massively scale up production volumes in Germany in the face of rising electricity costs in the country. Next, the company announced the launch of more Superchargers in China to cater to the soaring popularity of EVs. After a production hiatus in China due to a resurgence of COVID lockdowns, the automaker is again looking to push its EV market in the country. Meanwhile, the company also issued recalls of nearly 1.1 million electric cars in the United States.
Delving Deeper Into Last Week's Major Stories
General Motors teamed up with Canada-based battery recycling company Lithion Recycling in a bid to boost lithium supply. The collaboration will focus on the validation of Lithion's recovered battery materials so that they can be used in the creation of new batteries. The deal also emphasizes a joint investment in research and development of recycling processes and recyclability of future battery design.
In a separate development, U.S. legacy automaker will invest $760 million at its Toledo, OH propulsion manufacturing plant to start production of drive units that will be deployed in Ultium-based battery electric trucks like Chevrolet Silverado EV, GMC Sierra EV and GMC HUMMER EVs. The Toledo Propulsion Systems will be the company's first U.S. powertrain or propulsion-related manufacturing facility to be transformed to cater to EV-related production.
Ford started construction on its historic BlueOval City complex in Tennessee. The production of advanced batteries for future EVs for Ford and Lincoln EVs, including the F-150 Lightning and a second all-new battery-electric pickup, is expected to begin in 2025. The preparation of the land already began in March, with considerable progress so far. The development is a noteworthy one for Tennessee as well since it brings the state to the forefront of the EV race. BlueOval City will include a vehicle assembly plant, a battery plant jointly operated by Ford and SK and also supplier facilities and battery recycling operations. The facility is expected to employ 6,000 workers by 2025 once production commences.
It has been less than a year that Ford and the South Korea-based battery maker, SK On, pledged a whopping $5.6 billion investment to build the intensively modernized and cutting-edge plant through a memorandum of understanding. The facility is a springboard for Ford's future vehicles that the company believes will stir up a storm in the EV market.
Volkswagen revealed last week that the current preorder figure reached 12,500 from 10,000 in a month, underscoring the tremendous demand wave. More than 6,000 preorders, almost half the total, are for the ID.Buzz Cargo.For a recently placed order, the delivery is expected at the end of the first quarter of 2023, in March or April. For the earliest reservation holders, deliveries will start in November 2022.To cater to the demand, Volkswagen has planned a ramp-up of production at the Hanover plant. The facility presently builds 100 ID. Buzz vehicles a day and efforts are underway to take the figure to 200 units per day by the end of the year. It is also in Volkswagen's cards to expand the production capacity of the model and capture markets in Asia, such as Japan, China, Thailand and Malaysia.
In another important development, ID.Buzz will debut Magna's new rear thermoplastic swing doors. Magna's latest innovative doors contain recycled materials and are lightweight compared to conventional steel offerings. This will reduce the vehicle's overall weight, optimize the range and will demand less effort from customers while opening the doors. The ID.Buzz will likely solidify Volkswagen's longstanding reputation and expertise in the EV space.
Tesla aims to double its production volumes in Germany to 80,000 units in 2022.From January to August 2022, Tesla sold 24,734 units. In August, the company's sales in Germany increased nearly 40% and its market share jumped to 2.7%. Efforts are underway at the Giga Berlin to ramp up Model Y production. The factory has started producing 1,000 vehicles per week and aims to reach 5,000 units weekly by the first quarter of 2023. However, warnings are rife that the country should brace itself for a price wave to hit the electricity sector. Consumer electricity prices are expected to rise in Germany by about 60% in 2023, according to the Association of Local Public Utilities. Soaring electricity prices might act as a speed bump to Tesla's plans of volume ramp-up in Germany.
The EV giant also announced that it added 40 new Supercharger stations in China in August. The announcement comes on the heels of completing capacity expansion projects at its factory in Shanghai. Every Supercharger installed in China was a V3, which is the company's most advanced released technology for charging cars.The increase in Supercharging stations in China supplements the automaker's strong sales figures for August. In the month, Tesla delivered 76,965 vehicles in China, per government data. It was Tesla's second-best sales month in 2022 after June, when it sold 78,906 cars.
Meanwhile, Tesla issued a recall for more than 1 million EVs over a finger-pinching window issue. The affected vehicles include certain 2017-2022 Model 3, 2020–2021 Model Y and 2021–2022 Model S/X vehicles. Tesla currently carries a Zacks Rank #3 (Hold). You can see the complete list of today's Zacks #1 Rank (Strong Buy) stocks here.
BorgWarner provided an update on its electrification portfolio at the IAA Transportation 2022. The company displayed a series of new solutions comprising the high-energy flat battery system, which features a new flat module architecture suitable for electrified lightweight commercial vehicles and buses. It also showcased a new modular high-voltage eFan system that ensures the highest efficiency and lowest noise. With a robust design, the system will score high on reliability and function under extreme conditions.
BorgWarner's industry-leading components and eCV portfolio demonstrate careful research and a conscious attempt to evolve to cleaner and more efficient energy sources. To pivot to a more sustainable future, the company is constantly upgrading and customizing its eCV solutions for use in light-, medium- and heavy-duty trucks and off-highway applications.
Price Performance
The following table shows the price movement of some of the major EV players over the last week and six-month period.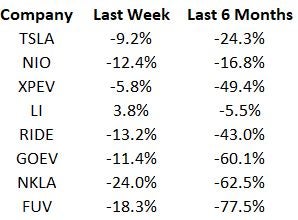 Image Source: Zacks Investment Research
What's Next in the Space?
Stay tuned for announcements of upcoming EV models and any important updates from the red-hot industry.
5 Stocks Set to Double
Each was handpicked by a Zacks expert as the #1 favorite stock to gain +100% or more in 2021. Previous recommendations have soared +143.0%, +175.9%, +498.3% and +673.0%.
Most of the stocks in this report are flying under Wall Street radar, which provides a great opportunity to get in on the ground floor.
Today, See These 5 Potential Home Runs >>
Want the latest recommendations from Zacks Investment Research? Today, you can download 7 Best Stocks for the Next 30 Days.
Click to get this free report
Ford Motor Company (F): Free Stock Analysis Report
BorgWarner Inc. (BWA): Free Stock Analysis Report
General Motors Company (GM): Free Stock Analysis Report
Tesla, Inc. (TSLA): Free Stock Analysis Report
Volkswagen AG Unsponsored ADR (VWAGY): Free Stock Analysis Report
To read this article on Zacks.com click here.
Zacks Investment Research