Dividends, Buybacks Lift Union Pacific (UNP) Despite Cost Woes
Union Pacific Corporation UNP is being aided by its strong free cash flow-generating ability. However, escalated operating expenses are hurting its bottom line.
Factors Favoring UNP
Union Pacific's efforts to reward its shareholders please us. UNP hiked dividend twice in 2021. In May 2022, UNP further upped its quarterly dividend by 10%. The railroad operator is also active on the buyback front. In the first half of 2022, UNP returned $5 billion to its shareholders through dividends and share repurchases. Management anticipates share repurchases for 2022 to be in line with the 2021 levels. Additionally, UNP expects a dividend payout of approximately 45% (of earnings) in the long term.
The upbeat free cash flow generation supports the shareholder-friendly activities of this railroad operator, currently carrying a Zacks Rank #3 (Hold). Free cash flow increased 8.8% to $3,523 million in 2021. UNP generated $4.2 billion cash from operations in first-half 2022.
The bullish commentary by management on volumes at the Deutsche Bank Transportation Conference for the third quarter of 2022 is a huge positive. At the presentation, management stated that overall volumes for the third quarter were up 2% year over year as of Aug 11, 2022. This improvement was owing to the easing of labor problems and congestion-related headwinds.
Per UNP CFO Jennifer Hamann, "We're encouraged by the improvement seen in fluidity and crew availability and have begun to place some stored cars back into service." UNP expects volume growth to be stronger in the second half of 2022 than in the first half. Management expects 2022 volumes (carloads) to grow in the 4-5% band.
Key Risks
Increased fuel costs due to higher oil prices are limiting bottom-line growth. In 2021, fuel expenses increased 56% year over year to $2,049 million at Union Pacific. In first-half 2022, fuel expenses escalated 82%, inducing a 20% increase in operating costs. Higher fuel price hurt the operating ratio (operating expenses as a % of revenues) to the tune of 130 basis points in the June quarter.
Tepid automotive freight revenues are bothering. Even though the automotive unit is on the mend, the overall situation is worrisome. On the second-quarter 2022 conference call, management admitted that its "dealer inventory is still low at 25 days".
UNP's high debt/EBITDA ratio is concerning as well. A high debt/EBITDA ratio often indicates that a company is unable to service its debt appropriately. Supply-chain woes are a worry as well.
Shares of UNP have declined 20.3% year to date compared with its industry's 19.1% decrease.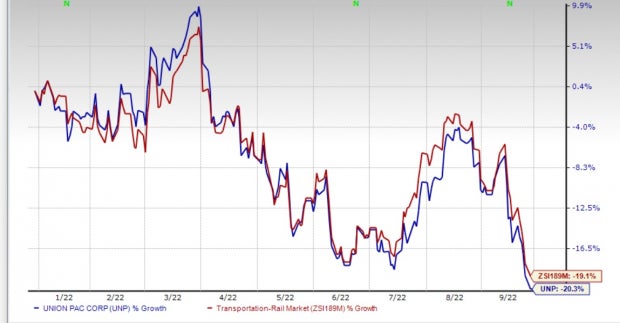 Image Source: Zacks Investment Research

Stocks to Consider
Some better-ranked stocks in the Zacks Transportation sector are Triton International TRTN and C.H. Robinson CHRW .
Triton is being aided by the gradual increase in trade volumes and container demand. TRTN expects container demand to remain strong throughout 2022. Measures to reward its shareholders through dividends and buybacks instill confidence in the stock.
Triton has an expected earnings growth rate of 22.4% for the current year. TRTN's bottom line outpaced the Zacks Consensus Estimate in each of the last four quarters, the average being 7.5%. TRTN currently carries a Zacks Rank #2 (Buy). You can see the complete list of today's Zacks #1 Rank (Strong Buy) stocks here.
C.H. Robinson is being aided by an improving freight scenario in the United States. Efforts to control costs also bode well. Measures to reward its shareholders instill confidence in the stock.
CHRW has a pleasant earnings track record. The bottom line surpassed the Zacks Consensus Estimate in three of the trailing four quarters (missing the mark in the remaining one). The stock has witnessed the Zacks Consensus Estimate for 2022 earnings being revised 7.3% upward over the past 60 days. C.H. Robinson currently carries a Zacks Rank of 2.


Just Released: Zacks Unveils the Top 5 EV Stocks for 2022
For several months now, electric vehicles have been disrupting the $82 billion automotive industry. And that disruption is only getting bigger thanks to sky-high gas prices. Even titans in the financial industry including George Soros, Jeff Bezos, and Ray Dalio have invested in this unstoppable wave. You don't want to be sitting on your hands while EV stocks break out and climb to new highs. In a new free report, Zacks is revealing the top 5 EV stocks for investors. Next year, don't look back on today wishing you had taken advantage of this opportunity.
>>Send me my free report revealing the top 5 EV stocks
Want the latest recommendations from Zacks Investment Research? Today, you can download 7 Best Stocks for the Next 30 Days.
Click to get this free report
Union Pacific Corporation (UNP): Free Stock Analysis Report
C.H. Robinson Worldwide, Inc. (CHRW): Free Stock Analysis Report
Triton International Limited (TRTN): Free Stock Analysis Report
To read this article on Zacks.com click here.
Zacks Investment Research