Centennial (CDEV) Reports Narrower-Than-Expected Loss in Q3
Centennial Resource Development, Inc. CDEV reported third-quarter 2020 adjusted loss of 19 cents per share, slightly narrower than the Zacks Consensus Estimate of a loss of 22 cents. Notably, the company had reported adjusted earnings of 1 cent per share in the year-ago quarter.
Quarterly revenues from oil and gas sales significantly dropped to $149.1 million from the prior year's $229.1 million. However, the top line beat the consensus mark of $116 million.
The better-than-expected results can be attributed to reduced lease operating expenses during the reported quarter. This was negated partially by lower oil equivalent production volumes and prices.
Operations:
Production
Overall production of 68,934 barrels of oil equivalent per day (Boe/d) was down from the year-ago period's 76,312 Boe/d. Of the total output, 51.2% comprised crude oil.
Oil volumes deteriorated from 42,079 Bbls/d to 35,292 barrels per day (Bbls/d) in the September-end quarter. Natural gas production of 112,545 thousand cubic feet per day (Mcf/d) fell from the year-ago quarter's 124,896 Mcf/d. However, natural gas liquids (NGLs) production totaled 14,885 Bbls/d, up 10.9% from the year-ago quarter's 13,417 Bbls/d.
Price Realizations
The company reported average realized crude price of $36.95 a barrel (excluding the effects of derivate settlements), down from the $51.71 witnessed in the third quarter of 2019. NGLs were sold at $12.58 a barrel, down from the $14.47 seen in year-earlier quarter. However, average natural gas price rose to $1.15 per Mcf from the prior year's 96 cents.
Centennial Resource Development, Inc. Price, Consensus and EPS Surprise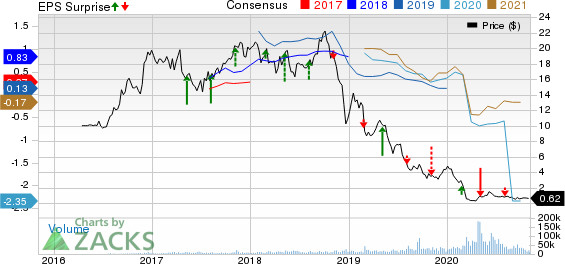 Centennial Resource Development, Inc. price-consensus-eps-surprise-chart | Centennial Resource Development, Inc. Quote
Operating Costs
Centennial's total operating costs came in at $181.1 million in third-quarter 2020, lower than the $217.8 million witnessed in the year-ago period, mainly due to reduced lease operating expenses.
On a per Boe basis, the company's third-quarter lease operating expenses were $3.87, lower than the year-ago level of $6.03. Nevertheless, gathering processing and transportation costs flared up to $3.02 per Boe from the year-ago period's $2.97.
Capital Expenditure & Balance Sheet
In July-September quarter, it incurred capital expenditure of only $21.5 million, of which $19.7 million was assigned to drilling and completion activities.
At the end of the third quarter, cash balance amounted to $5.2 million, down from the second-quarter level of $7.2 million. Long-term debt outstanding amounted to $1,127.9 million, down 1.3% from the prior-quarter level of $1,142.9 million. Centennial had a net debt to book equity capitalization of 29%. Notably, it had $355 million available under the revolving credit facility.
Cash Flow & Free Cash Flow
The company's constant focus on cost reduction generated net cash of $45.7 million from operating activities. Notably, free cashflow generated during the quarter under review was $10.5 million as compared to a free cashflow deficit of $95.8 million in a year-ago comparable period. Thus, it is evident that the upstream firm is boosting up its liquidity position.
Guidance
Centennial raised the 2020 net production outlook to the band of 66,000-68,000 million Boe/d from the earlier forecast of 64,000-68,000 Boe/d. Net oil production for the ongoing year is estimated in the band of 35,500-36,500 bpd.
Lease operating expense for the full year is expected to be $4.25-$4.50 per Boe, lower than the company's prior projection of $4.60-$5.00. Gathering, processing and transportation costs will likely be in the range of $2.90-$3.00 per Boe. The company resumed drilling activities during the September-end quarter, with the addition of one rig. For the rest of 2020, the upstream energy firm anticipates to continue the one-rig program.
Management plans to spend approximately $240-$265 million of capital compared with the prior guidance of $240-$270 million for 2020, the majority of which will be used in drilling and completion activities. It anticipates to complete 31-33 wells this year.
Zacks Rank & Stocks to Consider
Centennial currently carries a Zacks Rank #3 (Hold).
Some better-ranked players in the energy space include Equitrans Midstream Corporation ETRN and DCP Midstream Partners LP DCP, both sporting a Zacks Rank #1 (Strong Buy), and Nustar Energy LP NS, holding a Zacks Rank #2 (Buy) at present. You can see the complete list of today's Zacks #1 Rank stocks here.
Over the past six months, the Zacks Consensus Estimate for Equitrans' 2020 earnings has been raised by 18.9%.
DCP Midstream is expected to see stellar earnings growth of 169.1% in 2021, while Nustar Energy will likely register bottom-line improvement of a whopping 177.5% during the same period.
Zacks' Single Best Pick to Double
From thousands of stocks, 5 Zacks experts each picked their favorite to gain +100% or more in months to come. From those 5, Zacks Director of Research, Sheraz Mian hand-picks one to have the most explosive upside of all.
With users in 180 countries and soaring revenues, it's set to thrive on remote working long after the pandemic ends. No wonder it recently offered a stunning $600 million stock buy-back plan.
The sky's the limit for this emerging tech giant. And the earlier you get in, the greater your potential gain.
Want the latest recommendations from Zacks Investment Research? Today, you can download 7 Best Stocks for the Next 30 Days.
Click to get this free report
NuStar Energy L.P. (NS): Free Stock Analysis Report
Centennial Resource Development, Inc. (CDEV): Free Stock Analysis Report
DCP Midstream Partners, LP (DCP): Free Stock Analysis Report
Equitrans Midstream Corporation (ETRN): Free Stock Analysis Report
To read this article on Zacks.com click here.