Diageo (DEO) Outlines Expansion Plans to Cash-In on RTDs Boom
Diageo, plc DEO is capitalizing on the shift in consumption trends to ready-to-drink (RTDs) beverages stemming from the pandemic-led closures of bars and restaurants and increasing stay-at-home practices. Ready-to-drink beverages or RTDs, including iced coffees and teas, yoghurt drinks, to canned wines and cocktails, offer consumers the benefit of immediate consumption after purchase. Among these, ready-to-drink alcoholic beverages have emerged as a significant player in this category, with North America being the fastest-growing market, followed by Japan, as per sources.

Keeping in these lines, Diageo intends to expand its manufacturing capability by installing two can lines at a new facility in Plainfield, IL. This facility, which will be worth roughly $80 million, comes with the capacity to produce more than 25 million cans of RTDs and will be ready for commercial production by the summer of 2021. Currently, the company has Smirnoff seltzers along with Crown Royal and Ketel One Botanicals in the RTDs cocktail category.

This move is in sync with consumers' increasing demand for beverages that are convenient for at-home consumption. Also, this latest development will add to its existing ready-to-drink production across North America and help expand its RTDs offering. Apart from these, the new facility will create 50 full-time employment for the people of Plainfield.

This sudden shift to low-content alcoholic beverages can be linked to consumers' increasing health awareness. RTD alcoholic beverages, which contain low-alcohol content and are available in a variety of flavors, are proving to be a preferred alternative for full-strength alcoholic drinks. This is contributing to the growing customer base for RTDs. Apart from these, vibrant and creative packaging is an added incentive, particularly for millennials. This has led to the rise in popularity of bar-like ready-to-drink cocktails in canned packaging available in retail and liquor stores. As a result, most beverage companies are now switching focus to innovate and develop new products to take advantage of the ongoing RTDs boom.

Further, there has been a rising trend of online purchases of alcoholic beverages stemming from restricted movement related to the surrounding COVID-19 situation. Notably, consumers are expected to continue shopping online even after the pandemic subsides, as per ISWR, with 7% of alcohol sales likely to be generated from the online channel by 2024. Also, RTDs are projected to account for 20% of the U.S. alcohol e-commerce value by 2024, as per ISWR.

Diageo is leaving no stone unturned to take advantage of the pandemic-driven shift in consumer shopping behavior. The company is on track with leveraging its existing e-commerce capabilities and accelerating investments in the online platform. As the online platform has become more relevant amid the pandemic, the company has diverted its efforts to connect with consumers and maintain brand relevance, by responding to increased opportunities of at-home consumption occasions. This included new occasions like wanting to enjoy bar-quality drinks at home.

Further, the company has rapidly responded to increased demand for home delivery. In the United States and Latin America, it reached customers with new "cocktail to go" programs. In East Africa, the company explored new ways to get products delivered to consumers' homes, through partnerships with motorbike delivery companies, known as boda-bodas.

Apart from these, Diageo has been gaining from strong consumer demand and market share growth in the spirits category, particularly in North America, which serves as its largest market. Some of its notable products that remain major growth drivers include Smirnoff, Ketel One Botanical and Tanqueray portfolios. Some of Diageo's recent launches in the canned cocktail space are Ketel One Botanical vodka spritz, Tanqueray crafted gin drinks and Crown Royal cocktails.

Encouragingly, management envisions this positive momentum, particularly in North America, to continue in the near term. Driven by such upsides, this Zacks Rank #2 (Buy) stock has gained 7.7% in the past three months against the industry's decline of 0.9%.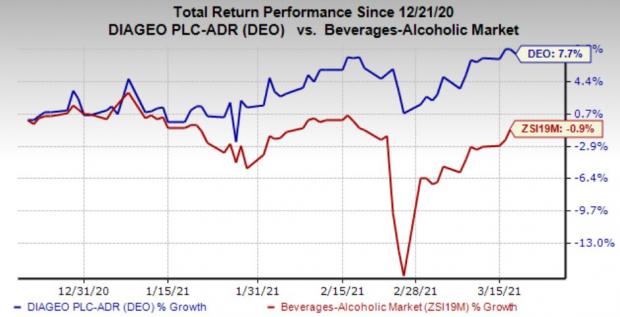 Other Stocks to Consider
Constellation Brands STZ currently has an expected long-term earnings growth rate of 7.4% and a Zacks Rank #2. You can see the complete list of today's Zacks #1 Rank (Strong Buy) stocks here.

Compania Cervecerias Unidas, S.A. CCU, also a Zacks Rank #2 stock, has an expected long-term earnings growth rate of 10.2%.

The Estee Lauder Companies EL has a long-term earnings growth rate of 10.7% and currently, a Zacks Rank #2.
Bitcoin, Like the Internet Itself, Could Change Everything
Blockchain and cryptocurrency has sparked one of the most exciting discussion topics of a generation. Some call it the "Internet of Money" and predict it could change the way money works forever. If true, it could do to banks what Netflix did to Blockbuster and Amazon did to Sears. Experts agree we're still in the early stages of this technology, and as it grows, it will create several investing opportunities.

Zacks' has just revealed 3 companies that can help investors capitalize on the explosive profit potential of Bitcoin and the other cryptocurrencies with significantly less volatility than buying them directly.

See 3 crypto-related stocks now >>
Want the latest recommendations from Zacks Investment Research? Today, you can download 7 Best Stocks for the Next 30 Days.
Click to get this free report
The Estee Lauder Companies Inc. (EL): Free Stock Analysis Report
Diageo plc (DEO): Get Free Report
Constellation Brands Inc (STZ): Get Free Report
Compania Cervecerias Unidas, S.A. (CCU): Free Stock Analysis Report
To read this article on Zacks.com click here.
Zacks Investment Research