AECOM Finishes PCM Services for Sobrato Pavilion in San Jose
AECOM ACM recently completed project and construction management services (PCM) for Sobrato Pavilion building on the Santa Clara Valley Medical Center ("SCVMC") campus, located in San Jose, CA. The six story facility consists of 168 private patient rooms including intensive care, rehabilitation beds as well as state-of-the-art spinal cord & traumatic brain injury Rehabilitation Center.
The contract required AECOM to offer schedule and cost management, project administration, quality assurance and contract management services during construction as well as preconstruction phases for the facility. Moreover, the company provided similar services for the medical center's Receiving and Support Center.
Existing Business Scenario
AECOM's diversified portfolio comprises both designing and construction services. Additionally, its business is spread across a number of key markets that mitigates operating risks. Moreover, the company is efficient in dealing with cyclical market volatility which helps it capitalize on upside of its business during downturns. More than 70% of AECOM's profits are generated from infrastructure and defense markets that are poised to benefit from the favorable political climate both in the United States and abroad.
The company is witnessing robust prospects in all of its segments. The Construction Services and Management Services segments continue to benefit from higher margin work in the building construction and power businesses. Also, the company's solid backlog levels, which are a key indicator of future revenue growth, indicate significant opportunities in the forthcoming quarters. The company anticipates impressive level of backlog of large commercial, stadia and power projects would drive another year of revenue growth and margins.
Moreover, several of the company's key markets are experiencing improved levels of funding, particularly in Los Angeles, Seattle, San Francisco and Atlanta. Across these markets, the company expects $15 billion of projects to be bid over the next 18 months. The global consensus toward the need for substantial infrastructure investments is expected to boost the company's growth, going forward. Notably, the Zacks Rank #3 (Hold) company has returned 18.5% in the past six months, outperforming the industry's growth of 15.8%.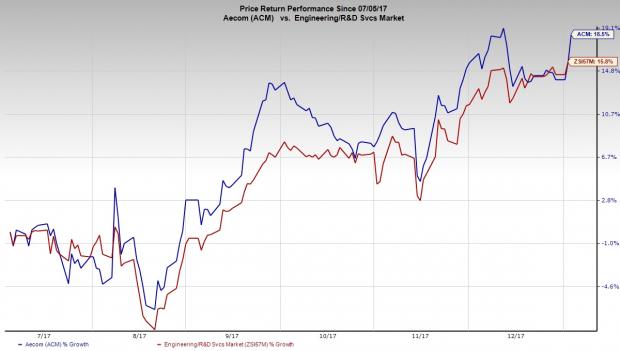 Despite these positives, the continued volatility in oil and gas market, with declining prices and contracting spending levels, is hurting the company's projects and orders, especially in the Middle East. Further, cyclical demand of the company's services and currency fluctuations are likely to thwart growth, going ahead.
This apart, a significant portion of the company's revenues comes from fixed-price contracts that require it to perform an estimated number of units of work at an agreed price per unit. The inherent problem with such contracts is that it exposes the company to difficulties like underestimation of costs, unforeseen expenses or difficulties.
Stocks to Consider
Some better-ranked stocks in the same space are Thor Industries, Inc. THO, NVR, Inc. NVR and NCI Building Systems, Inc. NCS. While Thor Industries sports a Zacks Rank #1 (Strong Buy), NVR and NCI Building Systems carry a Zacks Rank #2 (Buy). You can see the complete list of today's Zacks #1 Rank stocks here.
Thor Industries has surpassed estimates thrice in the trailing four quarters, with an average positive earnings surprise of 15.3%.
NVR has outpaced estimates thrice in the preceding four quarters, with an average earnings surprise of 17.2%.
NCI Building Systems has outpaced estimates twice in the preceding four quarters, with an average earnings surprise of 9.7%.
Wall Street's Next Amazon
Zacks EVP Kevin Matras believes this familiar stock has only just begun its climb to become one of the greatest investments of all time. It's a once-in-a-generation opportunity to invest in pure genius.
Want the latest recommendations from Zacks Investment Research? Today, you can download 7 Best Stocks for the Next 30 Days.
Click to get this free report
NCI Building Systems, Inc. (NCS): Free Stock Analysis Report
Thor Industries, Inc. (THO): Free Stock Analysis Report
NVR, Inc. (NVR): Free Stock Analysis Report
AECOM (ACM): Free Stock Analysis Report
To read this article on Zacks.com click here.
Zacks Investment Research