Teck (TECK) Diverts Shipments as Heavy Rain Hits Rail Line
Teck Resources Limited TECK recently stated that heavy rainfall, flooding and landslides have temporarily disrupted its logistics chain between west coast terminals and British Columbia (B.C) operations.

Heavy downpours and floods in southern B.C have forced to shut down all road and rail lines in Canada's largest port of Vancouver. Canadian National Railway CNI and Canadian Pacific Railway CP networks has been out of service following floods and mudslides. CNI & CP have started repairing the tracks, but did not provide any estimated dates when their main lines will reopen. Teck Resources rerouted some shipments to Ridley Terminals in Prince Rupert to mitigate the impacts of disruption.

CNI and CP help Teck Resources ship steelmaking coal from its four B.C. operations between Kamloops and Neptune Terminals, and other west coast ports. This significantly enhances Teck Resources' shipment volumes through the expanded Neptune Terminals.

The overall impact of rainfall and any possible effect on fourth-quarter 2021 sales performance will depend on the duration of the logistics chain disruption. Management stated that its production has not yet been impacted.
Heavy downpour also impacted Enbridge Inc.'s ENB operations. The company has shut down one of the two pipelines including its Westcoast natural gas pipeline in B.C.

Enbridge's Westcoast pipeline delivers 1.5 billion to 1.8 billion cubic feet of gas per day to the B.C. lower mainland and the U.S. Pacific Northwest. The company is a leading energy infrastructure company involved in the transportation of energy through the longest and most advanced crude and liquids pipeline system in the world that spreads across 17,127 miles.

Teck Resources' third-quarter 2021 earnings and revenues beat the respective Zacks Consensus Estimates and improved year over year. The company is poised to gain from the Neptune Bulk Terminals facility upgrade project. The project strengthens the performance of the steelmaking coal-supply chain, increases terminal loading capacity and enhances the capability to meet delivery commitments to customers, while lowering overall logistic costs. The company projects fourth-quarter steelmaking coal sales in the band of 6.4-6.8 million tons. The record increase in FOB Australia steelmaking coal prices, CFR China prices and strong demand from steelmakers will support the steelmaking coal segment in the fourth quarter.

This July, wildfires in B.C also damaged the rail line near Lytton and disrupted rail services between Teck Resources' steelmaking coal operations and west coast terminals. As impacts from this incident are not expected to be fully recovered by the end of this year, the company projects steelmaking coal production to be at the lower end of its current-year guidance of 25-26 million tons.

Teck Resources currently carries a Zacks Rank #3 (Hold). You can see the complete list of today's Zacks #1 Rank (Strong Buy) stocks here.
Price Performance
The company's shares have soared 81.5% in the past year compared with the industry's growth of 12.7%.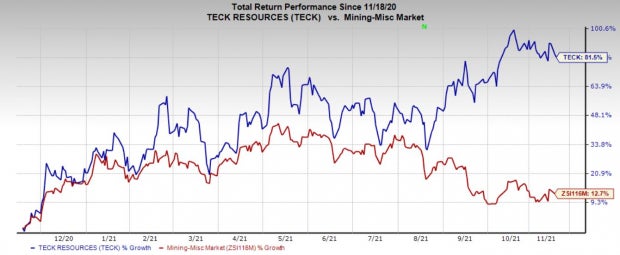 Image Source: Zacks Investment Research
Zacks' Top Picks to Cash in on Artificial Intelligence
This world-changing technology is projected to generate $100S of billions by 2025. From self-driving cars to consumer data analysis, people are relying on machines more than we ever have before. Now is the time to capitalize on the 4th Industrial Revolution. Zacks' urgent special report reveals 6 AI picks investors need to know about today.
See 6 Artificial Intelligence Stocks With Extreme Upside Potential>>
Want the latest recommendations from Zacks Investment Research? Today, you can download 7 Best Stocks for the Next 30 Days.
Click to get this free report
Canadian National Railway Company (CNI): Free Stock Analysis Report
Enbridge Inc (ENB): Free Stock Analysis Report
Canadian Pacific Railway Limited (CP): Free Stock Analysis Report
Teck Resources Ltd (TECK): Free Stock Analysis Report
To read this article on Zacks.com click here.
Zacks Investment Research