Vale (VALE) to Report Q4 Earnings: What's in the Cards?
Vale S.A VALE is scheduled to report fourth-quarter 2020 results on Feb 25, after the closing bell.
Q4 Estimates
The Zacks Consensus Estimate for fourth-quarter total sales is pegged at $14.3 billion, indicating growth of 43% from the year-ago quarter. The consensus mark for earnings currently stands at 90 cents, suggesting an improvement of 52% from the prior-year quarter. The estimate has gone down 17% over the past 30 days.
Q3 Results
Vale's third-quarter earnings and revenues came in higher than the year-ago quarter on rising iron ore prices and sales volumes. While the bottom line beat the Zacks Consensus Estimate, the top line missed the same. The company has a trailing four-quarter earnings surprise of 5.14%, on average.
VALE S.A. Price and EPS Surprise
Factors to Note
Vale recently provided fourth-quarter-2020 production update, which offered a sneak peek as to how the company is likely to fare in the to-be-reported quarter. Iron ore production increased 8% year over year to 84.5 Mt in the quarter. Pellets production was 7.1 Mt in the reported quarter, reflecting a slump of 24% year over year. Sales volumes of iron ore fines and pellets were 91.3 Mt in the quarter, up 3% from fourth-quarter 2020. Sales to China in the quarter was a record 64 Mt.

Iron ore prices have been rallying in the fourth quarter on the back of strong demand in China remains robust amid supply concerns. Demand for the primary steelmaking commodity has been increasing on strong demand from China as steel production has been gaining steam in the country driven by its efforts to recover from the coronavirus-induced shutdown. This combined with persistent concerns over a supply shortage from Brazil, which has been hit hard by the COVID-19 pandemic, fueled the rally in iron ore prices. Further, the rollout of vaccines has instilled optimism regarding prospects for a robust economic recovery, which in turn, has been bolstering prices for the steel-making ingredient. Iron generates around 80% of the company's revenues. Higher iron production and prices are likely to have benefited the company's performance in the quarter to be reported.

With regard to base metals, which collectively contribute around 16% to the company's revenues, production of nickel, cobalt, manganese and gold were down 1.4%, 9.1%, 74% and 9%, year over year, respectively. Copper production rose 3.5% year over year. Copper prices have been gaining on the pickup in industrial activity. Higher copper production and prices may have benefited the company's performance in the quarter to be reported. Moreover, higher nickel, cobalt and gold prices in the fourth quarter might have somewhat negated the impact of lower production for these metals.

Vale has been focusing on maintaining its '"value over volume" approach for the iron ore business. The company remains committed to delivering the highest possible margins by managing extensive supply chain and flexible product portfolio. The company has also been focusing on controlling costs. These efforts may get reflected in the fourth-quarter results.
What the Zacks Model Unveils
Our proven model does not conclusively predict an earnings beat for Vale this time around. The combination of a positive Earnings ESP and a Zacks Rank #1 (Strong Buy), 2 (Buy) or 3 (Hold) increases the chances of beating estimates.

You can uncover the best stocks to buy or sell before they're reported with our Earnings ESP Filter.

Earnings ESP: The Earnings ESP for Vale is -1.67%.

Zacks Rank: The company currently carries a Zacks Rank of 3.
Price Performance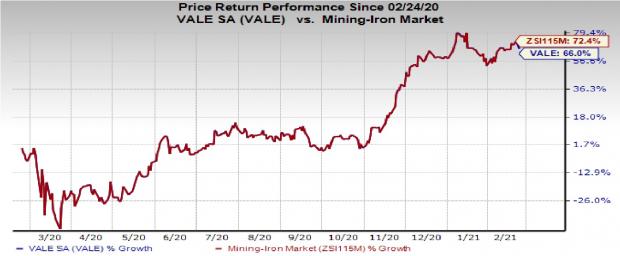 In a year's time, shares Vale have gained 66%, compared with the industry's rally of 72.4%.
Stocks Poised to Beat Estimates
Here are some companies in the basic materials space you may want to consider as our model shows that these have the right combination of elements to post earnings beat this quarter:

Brigham Minerals, Inc. MNRL has an Earnings ESP of +36.67% and a Zacks Rank of 2 currently. You can see the complete list of today's Zacks #1 Rank stocks here.

Koppers Holdings Inc. KOP currently has a Zacks Rank #3 and an Earnings ESP of +23.20%.

Franco-Nevada Corporation FNV has an Earnings ESP of +1.79% and a Zacks Rank #3, at present.
Breakout Biotech Stocks with Triple-Digit Profit Potential
The biotech sector is projected to surge beyond $775 billion by 2024 as scientists develop treatments for thousands of diseases. They're also finding ways to edit the human genome to literally erase our vulnerability to these diseases.

Zacks has just released Century of Biology: 7 Biotech Stocks to Buy Right Now to help investors profit from 7 stocks poised for outperformance. Our recent biotech recommendations have produced gains of +50%, +83% and +164% in as little as 2 months. The stocks in this report could perform even better.

See these 7 breakthrough stocks now>>
Want the latest recommendations from Zacks Investment Research? Today, you can download 7 Best Stocks for the Next 30 Days.
Click to get this free report
VALE S.A. (VALE): Free Stock Analysis Report
FrancoNevada Corporation (FNV): Free Stock Analysis Report
Koppers Holdings Inc. (KOP): Free Stock Analysis Report
Brigham Minerals, Inc. (MNRL): Free Stock Analysis Report
To read this article on Zacks.com click here.
Zacks Investment Research