Buy Soaring Chipotle (CMG) Stock Before Q1 Earnings for More Growth?
Chipotle Mexican Grill CMG stock has been on fire for roughly three years as it continues to grow by keeping its menu simple, even as it goes digital. The next big test for CMG, which has soared over 90% in the last year, will likely be its upcoming first quarter financial release that's due out after the closing bell on Wednesday, April 21.
Fast Casual Titan
Brian Niccol took over as Chipotle's chief executive role in March of 2018, after he came over from Yum Brands' YUM Taco Bell. The new boss didn't do anything crazy or come up with a new menu item every week, to help CMG fight back from some foodborne illness setbacks. Instead, Chipotle focused on regaining its crown as the standard-bearer of the growing fast-casual industry through a rather consistent menu of fresh and quality ingredients.
Chipotle's sales jumped 9% in 2018, 15% in 2019, and 7% in a pandemic-hit year. The company closed 2020 with over 2,750 restaurants in the U.S. Canada, and several other countries. Despite its size, the company hasn't gone to the franchise model and it boasts that it's the "only restaurant company of its size that owns and operates all its restaurants."

On top of that, Chipotle has jumped headfirst into digital and mobile ordering as well as delivery. The moves are part of a larger industry trend in the Amazon AMZN age that has seen giants such as Starbucks SBUX and McDonald's MCD, as well as retailers Walmart WMT and Target TGT, all dive into mobile ordering, online pick-up, and delivery.
Last year, Chipotle's overall revenue popped 7.1% to $6 billion, with digital sales up a whopping 174% to account for 46% of total sales. The company's digital efforts helped it succeed despite temporary coronavirus in-person dining closures. And CMG's growth was far better in the second half of 2020, as economies reopened, with Q3 sales up 14% and Q4 revenue 12% higher. Plus, its fourth quarter comparable sales popped 6%.
What Else
Chipotle's focus on digital ordering has paid off and it's committed to customer retention, through rewards programs and more. As we touched on, CMG hasn't changed the menu that much over the years.
Yet, in March it announced its first ever on-menu quesadilla, after years of off-menu ordering was spurred by social media. The company is also leaning into its digital explosion by offering the quesadilla as a digital-only menu item available for pick-up or delivery.
Zacks estimates call for CMG's first quarter revenue to climb 24% to reach $1.74 billion and help lift its adjusted earnings by 58% to come in at $4.88 a share.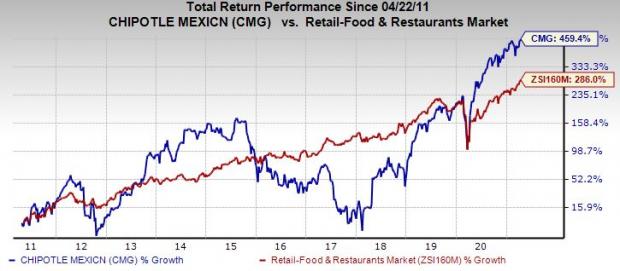 The burrito chain's full-year FY21 sales are then projected to soar 22% to $7.28 billion, with FY22 set to come in another 12% higher to $8.17 billion. More specifically, CMG's fiscal 2021 comparable sales are projected to pop 14.4%.
Investors should note that 22% sales growth would be Chipotle's best since 2014. Meanwhile, its adjusted earnings are projected to soar 118% and 32%, respectively over this stretch. On top of that, CMG's consensus EPS outlook has continued to improve in the run up to its Q1 release, as the nearby chart shows.
This positivity helped CMG pop another 1% during regular trading Monday even as the broader market slipped. At $1,550 a share, the stock sits right near its all-time highs, but it has underperformed its industry in the past six months, up 15% vs. 17%.
Even though it has skyrocketed 90% in the last year and 360% in the last three years, it is not overbought in terms of RSI. All of this could mean CMG has even more room left to climb.
Bottom Line
Chipotle currently lands a Zacks Rank #3 (Hold), alongside an "A" grade for Momentum in our Style Scores system and "B" for Growth. And 13 of the 25 brokerage recommendations Zacks has for CMG are "Strong Buys," with none below a "Hold."
The stock price might cause a little sticker shock, especially coupled with the fact that it is trading at 60X forward 12-month earnings vs. its industry's 31X average. That said, Wall Street remains high on Chipotle and it is trading at a 12% discount to its own year-long median. And let's remember that the economic reopening should help boost restaurants and Chipotle is widely popular among the office lunch crowd.
Zacks Top 10 Stocks for 2021

In addition to the stocks discussed above, would you like to know about our 10 best buy-and-hold tickers for the entirety of 2021?

Last year's 2020Zacks Top 10 Stocks portfolio returned gains as high as +386.8%. Now a brand-new portfolio has been handpicked from over 4,000 companies covered by the Zacks Rank. Don't miss your chance to get in on these long-term buys.

AccessZacks Top 10 Stocks for 2021 today >>
Want the latest recommendations from Zacks Investment Research? Today, you can download 7 Best Stocks for the Next 30 Days.
Click to get this free report
Target Corporation (TGT): Get Free Report
Amazon.com, Inc. (AMZN): Get Free Report
Walmart Inc. (WMT): Get Free Report
Starbucks Corporation (SBUX): Get Free Report
McDonalds Corporation (MCD): Get Free Report
Yum Brands, Inc. (YUM): Get Free Report
Chipotle Mexican Grill, Inc. (CMG): Get Free Report
To read this article on Zacks.com click here.
Zacks Investment Research