Spirit Airlines (SAVE) Up 3.6% Since Earnings Report: Can It Continue?
It has been about a month since the last earnings report for Spirit Airlines, Inc. SAVE. Shares have added about 3.6% in that time frame.
Will the recent positive trend continue leading up to its next earnings release, or is SAVE due for a pullback? Before we dive into how investors and analysts have reacted as of late, let's take a quick look at the most recent earnings report in order to get a better handle on the important catalysts.
First Quarter Earnings
Spirit Airlines' first-quarter earnings per share came in at 44 cents (excluding $1.10 from non-recurring items), a penny ahead of the Zacks Consensus Estimate.

Despite an earnings beat in the first quarter, investors were visibly displeased due to a year-over-year decline in the metric. High fuel costs were primarily responsible for the bottom-line contraction. Average economic fuel cost per gallon surged 21.5% to $2.15 in the reported quarter. The upsurge in fuel costs was chiefly responsible for a 39.8% increase in total operating expenses. This apart, expenses on salaries, wages and other benefits surged 22%. Unit costs (excluding fuel and special items) decreased 5%. However, the decline was more than the anticipated figure of 3% due to the new contract with its pilots.

The carrier recorded revenues of $704.1 million, missing the Zacks Consensus Estimate of $705 million. The top line, however, grew substantially year over year owing to healthy passenger revenues.

Total revenue per available seat miles (a key measure of unit revenue) declined 2.4%. This key metric was hurt by the 1.7% decrease in operating yields and a 4.1% increase in average stage length.

Outlook
The company envisions capacity (available seat miles) to expand 29% year over year in the quarter. TRASM is expected to decline in the range of 6.5-7.5%.
Fuel costs are anticipated to increase further to $2.23 per gallon in the second quarter. Adjusted unit costs ex-fuel is estimated to be down 7.5-8.5%. For 2018, the carrier expects capacity to rise 22.5%. Adjusted CASM ex-fuel is predicted to be down 3-4% in the year.
How Have Estimates Been Moving Since Then?
In the past month, investors have witnessed a downward trend in fresh estimates. There has been one revision higher for the current quarter compared with four lower.
Spirit Airlines, Inc. Price and Consensus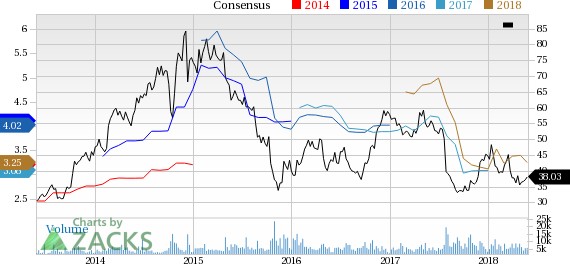 Spirit Airlines, Inc. Price and Consensus | Spirit Airlines, Inc. Quote
VGM Scores
At this time, SAVE has a subpar Growth Score of D, though it is lagging a bit on the momentum front with an F. The stock was allocated a grade of A on the value side, putting it in the top quintile for this investment strategy.
Overall, the stock has an aggregate VGM Score of C. If you aren't focused on one strategy, this score is the one you should be interested in.
The company's stock is suitable solely for value based on our styles scores.
Outlook
Estimates have been broadly trending downward for the stock and the magnitude of these revisions indicates a downward shift. Interestingly, SAVE has a Zacks Rank #3 (Hold). We expect an in-line return from the stock in the next few months.
Want the latest recommendations from Zacks Investment Research? Today, you can download 7 Best Stocks for the Next 30 Days.
Click to get this free report
Spirit Airlines, Inc. (SAVE): Free Stock Analysis Report
To read this article on Zacks.com click here.
Zacks Investment Research