Why Nutrien's Strong Results Missed Analyst Estimates
Nutrien Ltd. NTR reported June quarter revenue and earnings that were short of the Zacks Consensus Estimate.
Sales grew across all Retail segments. But while the largest Crop Nutrients and Crop Protection Products revenues beat analyst estimates by a respective 5.8% and 8.7%, the Seed business (more than 13% of revenue) was about 3.0% short. The much smaller Merchandise segment beat estimates by 3.3% while Services and Other missed by 6.3%.
Potashsales missed by 6.8%, largely attributable to North America, which missed by 35.0% that was partially offset by the 9.4% beat in Offshore. The miss in Nitrogen sales was by a more substantial 24.2%. Phosphate also missed, by 20.0%.
Gross margin dollars increased year over year across all except Services and Other Retail segments. Crop Nutrients gross margin dollars beat analyst estimates by 30.1%, Crop Protection beat by 28.2%, Seed by 16.9%, Merchandise by 4.1% and Services and Other by 11.7%
Gross margin dollars were up across the potash, nitrogen and phosphate product lines, by 353.8% in potash, by 154.3% in nitrogen and 85.7% in phosphate but missed analyst projections by 8.5%, 18.0% and 13.9%, respectively.
The positive surprise in Retail revenue and gross margin was attributable to strong pricing and proprietary products, offsetting the effect of lower fertilizer sales volumes.
Pricingincreased 162.2% in North America Potash, 258.0% in Offshore Potash, 178.1% in ammonia, 76.2% in urea, 112.2% in solutions, nitrates and phosphates, 51.0% in fertilizer and 60.4% in industrial and feed. North America Potash and urea prices still missed analyst estimates, both by over 5% while all others beat. Ammonia prices were the biggest surprise, beating by 16.8%.
North America Potash, Nitrogen and Phosphate volumes were all down from the year-ago quarter. Total Potash volumes increased however because of the strength in Offshore. Nitrogen was hit by softness across ammonia, urea, and solutions, nitrates and phosphates. Both fertilizer and industrial and feed phosphate volumes declined. All except Offshore Potash volume missed analyst projections.
Overall results were very strong, driven by favorable dynamics in the offshore market and strong farmer economics. Stronger-than-expected retail pricing and softer-than-expected fertilizer volumes defined the quarter.
Analysts are projecting very strong revenue and gross profit growth in the current quarter.
Nutrien shares carry a Zacks Rank #3 (Hold) because of the significant variance versus estimates that increases risk. Although, it is worth pointing out that it trades at a P/E multiple that is toward the low end of its five-year range, and that is at a discount to the industry and sector to which it belongs, as well as the S&P 500.
Zacks has buy ratings on its peers Intrepid Potash (IPI, Zacks Rank #2, or Buy) and Sociedad Quimica y Minera (SQM, Zacks Rank #1, or Strong Buy), which may be safer bets.
One-Month Price Performance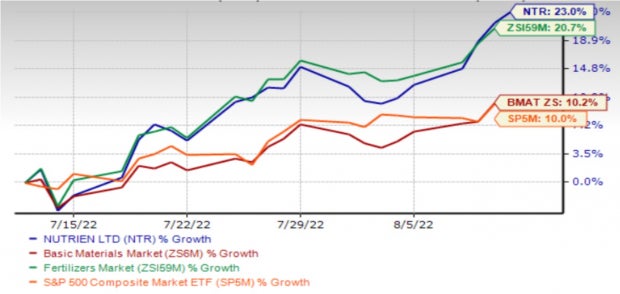 Image Source: Zacks Investment Research
Zacks' Top Picks to Cash in on Electric Vehicles
Big money has already been made in the Electric Vehicle (EV) industry. But, the EV revolution has not hit full throttle yet. There is a lot of money to be made as the next push for future technologies ramps up. Zacks' Special Report reveals 5 picks investors
See 5 EV Stocks With Extreme Upside Potential >>
Want the latest recommendations from Zacks Investment Research? Today, you can download 7 Best Stocks for the Next 30 Days.
Click to get this free report
Sociedad Quimica y Minera S.A. (SQM): Free Stock Analysis Report
Intrepid Potash, Inc (IPI): Free Stock Analysis Report
Nutrien Ltd. (NTR): Free Stock Analysis Report
To read this article on Zacks.com click here.
Zacks Investment Research