Deere Hurt by Weak Agricultural, Construction Equipment Demand
On May 27, 2020, we issued an updated research report on Deere & Company DE. The adverse impact of coronavirus on demand for the company's products and supply chain operations is concerning. Its Construction & Forestry segment's sales are likely to bear the brunt of weak construction activity and efforts to bring down field inventory levels.

Deere reported second-quarter fiscal 2020 (ended May 3, 2020) earnings of $2.11 per share, beating the Zacks Consensus Estimate of $1.94 and declining 40% from the prior-year quarter. Net sales of equipment operations (comprising Agriculture and Turf, and Construction and Forestry) came in at $8.22 billion surpassing the Zacks Consensus Estimate of $8.01 billion. However, the top-line declined 20% year over year.

Muted Guidance on the Impact of Coronavirus Outbreak

In the fiscal second-quarter's earnings call, Deere projects fiscal 2020 net income of $1.6-$2 billion while its previous projection was $3.3 billion. The guidance reflects COVID-19 related uncertainties in the demand scenario for the company's products, services, supply chain, and operations. Some of Deere's facilities are reducing operations while some are temporarily shutting down to curb the spread of coronavirus. This would dent the company's performance in the current year.

The U.S. farm sector had shown early signs of stabilization following the passage of The United States Mexico Canada Agreement (USMCA) and the Phase 1 trade agreement with China. However, the coronavirus outbreak impacted agricultural exports to China, and it remains to be seen whether China is be able to honor its terms of the Phase 1 trade deal. Most agricultural exports to China from North America tend to occur around the harvest season.

Construction Segment to Drag Results

Activity in the construction sector has slowed, which in turn is weighing on the Construction & Forestry segment. The segment's sales for fiscal 2020 are expected to plunge 30-40%, year on year. The outlook reflects market uncertainty due to the coronavirus pandemic as well as efforts to bring down field inventory levels. Industry construction-equipment sales in the United States and Canada are likely to decline 20-30% for the full fiscal, reflecting declines in oil and gas activity, rental capital expenditure, as well as moderation in general economic activity during the fiscal second quarter. In forestry, global industry sales are expected to be down 15-20% due to weaker demand in North America and Russia.

Weak Agriculture and Turf Equipment Sales to Hurt

Deere expects Agriculture and Turf equipment sales to be down 10-15% for fiscal 2020. Industry sales of agricultural equipment are expected to be down 10% from last year in the U.S. and Canada, reflecting increased uncertainty in the U.S. and more challenging conditions in Canada. Sales in Europe are expected to be down 5% to 10% due to lower yields for arable farmers. The market has stiffened for dairy producers as dairy prices have been negatively impacted by closure of schools and restaurants, the overall disruption to the food supply chain, and near-term changes in consumption.

South American industry sales of tractors and combines are projected to be down 10% to 15%. Despite relatively positive fundamentals in Brazil, farmers have adopted a cautious stance due to uncertainties related to COVID-19 and possible implications stemming from the Phase 1 U.S.-China trade agreement. There remains an economic uncertainty in Argentina. Asian sales are forecast to decline moderately due to pandemic-related shutdown in India. Industry sales of turf and utility equipment in the United States and Canada are expected to be down 10% for fiscal 2020.

Share Price Performance

Deere's shares have gained 11.5% in the past year, outperforming the industry's growth of 4.1%.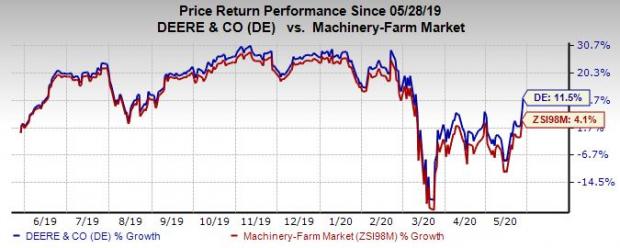 Zacks Rank & Stocks to Consider

Deere currently carries a Zacks Rank #4 (Sell).

Some better-ranked stocks in the Industrial Products sector are Silgan Holdings Inc. SLGN, Broadwind Energy, Inc. BWEN and Energous Corporation WATT. While Silgan sports a Zacks Rank #1 (Strong Buy), Broadwind Energy and Energous carry a Zacks Rank of 2 (Buy) at present. You can see the complete list of today's Zacks #1 Rank stocks here.

Silgan has a projected earnings growth rate of 11.3% for 2020. The company's shares have gained 15% in the past three months.

Broadwind Energy has an expected earnings growth rate of 174% for the current year. The stock has gone up 6% over the past three months.

Energous has an estimated earnings growth rate of 17.3% for the ongoing year. The company's shares have rallied 37% in three months' time.

Just Released: Zacks' 7 Best Stocks for Today

Experts extracted 7 stocks from the list of 220 Zacks Rank #1 Strong Buys that has beaten the market more than 2X over with a stunning average gain of +24.1% per year.

These 7 were selected because of their superior potential for immediate breakout.

See these time-sensitive tickers now >>
Want the latest recommendations from Zacks Investment Research? Today, you can download 7 Best Stocks for the Next 30 Days.
Click to get this free report
Silgan Holdings Inc. (SLGN): Free Stock Analysis Report
Deere Company (DE): Free Stock Analysis Report
Energous Corporation (WATT): Free Stock Analysis Report
Broadwind Energy, Inc. (BWEN): Free Stock Analysis Report
To read this article on Zacks.com click here.