Google's Stadia Makes a Mark: Should Gaming Players Take Note?
Alphabet's GOOGL division Google announced gaming platform, Stadia, at 2019 Game Developers Conference ("GDC"), finally ending its quest for browser-based video game streaming service.

Notably, Stadia which will be launched later this year will enable users to stream games online on any devices like smartphones, laptops, desktops and tablets. Moreover, users can play games on televisions with the aid of Chromecast media stick connection.

All these will be achieved by leveraging Google's robust cloud products and services, and strong datacenter network.

In fact, Google's aim of becoming the "Netflix of the gaming industry" is likely to cause massive disruption to this space. Notably, the gaming space is currently valued at $140 billion. Further, the video game industry is expected to hit $180.1 billion by 2021, per a report by Newzoo.

Additionally, the gaming market generated revenues worth $136 billion in 2018, per an IDC report, which reflects that the figure is growing at a rate of 15% every year.

Moreover, the new cloud-based service will provide a tough competition to the existing players like Sony SNE and Nintendo NTDOY. Further, it will intensify competition for Amazon AMZN and Microsoft MSFT which are also leaving no stone unturned to leverage their cloud capabilities to bolster presence in this booming industry.
Is Google a Threat to Sony, Nintendo & Others?

Google with its new service is likely to bolster gamers' savings rate as they will not have to shell out money on expensive gaming consoles and PCs anymore to play graphic-intensive games.

Further, the company is utilizing its video streaming platform, YouTube, to ensure seamless game play. This will eliminate waiting time for downloading the game content. They will be able to play games as easily as they watch video on YouTube.

These gamer friendly features of the Stadia are expected to hurt established gaming stocks – Sony and Nintendo who offer access to play high-end games via their expensive gaming consoles. Per Bloomberg, shares of Sony as well as Nintendo plunged 4.5% and 4.6%, respectively, during the intraday trading following the announcement of Google Stadia.

Nintendo, the maker of Pokemon and Super Mario, offers offline as well as online games through its hybrid console called Switch that costs $299.99, which is pretty expensive. Nintendo currently carries a Zacks Rank #2 (Buy). You can see the complete list of today's Zacks #1 Rank (Strong Buy) stocks here.
Further, Sony, a Zacks Rank #3 (Hold) stock, has PlayStation Now, a cloud gaming subscription service, which offers streaming of a huge library of video games on PlayStation 4 (PS4) and gaming PCs. Notably, PS4 is as expensive as Switch.

Further, the news also impacted the shares of Electronic Arts EA which is a leading developer, marketer, publisher and distributor of interactive video game software and content. The stock plunged by 2.2% on Mar 19.

Additionally, Stadia streaming game service poses threat to the sale of Microsoft's Xbox, a home video game console.
Alphabet Inc. Revenue (TTM)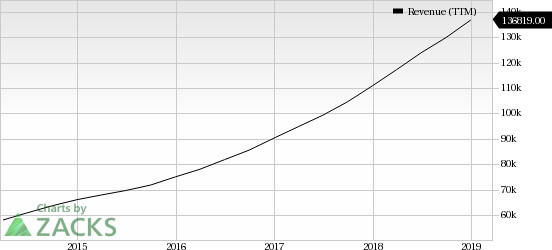 How Amazon & Microsoft are Placed in Cloud Gaming?
The adoption of cloud technology is becoming mainstream in the gaming industry as it has the capability of handling several challenging technical and graphical problems in streaming a high-end game.

Moreover, the interactive nature of video games requires the creation of detailed graphical images instantly on a real-time basis according to actions of a player. Further, latency is one of the biggest problems in streaming these games. Tech giants are taking advantage of these issues to strengthen footprint in the gaming industry by leveraging cloud services.

Apart from Google, Amazon and Microsoft are also taking advantage of these issues to strengthen their presence in the gaming industry with the aid of their robust cloud computing techniques.

Amazon which already offers video game streaming services via its Twitch platform is aggressively pursuing the development of a cloud gaming service which will help users play games while eliminating the need for download. Reportedly, this Zacks Rank #3 stock was recently on the lookout for engineers to work on its mission for cloud games.

Meanwhile, Microsoft is gearing up to launch trials of its project dubbed XCloud, a cloud streaming service for games. Further, this Zacks Rank #3 stock is planning to develop a streaming box that will offer streaming services for video games on Xbox consoles with the support of its cloud platform, Azure.

Nevertheless, Google's strong efforts to capitalize on its cloud capabilities in order to make Stadia user friendly, are likely to strengthen its gaming position. The company is utilizing Advanced Micro Devices' AMD customized Radeon datacenter GPU for new service.

Further, AMD's software tools will be utilized in the Linux and open-source Vulkan API based Stadia platform. This will assist software developers to provide immersive game streaming experience to the end user.

Currently, Alphabet carries a Zacks Rank #3.

This Could Be the Fastest Way to Grow Wealth in 2019

Research indicates one sector is poised to deliver a crop of the best-performing stocks you'll find anywhere in the market. Breaking news in this space frequently creates quick double- and triple-digit profit opportunities.

These companies are changing the world – and owning their stocks could transform your portfolio in 2019 and beyond. Recent trades from this sector have generated +98%, +119% and +164% gains in as little as 1 month.

Click here to see these breakthrough stocks now >>
Want the latest recommendations from Zacks Investment Research? Today, you can download 7 Best Stocks for the Next 30 Days.
Click to get this free report
Amazon.com, Inc. (AMZN): Free Stock Analysis Report
Alphabet Inc. (GOOGL): Free Stock Analysis Report
Sony Corporation (SNE): Free Stock Analysis Report
Microsoft Corporation (MSFT): Free Stock Analysis Report
Advanced Micro Devices, Inc. (AMD): Free Stock Analysis Report
Nintendo Co. (NTDOY): Free Stock Analysis Report
Electronic Arts Inc. (EA): Free Stock Analysis Report
To read this article on Zacks.com click here.
Zacks Investment Research