Coty (COTY) Aids Beauty Categories With Kim Kardashian West Deal
Coty Inc. COTY has been focused on undertaking prudent alliances and buyouts to fortify its already robust presence. Keeping in these lines, the cosmetics behemoth concluded its previously unveiled acquisition of a 20% stake in Kim Kardashian West's business, for a price of $200 million.

The deal, which was first announced in June 2020, will help Coty and Kim Kardashian West focus on fresh beauty categories, alongside expanding their worldwide presence beyond the current line of products. Notably, this alliance will also help develop Kim Kardashian West's skincare line, which is anticipated to launch in fiscal 2022.

Per the deal, Coty will be responsible for the overall portfolio development, including skincare, nail products, personal care and hair care, by utilizing its profound industry knowledge as well as market expertise. Meanwhile, Kim Kardashian West, together with her team will take care of the actions related to product and communication initiatives, thereby enhancing her solid global reach via social media.

The abovementioned transaction is likely to benefit both Coty and Kim Kardashian West, as they can use their individual strengths to facilitate a direct-to-consumer (DTC) and high-growth first beauty brand, whose products will be sold via luxury beauty retailers and an owned digital network. Certainly, Kim Kardashian West's huge following, together with Coty's skincare knowledge; access to a vast distribution channel; resources to foray into new categories in the beauty space and expertise in worldwide product positioning, is likely to aid growth for both parties. Incidentally, Kim Kardashian West is one of the highest-profile consumer personalities in the world, with 300 million followers on her social media and personal brand channels, as well as a huge global audience.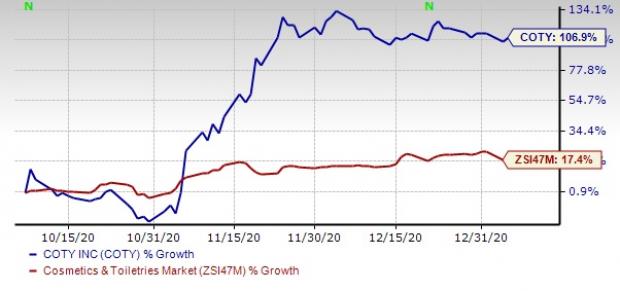 Other Growth Efforts Bolstering Coty
Coty and Kylie Jenner unveiled their long-term alliance in January 2020, aimed at further building upon Kylie's beauty business, which includes Kylie Skin and Kylie Cosmetics. Kylie Skin Care sales tripled year over year in the first quarter of fiscal 2021, largely due to her solid following. Apart from this, Coty's buyout of the iconic Burberry brand, in the second quarter of fiscal 2018, has been yielding results. This acquisition has been supporting growth in the Prestige segment.

Additionally, the company's buyout of Procter & Gamble Company's PG global fine fragrances, salon professional, cosmetics and retail hair color businesses, along with select hair styling brands (the P&G Beauty Business) in 2016, has been noteworthy. On the flip side, Coty undertakes prudent divestitures to increase focus on areas with better growth potential. In this regard, the company completed the sale of a majority stake in its Professional and Retail Hair business to KKR on Nov 30, 2020. In September 2019, Coty divested its controlling stake in Younique, LLC.

Well, like several other cosmetic companies, Coty's sales have also been hurt by coronavirus-led concerns. Nevertheless, the company has made considerable progress on its core priorities, which include innovation and performance in its prestige and mass channels, solidified position in its key markets, a robust e-commerce momentum and strengthened foothold in the skincare category (thanks to Kylie and Philosophy skincare) and the China region. Toward this end, the recent launches of Marc Jacobs Perfect, Gucci's Bloom Profumo di Fiori, Sally Hansen's good.kind.pure and CoverGirl's Clean Fresh have been yielding results.

Talking of e-commerce strength, in the first quarter of fiscal 2021, the company's solid digital efforts helped its e-commerce penetration, as a percentage of overall sales, double to 13%. We note that Coty's e-commerce penetration, as a percentage of sales, grew considerably in the Americas and the EMEA regions. Channel-wise, e-commerce sales were strong in the Prestige and Mass channels, with the latter seeing a robust performance on retailer sites like Amazon AMZN. Building further on its e-commerce momentum, Coty unveiled the launch of direct-to-consumer flagship websites for Kylie Skin across the United Kingdom, Australia, Germany and France on Oct 7. The initial response has been quite impressive, per the first-quarter conference call.

Coty, which shares space with Nu Skin NUS), currently carries a Zacks Rank #3 (Hold). Shares of the company have more than doubled in the past three months compared with the industry's growth of 17.4%. You can see the complete list of today's Zacks #1 Rank (Strong Buy) stocks here.
Breakout Biotech Stocks with Triple-Digit Profit Potential
The biotech sector is projected to surge beyond $775 billion by 2024 as scientists develop treatments for thousands of diseases. They're also finding ways to edit the human genome to literally erase our vulnerability to these diseases.

Zacks has just released Century of Biology: 7 Biotech Stocks to Buy Right Now to help investors profit from 7 stocks poised for outperformance. Our recent biotech recommendations have produced gains of +50%, +83% and +164% in as little as 2 months. The stocks in this report could perform even better.

See these 7 breakthrough stocks now>>
Want the latest recommendations from Zacks Investment Research? Today, you can download 7 Best Stocks for the Next 30 Days.
Click to get this free report
Amazon.com, Inc. (AMZN): Free Stock Analysis Report
Procter & Gamble Company The (PG): Free Stock Analysis Report
Nu Skin Enterprises, Inc. (NUS): Free Stock Analysis Report
Coty Inc. (COTY): Free Stock Analysis Report
To read this article on Zacks.com click here.
Zacks Investment Research