Ericsson (ERIC) to Boost Pine Cellular Network Capabilities
Ericsson ERIC recently inked a contract with Pine Cellular for an undisclosed amount to augment the latter's network capabilities. The deal will enable the carrier to offer improved mobility and broadband services for a superior customer experience. It will also help to modernize the network infrastructure for 5G-ready products and solutions.

Operating since 1911, Pine Cellular is a leading telecommunications and network service provider of mobile, IPTV and fiber broadband connectivity across southeastern Oklahoma. This premier wireless services provider currently aims to leverage Ericsson Radio Access Network (RAN) solutions for improved network facilities across more than 140 sites in the region.

Ericsson radio solutions will enable Pine Cellular to expand its connectivity footprint, reach more customers and deliver high-speed Internet connectivity to rural America to help bridge the digital divide. This, in turn, will likely ensure low latency and high bandwidth services for superfast data transfer.

Ericsson Radio System comprises hardware, software and services for radio, RAN Compute, antenna system, transport, power and site solutions. It enables smooth and cost-effective migration from 4G to 5G, aiding communication service providers to launch the avant-garde technology and grow 5G coverage fast. The company's 5G radio access technologies provide the infrastructure required to meet the growing demand for high-bandwidth connections and support real-time, high-reliability communication requirements of mission-critical applications.

With the emergence of the smartphone market and the subsequent usage of mobile broadband, user demand for coverage speed and quality has increased exponentially. Further, to maintain performance with increased traffic, there is a continuous need for network tuning and optimization. Ericsson, being one of the premier telecom service providers, is much in demand among operators to expand network coverage and upgrade networks for higher speed and capacity. The company is reportedly the world's largest supplier of LTE technology with a significant market share and has established a large number of LTE networks worldwide.

The company is focusing on 5G system development and has undertaken many notable endeavors to position itself as a market leader. It believes that the standardization of 5G is the cornerstone for digitizing industries and broadband. Ericsson expects mainstream 4G offerings to give way to 5G technology in the future. It currently has 130 live 5G networks across the globe spanning 56 countries.

The stock has lost 47% over the past year compared with the industry's decline of 14.8%.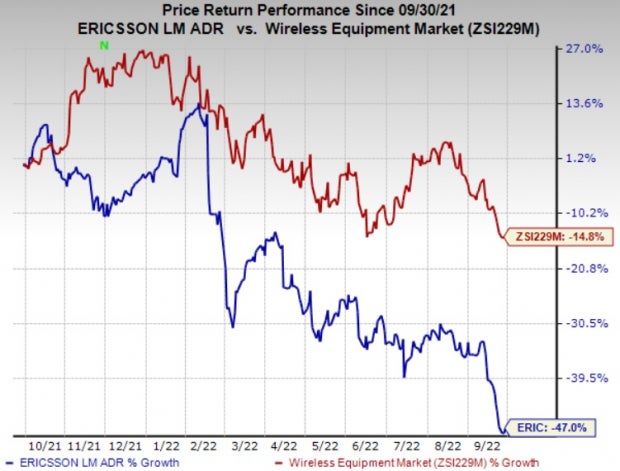 Image Source: Zacks Investment Research
Ericsson currently carries a Zacks Rank #4 (Sell).

You can see the complete list of today's Zacks #1 Rank (Strong Buy) stocks here.

Ooma Inc. OOMA, carrying a Zacks Rank #2 (Buy), delivered an earnings surprise of 28.6%, on average, in the trailing four quarters. Earnings estimates for Ooma for the current year have moved up 27% since March 2022.

Ooma offers communications services and related technologies for businesses and consumers in the United States and Canada. It helps to create powerful connected experiences for businesses and consumers through its smart cloud-based SaaS platform.

Spirent Communications plc SPMYY carries a Zacks Rank #2. Earnings estimates for the current year for the stock have moved up 10.8% since September 2021, while that for the next year is up 11.8%.

Founded in 1936 and headquartered in Crawley, the United Kingdom, Spirent offers a comprehensive, end-to-end solution that validates forwarding performance, latency and functional capabilities in an integrated approach that reduces the cost of ownership. It is a leading provider of Ethernet validation solutions in the market.

Aviat Networks, Inc. AVNW carries a Zacks Rank #2. The Zacks Consensus Estimate for its current-year earnings has been revised 23.3% upward since September 2021.

Aviat Networks pulled off a trailing four-quarter earnings surprise of 15.9%, on average. It has soared 156% in the past two years.
FREE Report: The Metaverse is Exploding! Don't You Want to Cash In?
Rising gas prices. The war in Ukraine. America's recession. Inflation. It's no wonder why the metaverse is so popular and growing every day. Becoming Spider Man and fighting Darth Vader is infinitely more appealing than spending over $5 per gallon at the pump. And that appeal is why the metaverse can provide such massive gains for investors. But do you know where to look? Do you know which metaverse stocks to buy and which to avoid? In a new FREE report from Zacks' leading stock specialist, we reveal how you could profit from the internet's next evolution. Even though the popularity of the metaverse is spreading like wildfire, investors like you can still get in on the ground floor and cash in. Don't miss your chance to get your piece of this innovative $30 trillion opportunity - FREE.
>>Yes, I want to know the top metaverse stocks for 2022>>
Want the latest recommendations from Zacks Investment Research? Today, you can download 7 Best Stocks for the Next 30 Days.
Click to get this free report
Ericsson (ERIC): Free Stock Analysis Report
Aviat Networks, Inc. (AVNW): Free Stock Analysis Report
Spirent Communications PLC (SPMYY): Free Stock Analysis Report
Ooma, Inc. (OOMA): Free Stock Analysis Report
To read this article on Zacks.com click here.
Zacks Investment Research