Why Target (TGT) Stock Looks Like a Buy Heading into Q1 2019 Earnings
Target TGT stock has underperformed the S&P 500 in 2019 and its industry's average. Yet, the retail and grocery giant's plans to adapt and transform in the modern, e-commerce-focused era seem to be working. Therefore, it's time to take a look at why Target stock might be worth buying as the company heads into its first quarter 2019 earnings results on Wednesday, May 22.
Overview
Target, which boasts roughly 1,800 stores, has improved its digital business, introduced delivery options, and much more over the last few years. The company offers free two-day shipping on hundreds of thousands of items and its Drive Up service has expanded to more than1,100 locations. Meanwhile, the Minneapolis-based retailer has redesigned stores, opened smaller locations in college towns and urban areas, and rolled out trendy new lines and partnerships with well-known brands.
Over the last serval years, Target has launched over 20 private-label brands to help continue to attract its core customers, of which the firms noted that about 57% are college graduates and have a median household income of roughly $64K. Of the $74.43 billion in sales Target pulled in last year, division revenue was broken down as follows: 24% beauty & household essentials, 20% food & beverage, 20% apparel & accessories, 19% home furnishings & décor, and 17% hardlines.
Clearly, Target is a well-diversified retailer and it will need to continue to ramp up its mobile and e-commerce businesses in order to compete and stand out against rivals such as Walmart WMT, Costco COST, and Kroger KR, as well as fend off any further encroachment from Amazon AMZN (also read: Buy Walmart Stock Ahead of Q1 Fiscal 2020 Earnings Thursday?).
Target's initiatives helped the company post its strongest comparable sales growth since 2005 last year, up 5%. More specifically, Target's digital comps surged 36% and its comparable store sales popped 3.2%. Despite its business improvements and its strength, shares of TGT are down roughly 6% over the last 12 months. This lags its industry's 16% average climb. Target stock closed regular trading hours at $70.76 per share on Wednesday. This marked a roughly 22% downturn compared to its 52-week intraday trading high of $90.39 and could give the stock room to run if TGT is able to impress Wall Street.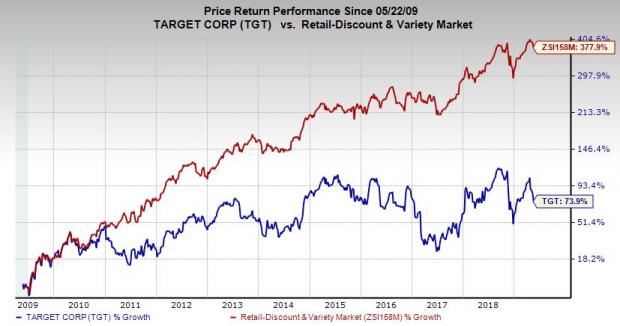 Outlook & Earnings Trends
Moving on, our current Zacks Consensus Estimate calls for the company's first-quarter fiscal 2019 revenue to jump 4.5% to reach $17.54 billion. Despite Target's comps strength, Q4 2018's total revenue came in flat from the fourth quarter of fiscal 2017. Target's comp sales, which is a widely tracked metric for retailers, are projected to jump 2.2%, based on our current NFM estimates. This would come in below last quarter's 5.3% comps growth, but come on top of the year-ago period's 3% comps expansion.
Furthermore, the company's full-year revenue is expected pop 3.4% to hit $77.91 billion. This would nearly match 2018's 3.6% revenue expansion. On top of that, Target's full-year revenue is expected to pop 3.1% higher than our 2019 projection.
At the bottom end of the income statement, Target's adjusted Q1 2019 earnings are projected to climb 7.6% to hit $1.42 per share. Target's full-year EPS figure is expected to climb roughly 7.8% to reach $5.81 per share. Peeking further ahead, TGT's adjusted 2020 earnings are expected to climb 6.6% above our current-year estimate.
Investors should also note that Target has seen its longer-term earnings estimate revision picture turn more positive recently. And its full-year 2019 earnings estimates have trended upward over the last year, which means analysts have continually raised their EPS projections.

Other Fundamentals
TGT stock is trading at 12.1X forward 12-month Zacks Consensus Estimate. This represents a discount against the S&P's 16.6X, its industry's 20.1X average, and its own five-year high of 20.1X and 14.3X median.
Obviously, Target stock has underperformed its industry and the S&P 500 over this stretch, which helps make its valuation picture a bit more solid by comparison. With that said, TGT's price/sales ratio of 0.49 also comes in below its industry's 0.63 average and peers such as TJX Companies' TJX 1.64 and Dollar General's DG 1.19.
Target is also a dividend payer that recently announced a $0.64 a share quarterly payout, for an annualized dividend of $2.56. On top of that, the company's current dividend yield rests at an impressive 3.59%.
Bottom Line
Target is a Zacks Rank #2 (Buy) at the moment, based, in large part, on its positive longer-term earnings estimate revision activity. TGT also rocks "A" grades for Value, Growth, and Momentum in our Style Scores system for an overall "A" VGM grade.

In the end, Target looks like a solid stock at the moment, but buying stocks before earnings is not for the faint of heart. Target is scheduled to report its Q1 fiscal 2019 financial results before the opening bell on Wednesday, May 22. Make sure to come back to Zacks for a full breakdown of the company's actual metrics.
Will you retire a millionaire?

One out of every six people retires a multimillionaire. Get smart tips you can do today to become one of them in a new Special Report, "7 Things You Can Do Now to Retire a Multimillionaire."

Click to get it free >>
Want the latest recommendations from Zacks Investment Research? Today, you can download 7 Best Stocks for the Next 30 Days.
Click to get this free report
Amazon.com, Inc. (AMZN): Free Stock Analysis Report
Dollar General Corporation (DG): Free Stock Analysis Report
The TJX Companies, Inc. (TJX): Free Stock Analysis Report
Costco Wholesale Corporation (COST): Free Stock Analysis Report
Target Corporation (TGT): Free Stock Analysis Report
Walmart Inc. (WMT): Free Stock Analysis Report
The Kroger Co. (KR): Free Stock Analysis Report
To read this article on Zacks.com click here.
Zacks Investment Research