QIAGEN's (QGEN) Q4 Earnings In Line, Revenues Miss Mark
QIAGEN N.V.'s QGEN fourth-quarter 2018 adjusted earnings per share (EPS) came in at 40 cents, down 6.9% year over year. Meanwhile, the figure was in line with the Zacks Consensus Estimate. At constant exchange rate or CER, the company reported adjusted earnings of 41 cents per share.
For the full year, adjusted EPS totaled $1.34, reflecting a 5.5% rise from the year-ago period. Also, the adjusted number exceeded the Zacks Consensus Estimate by a penny.
Revenues in Detail
Net sales at actual rates in the fourth quarter inched up 1.6% on a year-over-year basis to $403.2 million (up 5% at CER). However, the top line missed the Zacks Consensus Estimate by 1.4%.
For 2018, net sales were $1.50 billion, indicating a 5.9% increase over the 2017 figure. However, the same lagged the Zacks Consensus Estimate of $1.51 billion.
Geographical Revenue Update
Sales from the Americas (41.9% of revenues) declined 4% on a reported basis and revenues from Europe-Middle East-Africa (35.5%) increased 7% reportedly (up 13% at CER). Further, revenues from Asia-Pacific/Japan (22.6%) rose 5% year over year on a reported basis (up 8% at CER).
Segmental Details
QIAGEN primarily generates revenues through Molecular Diagnostics, Applied Testing, Pharma and Academia, representing 48%, 10%, 18% and 24% of net sales, respectively, in the reported quarter.
QIAGEN N.V. Price, Consensus and EPS Surprise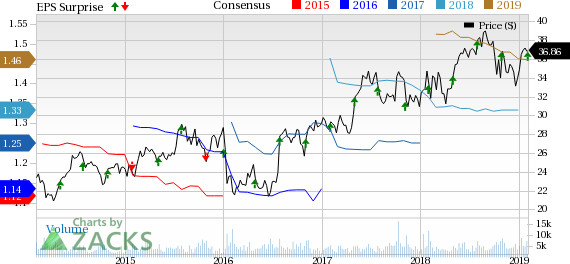 QIAGEN N.V. Price, Consensus and EPS Surprise | QIAGEN N.V. Quote
Molecular diagnostics sales were up 5% at CER. Sales derived from Applied Testing rose 1% at CER. Pharma sales climbed 5% at CER in the fourth quarter and Academia sales improved 6% on growing demand.
Operational Update
Gross profit in the quarter under review increased 1.3% to $264.8 million. In spite of that, gross margin contracted 17% on account of a 2.1% rise on cost of sales to $138.4 million.
Adjusted operating income (excluding items like Acquisition-related intangible amortization) soared 82.9% year over year to $97.7 million in the fourth quarter. Adjusted operating margin expanded 1078 basis points to 24.2%.
Financial Update
QIAGEN exited 2018 with cash and cash equivalents of $1.39 billion, up from $1.02 billion at the end of 2017. Full-year net cash provided by operating activities was $359.5 million compared with $286.8 million a year ago. Moreover, the company reported free cash flow of $249.7 million in 2018 compared with $196.7 million in the year-earlier period.
QIAGEN announced a new commitment in January 2018 to return shareholders $200 million via open-market repurchases. Notably, its shares get repurchased on the Frankfurt Stock Exchange. Through December 2018, the company bought back a total of 3.4 million shares (approximately $124 million at current exchange rates).
2019 Guidance
QIAGEN has provided its 2019 guidance. Total net sales growth is expected in the range of about 7-8% at CER on the back of a strong portfolio expansion with about $30 million of contributions coming in from QIAstat-Dx.The Zacks Consensus Estimate for 2019 revenues is pegged at $1.60 billion.
Adjusted EPS guidance for the full year is anticipated in the band of $1.45-1.47 at CER. The Zacks Consensus Estimate for 2019 EPS is pegged at $1.46.
The company also issued the financial projection for the first quarter of 2019. Net sales are envisioned to grow around 5-6% at CER. Adjusted EPS is predicted within 26-27 cents at CER on an underlying basis. The Zacks Consensus Estimate for earnings stands at 27 cents, matching the upper end of the guided range. Our consensus estimate for revenues is pegged at $348.7 million.
Our Take
QIAGEN ended the fourth quarter on a disappointing note. Sales in the Americas were sluggish. However, the company registered strong international growth. We are impressed by year-over-year growth across all segments. The company also delivered a strong performance with respect to operating margin. Meanwhile, its commitment to return shareholders more through ramped up repurchases reflects its solid cash position.
We are also upbeat about QIAGEN's recent launch of the QIAstat-Dx multiplex syndromic testing platform, the two new NeuMoDx integrated testing platforms and QIAcube Connect as a new fully digital sample processing instrument. For 2020, the company is currently gearing up for a number of developments like it plans to enter thedigital PCR (polymerase chain reaction), which represents one of the fastest-growing segments of the Life Sciences market. The company also plans for a new version of the QuantiFERON-TB test for use in low-resource, high burden countries.
Zacks Rank & Key Picks
QIAGEN currently carries a Zacks Rank #3 (Hold). A few better-ranked MedTech stocks boasting solid results in the respective quarters are Varian Medical Systems VAR, Surmodics, Inc. SRDX and AngioDynamics ANGO.
Varian's first-quarter fiscal 2019 adjusted EPS came in at $1.06, meeting the Zacks Consensus Estimate. Revenues of $741 million outpaced the consensus mark of $717.9 million. The stock carries a Zacks Rank #2 (Buy).
Surmodics reported adjusted earnings per share (EPS) of 12 cents in first-quarter fiscal 2019, comparing favorably with the Zacks Consensus Estimate of a loss of a penny. Moreover, earnings rose 20% from the year-ago quarter's figure. The stock has a Zacks Rank of 2.
AngioDynamics' second-quarter fiscal 2019 adjusted EPS of 22 cents surpassed the Zacks Consensus Estimate by a penny. Revenues totaled $91.5 million, which outshined the consensus estimate by 2.9%. The stock sports a Zacks Rank #1 (Strong Buy).You can see the complete list of today's Zacks #1 Rank stocks here.
Zacks' Top 10 Stocks for 2019

In addition to the stocks discussed above, would you like to know about our 10 finest buy-and-holds for the year?

Who wouldn't? Our annual Top 10s have beaten the market with amazing regularity. In 2018, while the market dropped -5.2%, the portfolio scored well into double-digits overall with individual stocks rising as high as +61.5%. And from 2012-2017, while the market boomed +126.3, Zacks' Top 10s reached an even more sensational +181.9%.

See Latest Stocks Today >>
Want the latest recommendations from Zacks Investment Research? Today, you can download 7 Best Stocks for the Next 30 Days.
Click to get this free report
AngioDynamics, Inc. (ANGO): Free Stock Analysis Report
Varian Medical Systems, Inc. (VAR): Free Stock Analysis Report
Surmodics, Inc. (SRDX): Free Stock Analysis Report
QIAGEN N.V. (QGEN): Free Stock Analysis Report
To read this article on Zacks.com click here.
Zacks Investment Research