Provention (PRVB) Up on Deal With Sanofi for Diabetes Drug
Shares of Provention Bio, Inc. PRVB gained 25.7% after the company announced it has entered into a co-promotion agreement with pharma giant Sanofi SNY's U.S. unit for the launch of the former's lead investigational drug candidate teplizumab.
Teplizumab is an anti-CD3 monoclonal antibody that is being developed for the delay of clinical type 1 diabetes (T1D) in at-risk individuals, as indicated by the presence of two or more T1D-related autoantibodies.
The agreement will enable Provention Bio to use Sanofi's expertise, capabilities and commercial resources to support the potential launch of teplizumab. The candidate is currently under review by the FDA for the above-mentioned indication with a user fee goal date of Nov 17, 2022.
Per the terms, Provention will leverage Sanofi's in-market infrastructure and established expertise in endocrinology to expand reach, increase awareness and drive T1D screening. Sanofi will commit commercial resources in the United States, including diabetes field specialists, account directors, field-based reimbursement and medical science liaisons to expand the number of key healthcare professionals reached in the United States. On the other hand, Provention will reimburse field force-related expenses that Sanofi will incur in connection with commercializing teplizumab under the agreement. The rights for teplizumab and responsibility for the commercialization strategy, however, remain with Provention.
Provention also receives $20 million non-refundable payment granting Sanofi exclusive right of the first negotiation to in-license teplizumab globally for T1D. Sanofi can exercise until Jun 30, 2023, with an option to extend within 2023 under certain conditions.
Both companies have also entered into a Securities Purchase Agreement whereby Sanofi will purchase $35 million of the company's common stock at a premium over the daily volume-weighted average per share price for the five consecutive trading days prior to the closing date upon a potential FDA approval of teplizumab. The closing date will be at Provention's discretion and would occur no later than Feb 16, 2023.
Shares of Provention gained 24.4% in the year so far against the industry's decline of 25.8%.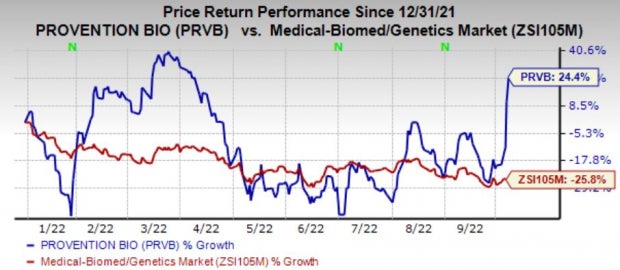 Image Source: Zacks Investment Research
The potential approval and the successful commercialization of the drug will be a significant boost for the company.
Provention is currently also evaluating teplizumab in patients with newly diagnosed insulin-dependent T1D (the phase III PROTECT study).
Zacks Rank & Stocks to Consider
Provention currently carries a Zacks Rank #3 (Hold). A couple of better-ranked stocks in the biotech sector are Bolt Pharmaceuticals BOLT and Dynavax DVAX, both carrying a Zacks Rank #2 (Buy) at present. You can see the complete list of today's Zacks #1 Rank (Strong Buy) stocks here.
Loss estimates for BOLT have narrowed to $2.25 from $2.87 in the past 60 days. Earnings surpassed estimates in three of the trailing four quarters and missed the mark in the remaining one, the average beat being 2.39%.
Dynavax's earnings estimates have increased to $1.73 from $1.14 for 2022 over the past 60 days. Earnings of DVAX surpassed estimates in two of the trailing four quarters and missed the mark in the remaining two, the average beat being 70.57%.



This Little-Known Semiconductor Stock Could Be Your Portfolio's Hedge Against Inflation
Everyone uses semiconductors. But only a small number of people know what they are and what they do. If you use a smartphone, computer, microwave, digital camera or refrigerator (and that's just the tip of the iceberg), you have a need for semiconductors. That's why their importance can't be overstated and their disruption in the supply chain has such a global effect. But every cloud has a silver lining. Shockwaves to the international supply chain from the global pandemic have unearthed a tremendous opportunity for investors. And today, Zacks' leading stock strategist is revealing the one semiconductor stock that stands to gain the most in a new FREE report. It's yours at no cost and with no obligation.
>>Yes, I Want to Help Protect My Portfolio During the Recession
Want the latest recommendations from Zacks Investment Research? Today, you can download 7 Best Stocks for the Next 30 Days.
Click to get this free report
Sanofi (SNY): Free Stock Analysis Report
Dynavax Technologies Corporation (DVAX): Free Stock Analysis Report
Provention Bio, Inc. (PRVB): Free Stock Analysis Report
Bolt Biotherapeutics, Inc. (BOLT): Free Stock Analysis Report
To read this article on Zacks.com click here.
Zacks Investment Research