Allergan Up As Analyst Statement Sparks Business Split Rumors
Shares of Allergan plc AGN were up more than 6% on Jun 19 after an analyst at Evercore ISI stated that a break-up of the company's business may be in the cards. The analyst also stated that the company is likely to provide an update on the split in the next couple of months. The analysis was based on a conference call with the company's vice president of investor relations on Tuesday.
Some analysts believe that splitting of Allergan's business, if it materializes, would be a positive and has in fact been debated on for long. Moreover, activist investors have long been pushing for a separation of chief executive officer and chairman positions, both currently held by Brent Saunders.
Shares of the company have decreased 4.1% so far this year compared with the industry's decline of 17.1%. The stock has declined 25.7% in the past year and has underperformed its peers in the said period.

The decline in share price can be attributed to multiple challenges that the company is facing for some time now.
Sales of Allergan's major drugs have declined due to loss of exclusivity. The first generic versions of Alzheimer's treatment, Namenda XR and Estrace cream were launched in the first quarter of 2018. Other products including Bystolic, Delzicol, Gelnique, Saphris and Viibryd are all slated to lose exclusivity over the next few years. Loss of exclusivities hurt sales by $1.2 billion in 2018 and is expected to have an adverse impact of another $1.4 billion in 2019.
Competition for Allergan's drugs from other branded drugs is also on the rise. Restasis faces competition from Takeda Pharmaceutical's Xiidra. The drug is set to face generic competition later this year which is likely to impact the sales further. Its most popular drug and the largest revenue generator, Botox is facing tough competition from CGRP antibodies for migraine launched in 2018. These include Amgen/Novartis, Eli Lilly LLY and Teva Pharma's CGRP migraine treatments Aimovig, Emgality and Ajovy, respectively. Botox also faces competition in the anti-wrinkle segment from Evolus' EOLS Jeuveau injection approved in February. Linzess faces competition from Bausch Health's BHC Trulance.
The split could lead to better focus on the company's key therapeutic areas, CNS, eye care and GI, thus enhancing the company's pipeline and portfolio of new drugs, which can offset the loss of sales due to branded and generic competition. The company can also expand its therapeutic areas to include markets with encouraging opportunities.
Moreover, separation of Allergan into two or more separate entities also increases the viability of a possible acquisition for each entity. However, the company's plan and timeline for a split is not known. Any synergies or dis-synergies will be based on the division of products made by the company.
Allergan plc Price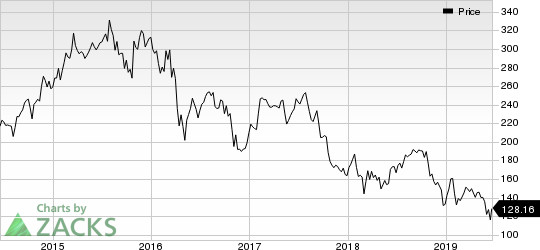 Zacks Rank
Allergan currently carries a Zacks Rank #3 (Hold). You can see the complete list of today's Zacks #1 Rank (Strong Buy) stocks here.
Will you retire a millionaire?
One out of every six people retires a multimillionaire. Get smart tips you can do today to become one of them in a new Special Report, "7 Things You Can Do Now to Retire a Multimillionaire."
Want the latest recommendations from Zacks Investment Research? Today, you can download 7 Best Stocks for the Next 30 Days.
Click to get this free report
Eli Lilly and Company (LLY): Free Stock Analysis Report
Allergan plc (AGN): Free Stock Analysis Report
Bausch Health Cos Inc. (BHC): Free Stock Analysis Report
Evolus, Inc. (EOLS): Free Stock Analysis Report
To read this article on Zacks.com click here.
Zacks Investment Research