Here's What to Expect from Walmart's (WMT) Q4 Earnings Results
Shares of Walmart WMT rested roughly 8% below their 52-week high through mid-day trading Wednesday, with the company's fourth-quarter and fiscal 2019 earnings release due out on Tuesday, February 19. This means now is a great time to see what to expect from the retail powerhouse.
Quick Overview
Walmart has rolled out more online ordering and delivery options throughout the U.S. as its competitors Kroger KR, Costco COST, and Target TGT all ramp up their digital retail businesses in order to attract customers in the Amazon AMZN age. In fact, Walmart's U.S. e-commerce sales soared 43% last quarter on the back of an improved digital experience.
Investors should also remember that Walmart now owns roughly 77% of one of India's biggest e-commerce sites, Flipkart—Tencent TCEHY and Microsoft MSFT remain minority shareholders. Walmart's push into India might prove key down the line, with the country's economy set to boom and maybe even surpass China in terms of growth.
On top of that, Walmart is a dividend payer that has raised its quarterly cash dividend every year since first declaring one in March 1974. WMT is also currently trading at 20.7X forward 12-month Zacks Consensus EPS estimates. This marks a discount against its 52-week high of 23.8X and rests not too far above its industry's 17.5X average. And we can see that WMT stock has dramatically outperformed its industry over the last three years.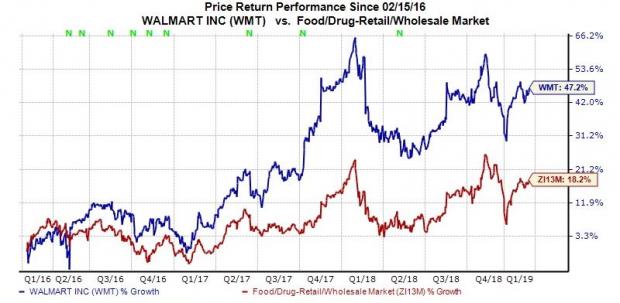 Q4 Outlook
Moving on, Walmart's Q4 revenues are projected to pop by 2.23% to reach $139.30 billion, based on our current Zacks Consensus Estimate. This would surpass Q3's 1.4% jump and come on top of the year-ago period's 4.1% top-line growth.
At the other end of the income statement, Walmart's adjusted quarterly earnings are projected to come in flat from the prior-year period at $1.33 per share. Last quarter, WMT's adjusted EPS popped over 7% to reach $1.08 a share and blow by our $1.02 per share estimate. Meanwhile, the retailer's full-year EPS figure is expected to expand by 9.3%.
Earnings Trends
Walmart has also seen its earnings estimate revision picture turn more positive for Q4 and fiscal 2019 recently. Both consensus earnings estimates have come up by $0.01 since the quarter got underway, which means at least some analysts are more optimistic about the retail giant. It is also helpful to see what chance Walmart has to top earnings estimates.
Luckily, we can turn to our exclusive Earnings ESP figure to help us. The Zacks Earnings ESP (Expected Surprise Prediction) compares the Most Accurate Estimate to the Zacks Consensus Estimate for the quarter. The Most Accurate Estimate is a version of the Zacks Consensus whose definition is related to change.
This is done because, generally speaking, when an analyst posts an estimate right before an earnings release, it means that they have fresh information which could potentially be more accurate than what analysts thought about a company two or three months ago.
A positive Earnings ESP paired with a Zacks Rank #3 (Hold) or better ranking helps us feel confident about the potential for an earnings beat. In fact, our 10-year backtest has revealed that this methodology has accurately produced a positive surprise 70% of the time.
Walmart currently sports an earnings ESP of +5.55% (supported by a Most Accurate Estimate of $1.40 a share) and a Zacks Rank #3 (Hold). Therefore, investors can consider WMT a company that could beat Q4 earnings estimates. WMT also sports "B" grades for Value, Growth, and Momentum in our Style Scores system.
The retail behemoth is scheduled to release its Q4 fiscal 2019 financial results before the opening bell on Tuesday, February 19. Make sure to come back to Zacks for a full breakdown of Walmart's actual metrics.
3 Medical Stocks to Buy Now

The greatest discovery in this century of biology is now at the flashpoint between theory and realization. Billions of dollars in research have poured into it. Companies are already generating revenue, and cures for a variety of deadly diseases are in the pipeline.

So are big potential profits for early investors. Zacks has released an updated Special Report that explains this breakthrough and names the best 3 stocks to ride it.

See them today for free >>

Want the latest recommendations from Zacks Investment Research? Today, you can download 7 Best Stocks for the Next 30 Days.
Click to get this free report
Amazon.com, Inc. (AMZN): Free Stock Analysis Report
Tencent Holding Ltd. (TCEHY): Free Stock Analysis Report
Microsoft Corporation (MSFT): Free Stock Analysis Report
Costco Wholesale Corporation (COST): Free Stock Analysis Report
Target Corporation (TGT): Free Stock Analysis Report
Walmart Inc. (WMT): Free Stock Analysis Report
The Kroger Co. (KR): Free Stock Analysis Report
To read this article on Zacks.com click here.
Zacks Investment Research