Patterson-UTI (PTEN) Incurs Narrower-Than-Expected Q2 Loss
Patterson-UTI Energy, Inc. PTEN reported adjusted net loss per share of 56 cents, narrower than the Zacks Consensus Estimate of 58 cents. The outperformance reflects better-than-expected results from the contract drilling segment as lower costs helped prop up margins. In particular, average rig cost per day in its largest unit fell to $11,690 in the third quarter from $14,030 a year ago.

However, the loss was wider than the year-earlier quarter's loss of 17 cents due to a free fall in U.S. drilling activity.

Revenues of $250.4 million beat the Zacks Consensus Estimate of $232 million on higher-than-expected sales from the contract drilling business. To be precise, revenues from the segment came in at $171.1 million, above the Zacks Consensus Estimate of $160 million.
Patterson-UTI's sales however declined 62.9% from the year-ago quarter.

PattersonUTI Energy, Inc. Price, Consensus and EPS Surprise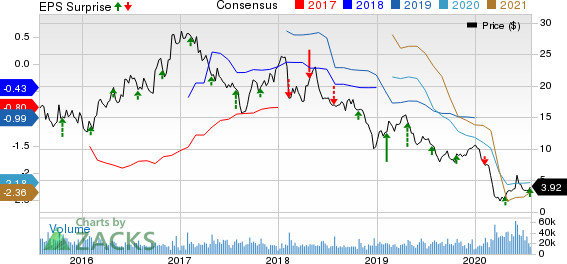 PattersonUTI Energy, Inc. price-consensus-eps-surprise-chart | PattersonUTI Energy, Inc. Quote
Segmental Performance
Contract Drilling: This segment's revenues totaled $171.1 million, down 50.8% year over year. Meanwhile, the unit lost $30.7 million in the second quarter compared to a profit of $16.5 million in the year-earlier quarter - plagued by a fall in both the operating days (from 14,385 to 7,450) and the number of rigs operational (from 158 to 82).

On a positive note, average rig margin per day improved 10.9% year over year to $11,280. While average rig revenues per operating day decreased to $22,970 from $24,200 in the second quarter of 2019, it was more than offset by a 16.7% fall in average daily rig operating costs.

Pressure Pumping: Revenues of $59.5 million dropped 76.3% from the year-ago sales of $251 million as activity nosedived. Moreover, the segment's operating loss widened to $68.6 million from $14.4 million in the second quarter of 2019.

Directional Drilling: The unit's revenues totaled $11.7 million, down 76.6% year over year due to significantly lower rig count. As a result, the segment saw its operating loss worsen to $14.4 million against the much narrower $5.3 million loss in the corresponding quarter of 2019.

Other Operations: Revenues came in at $8 million, 69.8% below the year-ago quarter figure of $26.4 million. Additionally, the unit incurred a wider quarterly loss of $10.4 million against the loss of $7.3 million recorded in year-ago quarter. The deterioration was mainly on account of curtailed operation.
Capital Expenditure & Financial Position
During the quarter, Patterson-UTI spent approximately $49.7 million on capital programs (as against $96.9 million in the second quarter of 2019). As of Jun 30, 2020, Patterson-UTI had $246.8 million in cash and cash equivalents and $967.1 million in long-term debt.
Guidance & Outlook
Patterson-UTI management said that its rig count has remained fairly steady of late and is unlikely to go down.

For the third quarter of 2020, the company forecasts approximately $8,600 in average margin per operating day for the contract drilling unit. The onshore driller expects an average of 51 rigs to be operational under term contracts during the period and 38 for the next four quarters.

In the pressure pumping division, Patterson-UTI sees a slight uptick in fracturing jobs. This should lead to a 10% sequential improvement in revenues with expectations of positive cash flow.

Moving on to the directional drilling unit, the company projects revenues of roughly $10 million and gross margin of approximately break-even.

Finally, Patterson-UTI, which closed Canadian drilling operations during the quarter, still forecasts full-year capital expenditure to come in at approximately $140 million, 60% below the 2019 spending of $348 million.
Zacks Rank & Key Picks
Patterson-UTI holds a Zacks Rank #3 (Hold).

Meanwhile, investors interested in the energy space could look at some better options like Chevron CVX, Bonanza Creek Energy, Inc. BCEI and USA Compression Partners, LP USAC that sport a Zacks Rank #1 (Strong Buy).
You can see the complete list of today's Zacks #1 Rank (Strong Buy) stocks here.
Over 30 days, San Ramon, CA-based Chevron has seen the Zacks Consensus Estimate for 2020 increase 196.3%.
Bonanza Creek Energy has an excellent earnings surprise history having surpassed estimates in each of the last four quarters, the average being 8.7%.
USA Compression Partners has a 100% track of outperforming estimates over the last four quarters at an average rate of 162.5%.
Zacks Top 10 Stocks for 2020
In addition to the stocks discussed above, would you like to know about our 10 finest buy-and-hold tickers for the entirety of 2020?

Last year's 2019 Zacks Top 10 Stocks portfolio returned gains as high as +102.7%. Now a brand-new portfolio has been handpicked from over 4,000 companies covered by the Zacks Rank. Don't miss your chance to get in on these long-term buys.

Access Zacks Top 10 Stocks for 2020 today >>
Want the latest recommendations from Zacks Investment Research? Today, you can download 7 Best Stocks for the Next 30 Days.
Click to get this free report
Chevron Corporation (CVX): Free Stock Analysis Report
PattersonUTI Energy, Inc. (PTEN): Free Stock Analysis Report
USA Compression Partners, LP (USAC): Free Stock Analysis Report
Bonanza Creek Energy, Inc. (BCEI): Free Stock Analysis Report
To read this article on Zacks.com click here.
Zacks Investment Research