Waters (WAT) BioAccord System to Expand Portfolio Offerings
Waters Corporation WAT launched an integrated high-resolution liquid chromatography mass spectrometry (LC-MS) system, namely the Waters BioAccord System with ACQUITY Premier.
The BioAccord System improves analyte recovery and assay-to-assay reproducibility for seamless monitoring of attributes of biotherapeutics as well as helps scientists to get faster information about the samples.
It features the MaxPeak High Performance Surface technology that provides many benefits like increasing the level of detector sensitivity, improved peak shapes, greater peak capacity and reproducibility as well as reducing the requirement of system passivation.
It also features a SmartMS-enabled ACQUITY RDa mass detector that offers guided workflows for seamless deployment.
The recent product is expected to expand the company's reach to scientists and analysts. This might also contribute to top-line growth in the upcoming period.
Waters Corporation Price and Consensus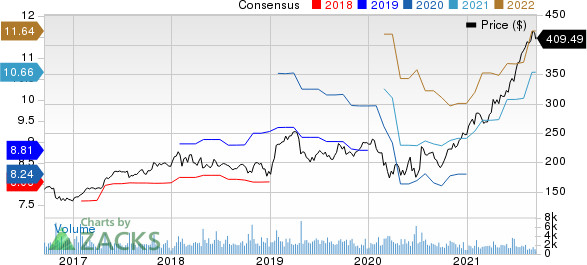 Waters Corporation price-consensus-chart | Waters Corporation Quote
LC-MS Market Prospects
With the recent move, Waters has positioned itself well to expand its presence in the growing LC-MS market.
This booming market is backed by increasing research and development expenditure in the healthcare sector as well as the rising number of clinical trials.
Major pharmaceutical and biotechnology companies are expanding their product offerings. This also acts as a key driver for market growth.
According to a report by 360 Market Updates, the global LC-MS market is expected to hit $3.39 billion by 2026, witnessing a CAGR of 6.9% between 2021 and 2026.
Additionally, a report by Industry Research indicates that the market is likely to hit $2.93 billion by 2027, registering a CAGR of 4.9% from 2021 to 2027.
Expanding Product portfolio
The latest move bodes well for Waters' strong efforts to expand the product portfolio consisting of chromatography consumables and columns, mass spectrometry systems, laboratory automation, integrated solutions, and others.
Apart from the recent launch, it unveiled the TRIOS AutoPilot software that automates thermal analysis workflows, reduces errors, maintains product quality and enhances the productivity of operations.
It also introduced the liquid chromatography system named Waters Arc Premier System that is optimized for chromatographic separations on 2.5-3.5 micron columns.
In addition, it unveiled a high-resolution mass spectrometer named SELECT SERIES Multi Reflecting Time-of-Flight technology with desorption electrospray ionization and matrix-assisted laser desorption ionization imaging sources for applications in pharmaceutical, biomedical, natural products, and materials research.
Further, it introduced Otto SPEcialist Positive Pressure Manifold, which provides more reliability and reproducibility of solid phase extraction with greater efficiency,ideal for various pharmaceutical, biopharmaceutical, food and beverage as well as environmental applications.
We believe that these endeavors will continue to benefit Waters in gaining strong momentum in various end-markets served.
Zacks Rank & Other Stocks to Consider
Currently, Waters carries a Zacks Rank #2 (Buy).
Other similar-ranked stocks in the broader technology sector include Advanced Micro Devices AMD, Dropbox DBX and ASML Holding ASML. You can see the complete list of today's Zacks #1 Rank (Strong Buy) stocks here.
Long-term earnings growth rates for Advanced Micro Devices, Dropbox, and ASML Holding are currently projected at 44.6%, 40.9%, and 33.5% respectively.
Time to Invest in Legal Marijuana
If you're looking for big gains, there couldn't be a better time to get in on a young industry primed to skyrocket from $17.7 billion back in 2019 to an expected $73.6 billion by 2027.
After a clean sweep of 6 election referendums in 5 states, pot is now legal in 36 states plus D.C. Federal legalization is expected soon and that could be a still greater bonanza for investors. Even before the latest wave of legalization, Zacks Investment Research has recommended pot stocks that have shot up as high as +285.9%.
You're invited to check out Zacks' Marijuana Moneymakers: An Investor's Guide. It features a timely Watch List of pot stocks and ETFs with exceptional growth potential.
Today, Download Marijuana Moneymakers FREE >>
Want the latest recommendations from Zacks Investment Research? Today, you can download 7 Best Stocks for the Next 30 Days.
Click to get this free report
Advanced Micro Devices, Inc. (AMD): Free Stock Analysis Report
Waters Corporation (WAT): Free Stock Analysis Report
ASML Holding N.V. (ASML): Free Stock Analysis Report
Dropbox, Inc. (DBX): Free Stock Analysis Report
To read this article on Zacks.com click here.
Zacks Investment Research